Strolling near Seville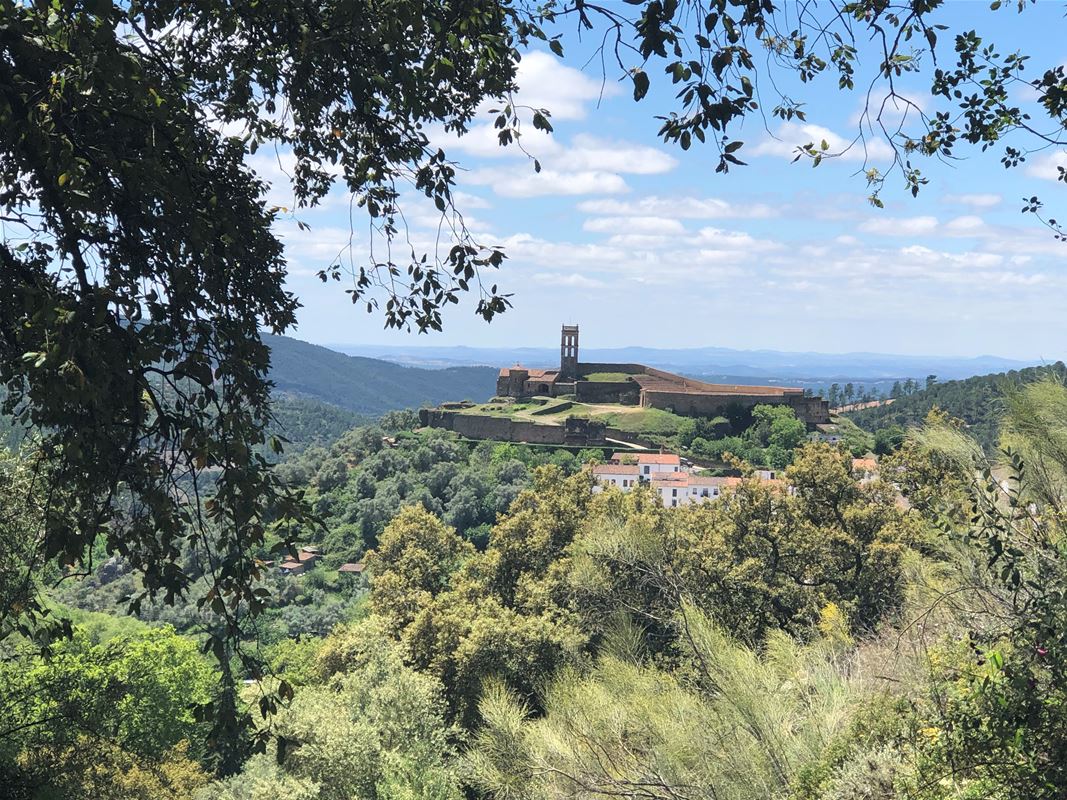 Disembarking from Ryanair's afternoon flight from Manchester to Seville was a surprisingly sedate affair in comparison to previous experiences of the aforementioned airline. Ladies in floaty linen and sensible sandals with husbands clutching their Panama hats made a stark contrast to recent press releases concerning early morning drunken brawls.
I always seem to notice footwear conscious perhaps of my inelegant hiking boots and rucksack, but then I'm heading into the Sierra de Aracena an hour and a half north-west of Seville in the Province of Huelva, western Andalucia. I'm off to walk our new trek following a circuit from village to village with no mountains to climb, ridges to negotiate or kilometre packed days; instead an amble through poppy covered olive groves, through cool forests of cork trees and overnight stays in heavenly white-washed pueblos. That's my vision anyway…….
First of all, a quick taste of Sevilla herself as I overnight before taking the bus to Aracena in the morning. The convenient airport bus terminates at the amazing Plaza de Armas and I walk through warm streets scented with garlic, wine and all things Spanish to the simple Hotel Petit Palace. Time for a little refreshment, tapas and a wander as I need to 'ease' into dining Spanish time!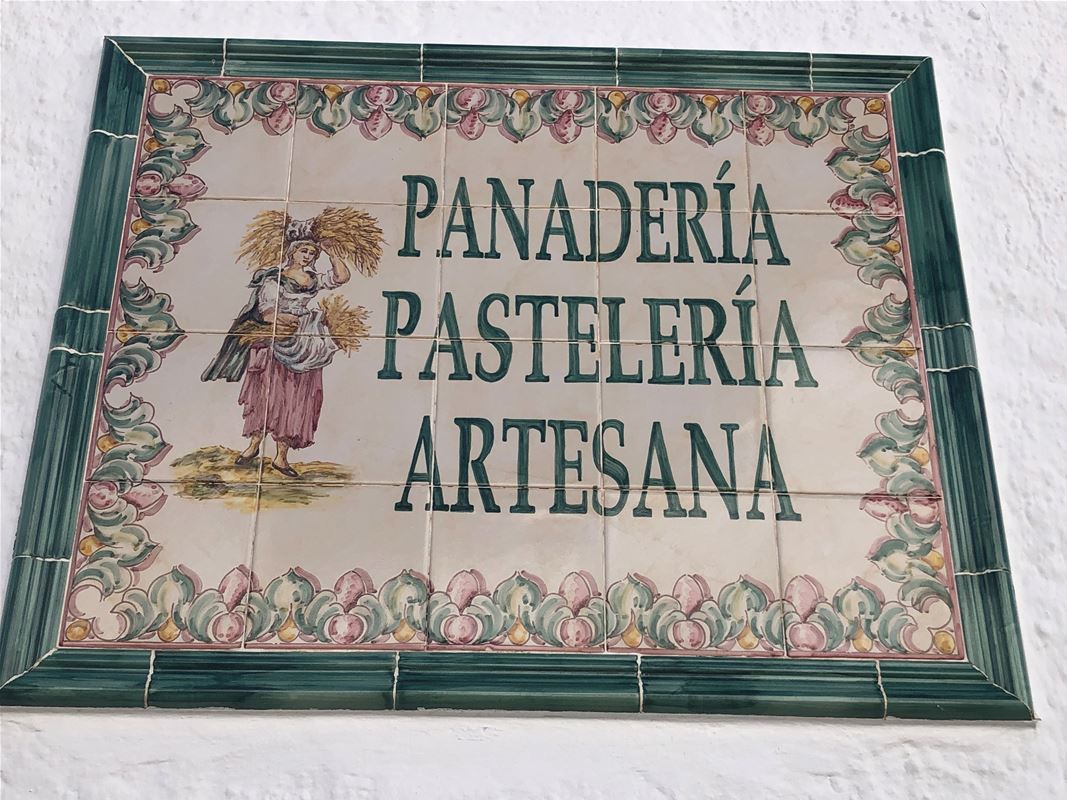 After a simply sumptuous breakfast, it's a return to the busy bus station. I adore stations; bus, train or otherwise. So many choices as buses radiate in all directions, darkened windows hiding their sleepy passengers. In just one and a half hours, I disembark in Aracena and take a short walk through neatly cobbled streets lined with pretty white houses. It's a place that instantly appeals and I enjoy that 'first night' anticipation a holiday brings……working in Spain brings.
So I start trekking through the quiet countryside of Sierra de Aracena wandering along the lanes through forests of chestnut. Passing slate grey plump pigs grazing under oak, it becomes quickly apparent that this is region wholeheartedly devoted to gastronomy. Acorn munching pigs, truffle sniffing dogs, chestnuts in the grove, fat sheep providing meat and cheese and goats too (obviously not cow territory). Olive trees exist of course, for the most vital of snacks in any bar. Fresh, green, salty and so good, I'm sure, with a local beer (yet to be sampled). Feeling content after a good walk and a full tum of that famous 'jamon', snippets of octopus, country bread, salty cutlets of lamb and potatoes, red wine…or two and late hour accepted, I fall asleep to the sound of church bells…….a wonderful introduction to 'here'.
My first days are misty, drizzly and cool. It feels like home; to be chilly, watch acid green ferns unfurl and foxgloves mingle with broom. Dog roses, honeysuckle and peonies are everywhere, while stunning purple orchids poke through russet red soil. Then the band of mist and drizzle passes the Sierra to pastures new.
The temperature rises as my week progresses and I go from shivering in completely the wrongly brought attire, to luxuriating in the warmth of the evening sun. I can now bring together my opinion of this new trek. It's not what I'm used to as I'm always assigned high mountains, rough terrain and really challenging days. They give a thrill; a feeling of achievement and a guiltless way to indulge in anything deliciously edible at the end of the day. In Sierra de Aracena, that doesn't happen and I'm cautious about weight on the hips. The days are shorter and less challenging, but it's such a good feeling! The walks are so pretty, so un-pressured, but long enough to feel that you have walked!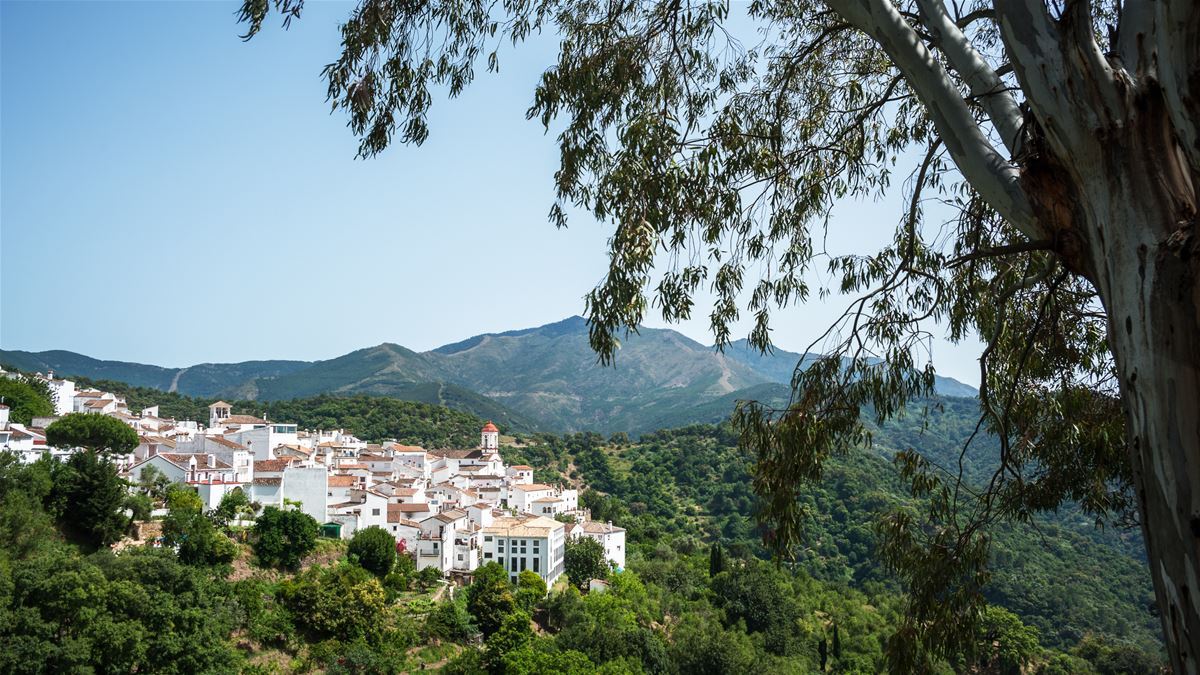 Mid way through, Almonaster has captured my heart. It's so immaculate and has Spain's oldest mosque dating from the 9th century sitting on a hill above perfectly manicured cobbled streets. I wander through them, all street names in colourful 'azulejos'…those renowned Andalusian tiles which never look right at home.
I guess in Spain it's impossible not to focus on eating and wine consuming; it's their absolute passion. I finally cope with dinner at 9 pm in a dark rustic restaurant smelling richly of garlic and with a huge flower covered crucifix illuminated by candles? I'm still alone…the first….the early bird.
Dinner is divine and the local award winning, Almonaster sweet Vino de Oro, exquisite. By the time I leave, a few locals have started to filter in. It's fully booked apparently.
Another day dawns clear and bright and the trail, a little more challenging, rises high over the Sierra. Views are stunning, wild flowers blooming and the scent of pine rises from the warm earth. Arriving at my accommodation perched high on an open hillside, I feel as though I'm on a ranch in Argentina as a group of beautiful horses stood tethered; their rather handsome 'caballeros' had just finished lunch.
I dine outside; this place is so beautiful, so warm and all the lights of those white villages are starting to twinkle…what more could one wish for…….well, a few of those 'caballeros' just galloped by!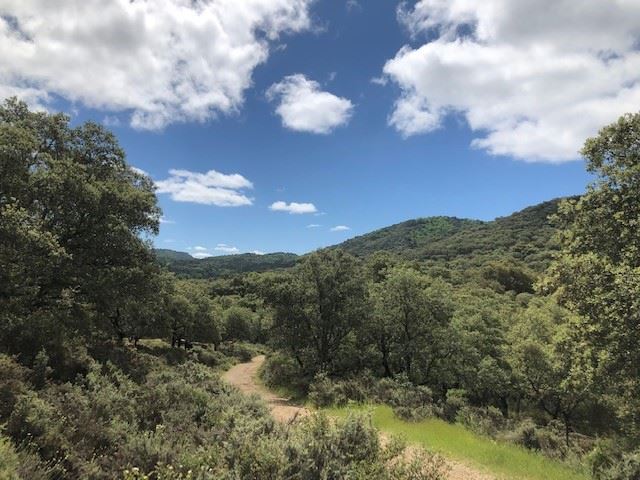 With just two days left the walks continue to delight and the villages even more so. Alajar on a Sunday morning is lovely as traders set up a few stalls selling their wares; honey, sticky concoctions of chestnut, sheep and goat cheeses and another, in contrast, selling knickers and socks. I linger with a café con leche reluctant to move enjoying the happy scene and sound of church bells.
I make the steep (optional) climb up to La Pena, an outcrop of rock against which Alajar nestles. It's worth the effort not only for the views but also to visit the beautiful church with a statue of La Virgen de Los Angeles; she sadly waited until 2006to be blessed – by Pope John Paul ll. Then, a shady walk down to a gorgeous Casa Rural with a distinctive English country house air. The setting is stunning, food divine and pool a welcome treat.
The last day is never quitethe same on a trek. Not in as much as it's not a good walk, but it's the doleful feeling of knowing the happy day after day routine of walk, eat, sleep is ending. I complete the circle and enjoy the sumptuous luxury of Aracena's Convent which rounds the week off very nicely indeed.
Was my vision accurate? Yes, in every way except that it I wouldn't have though Andalucia could be sogreen and so fresh; that endless varieties of mushroom grow in May; and that there could be so many types of shower fittings to baffle, drench and frustrate a sweaty walker!
I only saw a few poppies…..completely lost they were amongst at least 40 other wildflower varieties.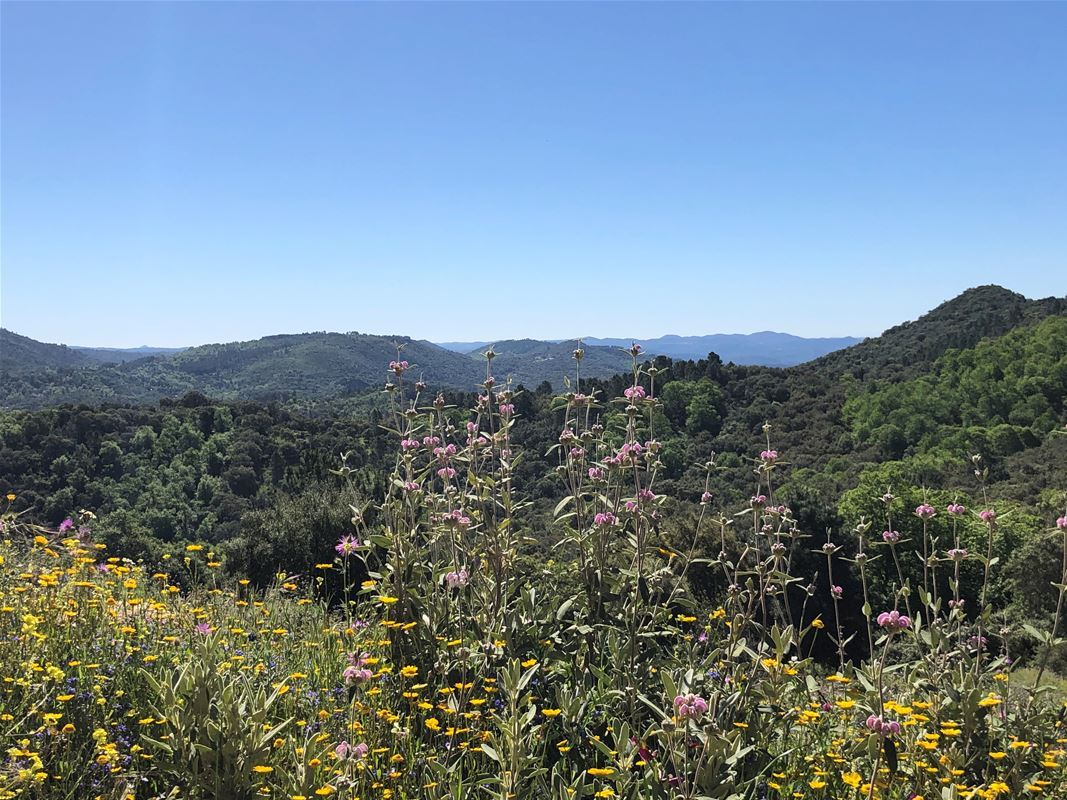 Now it's time to turn into a city girl and 'do' Sevilla in a day rather than fly straight home. The first bus from Aracena is early and I'm inside the city walls having pastries and coffee by 10 am enjoying a spot of people watching. It's hot and busy as groups of tourists struggle to follow a pink umbrella, a fluffy bear, a straw hat and more oddities mounted on sticks supported by flustered guides. So narrow are the streets, one group blends with another; travelling solo has its pluses. The Cathedral is cool and majestic and I fall in love totally with the Alcazar. I must return.
Water tinkles from fountains in hidden courtyards and the unseasonably hot day is tinged with a whisper of coolness. I'm sipping a vintage sherry and nibbling on those salty green olives. How utterly perfect……
Deborah
Find out more about this new trek in Sierra de Aracena here
VIEW WALKING HOLIDAYS IN Spain - Mainland