Re-discovering the Delights of Dominica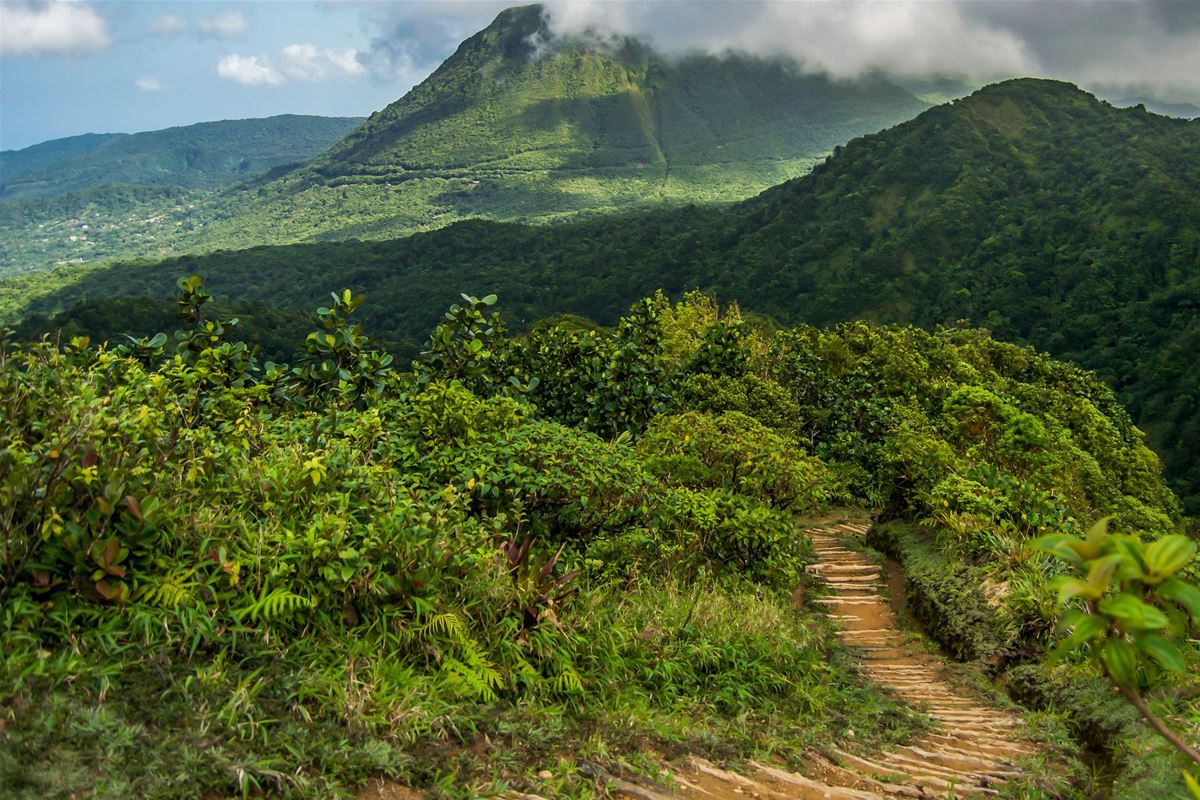 It was only two hours ago that I begrudgingly left my bed to quickly wash and wait for a taxi to Antigua Airport. It was still dark and red street lamps cast an eerie glow to the empty road (they put turtles off crossing the roads apparently). My spirits rose as I sipped a nice cup of tea with freshly made toast and marmalade in the departure lounge café (I'm terribly English first thing in the morning).
Spirits continued to rise as I saw the crew wandering over to a shiny new LIAT aircraft and they looked quite awake and jaunty. Thirty minutes later, descending through golden tinged clouds my face breaks into a huge grin as I catch the first sight of Dominica's mist enshrouded mountains. I'm here again.
I just love the ease of picking up a hire car and heading off along empty roads, free to explore. Admittedly, I know my way to Roseau, but it's not difficult. As I reach the roundabout (Dominica has only one realroundabout smack bang in the middle of the island where it's really quite unnecessary), a man starts waving at me frantically to slow down. His grin is one huge mass of enviable marble-white teeth. He asks if I can take his wife Precious to Roseau as she missed the bus or maybe the bus isn't coming as it's Sunday and she be late for work. "Of course I will" …..it's what you do on Dominica.
Precious fills the car with her tropical perfume and the seat with her beautifully dressed person….she is huge! I feel pathetically small and pale in her company. She laughs before she even speaks and chatters all the way to Roseau praising the Good Lord for a beautiful Sunday Morning and for her happiness.
Infected by Precious's zest for living, I all but skip into the lobby of the Fort Young Hotel. My room overlooks the sea and the pool. However, this is not a holiday so I can't sample either today; meetings await.
It's a strange connection I have with Dominica; a connection that seems to draw me back year after year for some very valid reason or another. Storms, hurricanes, hotels closing, new ones opening, new hikes to walk and product to pursue. This time it's two new holidays to replace those we featured pre Hurricane Maria and I've seven whole days to get them organised. What a tough life!
Monday is Carnival and a holiday and of course, no meetings as everyone joins in the music and partying. The procession begins; vibrant coloured costumes of shiny, gaudy fabrics, girls of ample proportions squeezed into glittering bodysuits adorned with feathers and sequins; faces heavy with makeup and false eyelashes. It's a chaotic spectacle, it's noisy, but oh how Dominican's enjoy themselves!
My week involves a lot of driving covering just about all the island. The Waitukubuli National long distance trail is a priority, but no easy task to put an itinerary together with the toughest of Fourteen Segments being right in the middle and far too challenging to walk. South to north, north to south, to the west or east, which way round? I settle on a natural progression from south to north and find some (mostly) lovely places to stay.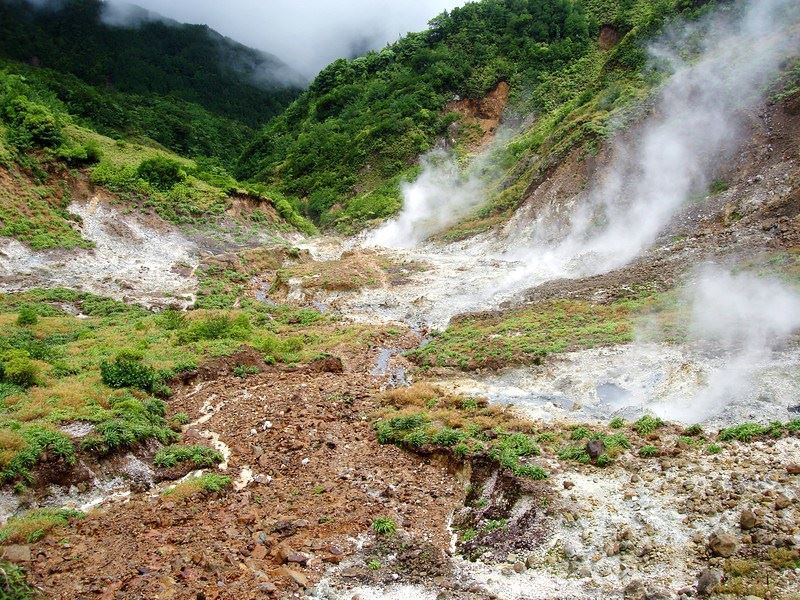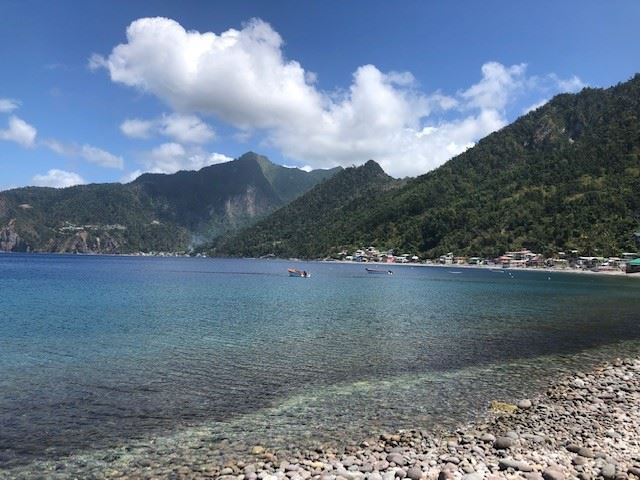 I suppose I should be honest….nearly every day (actually every day) I manage a swim. Work completed, I plunge into that warm, clear Caribbean Sea with the exception of one Sunday when I had a totally private section of crystal clear river in front of my cottage. Night falls quickly in the tropics and I search unsuccessfully for a torch to guide me to the restaurant. It's fine….as there's fairy lights all over the bushes and in the trees, but they move, wizz and dive through the night sky too? The firefly is quite simply magic! Our multi centred holiday features this heavenly place and I for one, could stay forever.
Dominica's far north presented challenges in finding anything from accommodation to shops and places to snack. Driving long distances is hungry work and I love to eat local. Success came one day in Calabishie when I stopped at a bar advertising snacks. Feeling pleased with myself on finding such a cute place overlooking the sea, I was given the menu. Pork with rice, peas, provisions, veggies and potatoes or Shrimp with rice, peas, provisions and so on, Chicken with …and all the rest. I asked if they did sandwiches (embarrassingly English). The happy Owner replied "no that not real food…you eat proper cook up". I opted for the shrimp…..and a siesta! That's what you do on Dominica.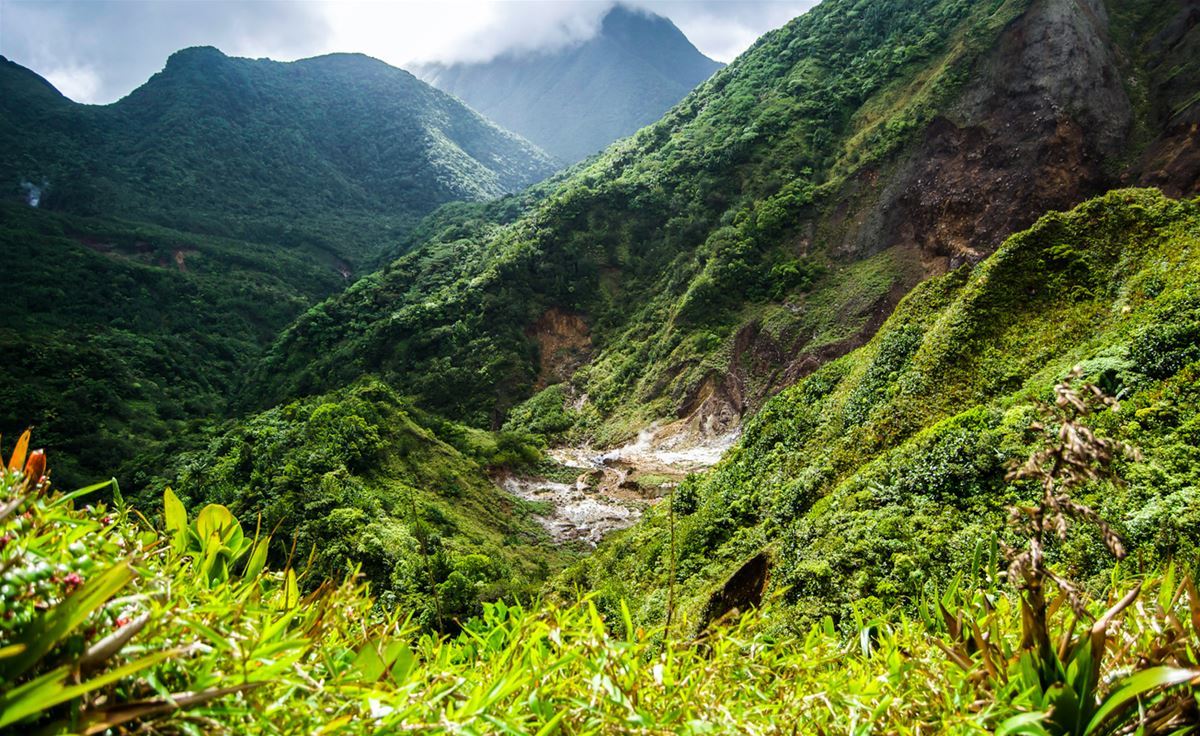 The week draws to a close and I've one more accommodation to sample. I hope it's good as it really fits the bill for both holidays, trekkers and non trekkers alike. The location is perfect, but I heard they had suffered terrible devastation in the hurricane. Twice I unknowingly drove past and became frustrated that it wasn't where the map said it should be. Success came by noticing a green roof amongst brightly coloured foliage. I parked and found some stone steps and noted a sign hidden by vast green leaves. In the small reception office a wonderfully smiling lady greeted me …..with a Kentish accent! She had lived in England and worked in Sainsbury's. A young girl led the way to my cottage along neat cobbled paths through tall, dense tropical plants; the flowers, the scent, the hummingbirds. "it all brown and dead a year ago" she said.
The final day brings no accommodations to visit or meetings to attend and with a late flight I seek a hidden beach. A discovery which took my breath away……that's what happens on Dominica.
The not so shiny LIAT plane took off and headed into the sunset (strange I arrived at sunrise). I looked back, but already the island was hidden by billowy clouds. I didn't feel sad as I know I'm going to return. It's what you do when you've been to Dominica.
VIEW WALKING HOLIDAYS IN Dominica