---
Holiday Highlights
Remote walking in three of the National Parks of Macedonia
Visit one of the most ancient cities of the region, Ohrid, sat within a beautiful lake setting
Opportunity to walk to the top of the highest mountain entirely in Macedonia at 2748m
Request A Quotation
Send Us An Enquiry
Overview
Walking
Pricing
Map
Accommodation
Info
North Macedonia is a country of 2 million people, once a part of the former Yugoslavia. It has been independent for over 10 years and is in the process of revitalising its tourism appeal to visitors from further afield.
You walk in three of the National Parks of North Macedonia and the walking is generally remote, but you will still see plenty of the rural life of the country.
Most of the walking is in some of the mountainous country of North Macedonia. You are walking generally north to south, in the west of the country, with the Albania border never too far away. The mountains here are not rugged peaks but have gently rounded summits. You have the opportunity to walk to the top of the highest mountain entirely in North Macedonia (i.e. not on the border) at 2748m. There are some quite lengthy days but the paths are mostly good. There are no vertiginous sections. You also have the opportunity to visit one of the most ancient cities of the region, Ohrid, with its beautiful setting by a lake. You will walk above the lake and appreciate its beautiful setting.

Day 1: Arrive in Skopje. Transfer by car from the airport to your first hotel. Drive around Skopje and head out along the valley to the city of Tetova. Ascend 1300m to your hotel in Popova Shapka deep in the Sar Mountain range. Transfer time 1 hour 10 minutes.
Day 2: Today, you have a choice of walking:
Either, take a straightforward walk interspersed with periods of challenging climbs, stunning scenery and a wilderness hard to beat. Ascend Titov Vrv, the highest peak completely within the borders of Macedonia at 2748m. Ascent 1247m. Descent 1247m. 14 ¼miles - 8 hours. (This is an out-and-back walk, so it can be shortened to suit your ability.)
Or, take a less challenging, but longer, walk to the enchanting wooded valley of Leshnica along an easy track. See the glorious mountains and forests of the Sar Mountain massif. Walk through forests of pine trees and picnic at Leshnica before commencing your return walk. Ascent 685m. Descent 685m. 18 miles - 7 hours. (This is an out-and-back walk, so it can be shortened to suit your ability.)
Day 3: An easy, short, circular walk above Papova Shapka. Ascent 230m. Descent 230m. 3½ miles - 1 ½ hours. Transfer by car to your next hotel in Mavrovo. On arrival, you will have time to explore this beautiful lakeside village with its sunken church just visible.
Day 4: Walk an exciting mountain trek from the lakeside town of Mavrovo to the picturesque hillside village of Galicnic. Initially ascending steeply, the route takes you across a mountain wilderness along a drovers' road before finally dropping down into Galicnic.

Ascent 575m. Descent 335m. 9 ½ miles - 6 hours.
Day 5: After an initial ascent on departure from Galicnic, descend slowly to the mountain village of Lazeropole. Walk through wild remote countryside regularly walked by Macedonians.

Ascent 700m. Descent 850m. 12½ miles - 7 ½ hours.

Day 6: Transfer by car to your hotel near Ohrid. You have a choice today. Ask to be dropped in the small city of Ohrid set on the beautiful Lake Ohrid. Explore this remarkable historic city with its extensive Roman remains, including an impressive amphitheatre in the centre of the town. Ohrid has an ancient centre with many historic buildings with both Turkish and Slavic influences. The city has been listed as a UNESCO World Natural and Cultural Heritage site. Take a 10 minute taxi ride to your hotel.
Alternatively, you can walk instead. You will be taken by car up high into the nearby Galicica Mountains. Take a walk across rugged mountain terrain affording you panoramic views of both Lake Ohrid and Lake Prespa, and also nearby Albania. Car transfer to your Ohrid hotel.

Ascent 640m. Descent 640m. 6½ miles - 4 hours.
Day 7: Today is a circular walk direct from your hotel taking in the Cave Church and Monastery of St Stefan, and then on to the picturesque village of Konjsko, where you have a close-up view of Macedonian rural life. You can shorten by Ascent 220m Descent 220m 5 miles 2 hours by not undertaking an out and back section to a view point. Return via more remote villages plus a detour to take in panoramic views over Lake Ohrid.

Ascent 745m. Descent 745m. 10 miles - 6 hours.
Day 8: If you have a late flight, you may wish to take the 10 minute taxi ride into Ohrid to explore the city. You will be collected from there for the return trip to Skopje airport (2½ hours).

Baggage transfer
There is a mixture of circular walks and walking from one hotel to the next. Your baggage is always transported for you onto your next hotel, when changing hotels, enabling you to walk with just a day rucksack.

Walk Grading
Self-guided – Moderate with Challenging options. Total for standard week ignoring variations:- Ascent 3920m, Descent 3830m, 55 miles.
This map is for illustration purposes only and we cannot be held responsible for its accuracy.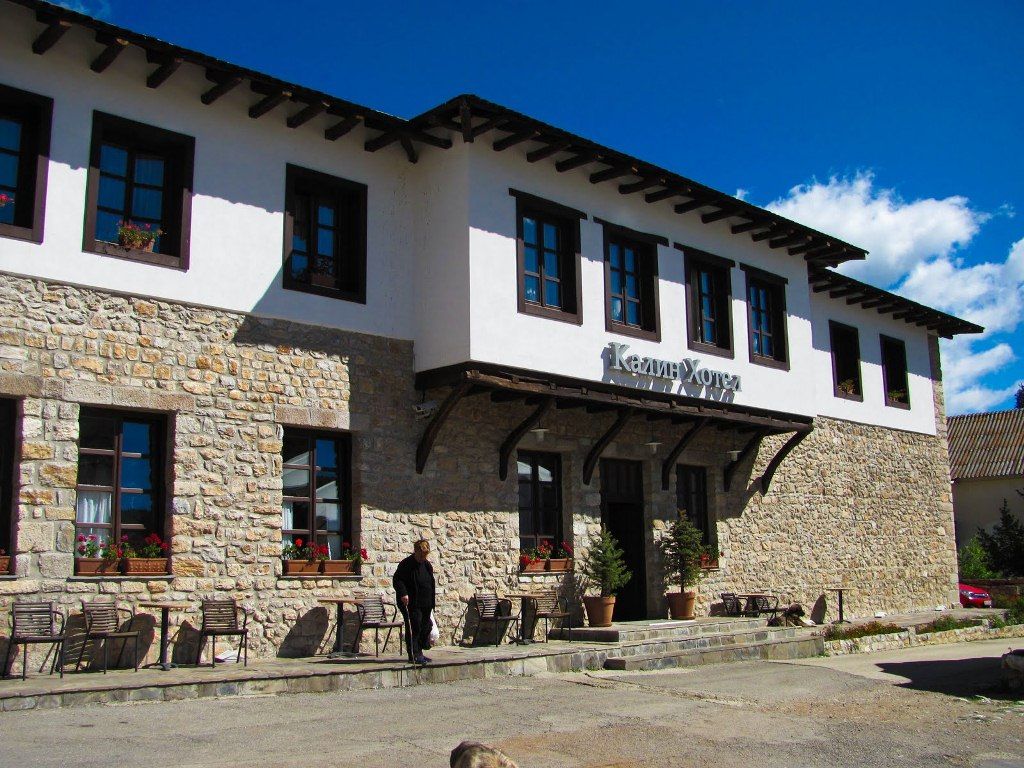 The hotels are small family owned hotels ranging from new hotels in traditional buildings converted by returning Macedonians, and an old country house hotel built for a manufacturer in communist times. All rooms have private bathrooms, except in Galicnik which might be a shared bathroom
VIEW MORE INFORMATION
Availability Information
The best time is Spring and early Summer when the flowers are at their best and it is cooler. September and October is also an excellent time for the autumn colours, and when the weather is at its most settled. In July and August it can be hot with late afternoon storms and the area is at its busiest.
Walking is possible from March to November with a risk of snow affecting the higher routes in March and November.

Please note our best to go information is generally referring to the walking which may fall in the early or late season in some places. This may mean that not all tourist facilities will be open at the time you visit.
When to book your walking holiday in North Macedonia - North Macedonia - Mountains, Churches & Lakes
| | | | | | | | | | | | |
| --- | --- | --- | --- | --- | --- | --- | --- | --- | --- | --- | --- |
| Jan | Feb | Mar | Apr | May | Jun | Jul | Aug | Sep | Oct | Nov | Dec |
| N/A | N/A | OK | Good | Best | Best | Good | OK | Best | Best | OK | N/A |
---
Request A Quotation Send Us An Enquiry