---
Holiday Highlights
Tranquil lakes and flowing riverside walks with spectacular mountain views
Explore one of Austria's major walking destinations known as "Austrian Lake District"
Walk to the famous Hallstatt Salt Mine, a World Heritage site
Request A brochure
Send Us An Enquiry
Overview
Walking
Pricing
Map
Accommodation
Info
The walk is in the area officially called Salzkammergut but is also well known by the name "Austrian Lake District". It is one of Austria's major walking destinations, featuring crystal clear lakes, set amongst stunning hillsides and mountains and dotted with picturesque villages; photographs of which have topped many a chocolate box. It is not surprising that Emperor Franz Joseph I of Austria chose Bad Ischl to build his summer palace, which you will have the opportunity to visit. The area developed economically after salt was discovered and mining started but now very little remains of the industry, although it still contributes to the economy as a previous salt mine is now open as a visitor attraction. Some of the area has become a World Heritage Site including the towns of Hallstatt and Bad Goisern, places you will be able to browse around.
The walking is on good paths or on small country roads. You walk along tranquil lakesides and beside rivers that connect the main lakes. You detour up the valley sides to visit smaller lakes in stunning surroundings, and to look down on the larger lakes in their full glory in spectacular settings amongst the mountains. You pass through quaint lakeside villages where it is not uncommon to see people dressed in national costume, and it is not just for the tourists. There are no major ascents, one longer day and one vertiginous section that can be detoured. Public transport in the area is good so you can easily opt out of a walk for the whole or part of a day if the weather does turn inclement.

Day 1 You will arrive by bus (journey time 1 hour 10 minutes from the Salzburg) or private car transfer (optional extra) to Abersee. A rural village which is across the lake from St Wolfgang. Overnight Abersee.

Day 2 Today's walk takes you over the ferry (included) to St Wolfgang, then along the east of Wolfgangsee on part of the St Rupert Pilgrim Way. You will follow the pilgrim trail, passing shrines and small chapels, to the Falkenstein Church built into the rockface at the site of the cave where St Wolfgang spent five years as a hermit. There are spectacular views of the lake today. You finish in St Gilgen and return by boat (included) to St Wolfgang. Overnight Abersee

Ascent 300m Descent 300m Distance 8 3/4 miles 3 1/2 hours

Day 3 Cross by ferry (included) to St Wolfgang and walk across a saddle to the beautiful lake Schwarzensee. After a brief stop you travel via Wirersteig pathway (some vertiginous sections) or take an easier alternative to return to the Wolfgangsee valley, walk alongside the lake to the bus stop and take the bus (payable locally) to Bad Ischl Overnight Bad Ischl.

Ascent 300m Descent 300m Distance 10 miles 5 hours

Day 4 A rest day in Bad Ischl which has many things of interest to explore. Visit Emperor Franz Josef's summer residence, or the local museum. Or take the Cable car to Mount Katrin at 1500m and take a high trail through one of Austria's oldest nature reserves. Or just relax in the famous cafes or thermal spa. Overnight Bad Ischl

Day 5 Today you follow the course of the historic brine pipeline, (beneath your feet most of the way), along the valley of the river Traun to Bad Goisern. The pipeline links the Salt mine at Halstatt to the works at Bad Ischl, do not worry the route is very picturesque and the pipeline not a major factor. There is a little detour to the pretty pilgrim church at Lauffen. Overnight Bad Goisern

Ascent 225m Descent 190m Distance 7 ½ miles 3 ½ hours

Day 6 This is generally a good path on top of the brine pipe just like yesterday's going from Bad Goisern through small villages and then along the side of the Salzburg mountain, the path often cut into the rock face. After crossing over the river Gosaubach, you rise, steeply at first then gradually before a final push up the last stage to the famous Hallstatt Salt Mine, (a World Heritage site). There is time to explore Hallstatt before taking the ferry and train (both included) back to Bad Goisern for your overnight stay.

Ascent 545m Descent 260m Distance 7 ½ miles 3 3/4 hours

Day 7 After a short train journey to Bad Ischl (included), today's journey takes you on the Elisabeth Waldweg to the Calvarien Church, then onwards to little lake Nussensee. You leave the lake following firstly the river Nussenbach then you transfer your allegiance to the river Ischl before taking the lakeside path through the Blinklingmoos Nature Reserve, a 100 hectare moor with wet meadows, bogs, forests and flower-rich meadows. Overnight Abersee.

Ascent 500m Descent 430m Distance 13 3/4 miles 5 ½ hours

Day 8 Return by bus to Salzburg or private transfer an optional extra.

Baggage Transfer
Your Baggage is transported for you from hotel to hotel so you can then travel with day rucksacks.


Walk Grading
Self-guided – Easy, with one long day. There is a small section that needs a good head for heights but this can be detoured. Total for standard week ignoring variations:- Ascent 1870m, Descent 1480m, 45 miles.
This map is for illustration purposes only and we cannot be held responsible for its accuracy.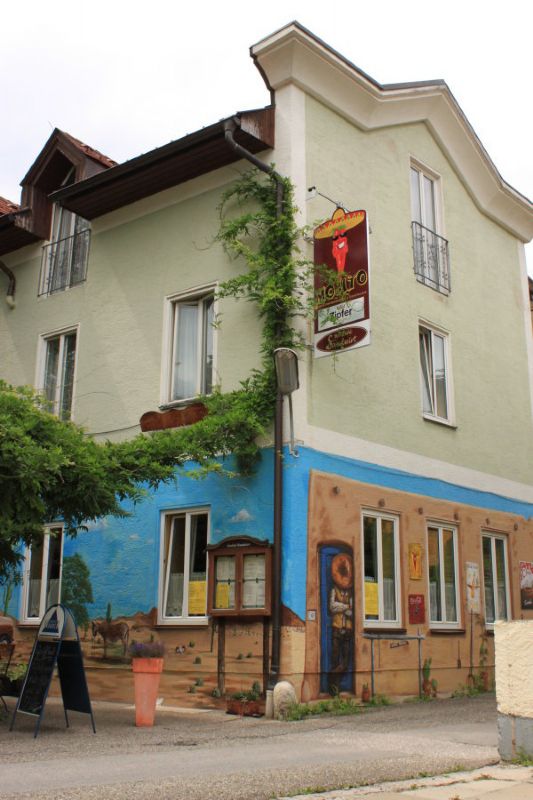 The hotels are mostly small family run hotels. All rooms have private bathroom, mostly with showers. You will be assured of dinner with local specialities and buffet continental breakfasts.

VIEW MORE INFORMATION
Availability Information
This walk is available from the end of April to the middle of October. You can start on any day. The temperature has an average high in July and August of 23C with June and September cooler and April and October an average high of 14C.

The best time to go is late Spring before the summer peak temperatures and spring flowers are in evidence, equally September and October are good with cooler weather lower rainfall and autumn colours starting. July and August the area is at its busiest.

Please note our best to go information is generally referring to the walking which may fall in the early or late season in some places. This may mean that not all tourist facilities will be open at the time you visit.
When to book your walking holiday in Austria - Salzkammergut - Lakes & Mountains
| | | | | | | | | | | | |
| --- | --- | --- | --- | --- | --- | --- | --- | --- | --- | --- | --- |
| Jan | Feb | Mar | Apr | May | Jun | Jul | Aug | Sep | Oct | Nov | Dec |
| N/A | N/A | N/A | OK | N/A | Best | Good | Good | Best | Good | N/A | N/A |
---
Request A brochure Send Us An Enquiry