---
Holiday Highlights
Immerse yourself in the magic of the "Austrian Lake District" famous for "The Sound of Music"
Crystal clear lakes and imposing mountains
Visit this stunning World Heritage Site listed area recognised for its special cultural significance
Request A Quotation
Send Us An Enquiry
Overview
Walking
Pricing
Map
Accommodation
Info
The trek is in the area officially called Salzkammergut, but is well‑known by the name "Austrian Lake District". It is one of Austria's major walking destinations, featuring crystal clear lakes, set amongst stunning hillsides and mountains and dotted with picturesque villages; photographs of which have topped many a chocolate box. Many of the location shots in the 1965 film of the phenomenally successful Rodgers and Hammerstein musical 'The Sound of Music' are in the Salzkammergut region. It is not surprising that Emperor Franz Joseph I of Austria chose Bad Ischl to build his summer palace, which you will have the opportunity to visit. The area developed economically after salt was discovered and mining started although very little now remains of the industry. A former salt mine is still open as a visitor attraction; again you have a chance to visit. Some of the area has been recognised as a World Heritage Site, including the towns of Hallstatt and Bad Goisern, places you will be able to explore.
The walking is mostly on good paths and country lanes beside tranquil lakes and gushing rivers. You visit ten lakes in all and often use mountain passes to reach them. There are some long days, which make this trek a little more challenging, plus one ascent of over 1000m. You generally walk from one hotel to another, but on three days you take a bus (not included in the price of the package – total approximate cost is €12 per person). Public transport is available every day if you don't wish to walk to your next hotel.

Day 1: Arrive by bus from Salzburg (journey time, 45 minutes), or by private car transfer (optional extra) from Salzburg to Fuschl am See.
Day 2: A circular route to the peak of nearby Mount Filbling (1307m) for breathtaking views of the surrounding mountains. Visit the charming lake of Filblingsee (1064m). Descend along the forest footpaths to the fairy-tale Schloss Fuschl, before a leisurely return along the shoreline of Lake Fuschlsee. Overnight at Fuschl.

Ascent 705m, Descent 705m, Distance 10 miles, Time 5 ¾ hours.
Day 3: Trek from Fuschl am See to Mondsee, taking you to the haunting ruins of the 13th-century Schloss Wartenfels (1021m) with stunning views of Fuschlsee, Mondsee, and Irrsee. The optional and challenging but worthwhile route ascends the twin peaks of Mount Schober (1328m) and Mount Frauenkopf (1304m), providing panoramic views of the Dachstein and Osterhorn massifs. Descend to Mondsee via woodland then country lanes. Overnight at Mondsee.

Ascent 745m, Descent 910m, Distance 8 ½ miles, Time 5 ¾ hours.
Day 4: Transfer by bus (payable locally) to Unterach. Begin on the shores of Lake Attersee (the largest lake in the region), before climbing steadily to the alpine meadows of the Moosalm. Onwards to idyllic Lake Schwarzensee before enjoying the thrilling Wirersteig route to the shores of Lake Wolfgangsee. Complete your journey with a ferry crossing of the lake and a short stroll to your hotel. Overnight at Abersee.

Ascent 445m, Descent 340m, Distance 14 miles, Time 5 ½ - 6 hours.
Day 5: Begin in the Blinklingmoos wetlands nature reserve, on the southern shores of Lake Wolfgangsee, then walk to Strobl. Continue alongside the rapid River Ischl, and ascend gently to tiny Lake Nussensee (604m). Stroll through pastureland and quiet country lanes into the bustling spa town of Bad Ischl and overnight here.

Ascent 225m, Descent 260m, Distance 13 miles, Time 7 hours.
Day 6: Start at the main railway station before crossing the River Traun. Ascend gently through forest to the alpine meadows of the Rettenbach Alm. Onwards to Blaa Alm at the foot of the Mount Loser massif. Then descend to the enchanting lakeside village of Altaussee and overnight here.

Ascent 280m, Descent 190m, Distance 13 miles, 7 ½ hours.
Day 7: The roaring River Traun leads to the charming town of Bad Aussee. On then through the idyllic Koppental Valley to the lakeside town of Obertraun. Complete your walk with a ferry crossing of Lake Hallstatter and overnight at the picturesque village of Hallstatt.

Ascent 200m, Descent 275m, Distance 16 miles, Time 8 hours.
Day 8: Take the cable car (included) to the 'salt mountain' (Salzberg). Continue on, skirting the broad shoulders of Mount Plassen, through meadows and woodlands. Ascend to the pristine alpine pastures of the Plankenstein Alm (1540m), and down again through forests to Lake Gosaussee. Your return to Hallstatt for the night is by bus transfer (payable locally).

Ascent 1195m, Descent 780m, Distance 12 ½ miles, Time 7 ½ hours.
Day 9: First cross Hallstatter See by ferry. Follow the east bank of the lake then pick up the River Traun again, taking you past Bad Goisern and the pretty village of Lauffen. You soon join the historic Soleleitungsweg route (the Brine Trail) into Bad Ischl. Walk to the main railway station from where you can connect, via bus transfer (payable locally), to your hotel in Fuschl am See.

Ascent 100m, Descent 90m, Distance 15 ½ miles, Time 6 ¼ hours.
Day 10: Return by bus to Salzburg Airport, or by private car transfer (optional extra).


Baggage Transfer
Your Baggage is transported for you from hotel to hotel, so you can walk with a day rucksack only.

Walk Grading
Self-guided – Moderate, with some long days and one long ascent. There is a section on one day which requires a head for heights but this can be detoured. Total for standard trek ignoring variations:- Ascent 3895m, Descent 3550m, 105 miles.
This map is for illustration purposes only and we cannot be held responsible for its accuracy.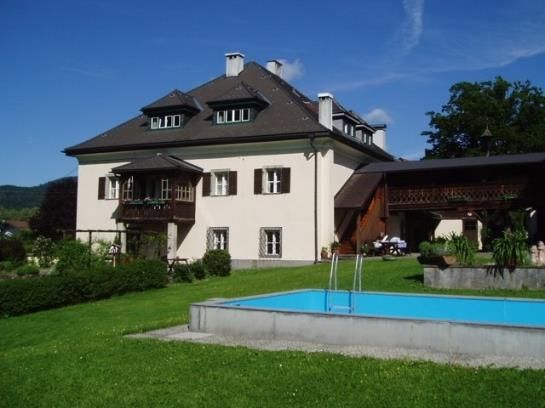 The hotels are mostly small family run hotels. All rooms have private bathroom, mostly with showers. You will be assured of dinner (if half board option taken) with local specialities and buffet continental breakfasts.
VIEW MORE INFORMATION
Availability Information
This walk is available from the end of April to the middle of October. You can start on any day of the week except Thursdays.
Temperatures: an average high in July and August of 23C, June and September cooler, an average high in April and October of 14C.
The best time to go is late Spring before the summer peak temperatures and when the spring flowers are fully in evidence; equally, September and October are good with cooler weather and lower rainfall and the autumn colours starting. In July and August, the region is at its busiest.
Please note our best to go information is generally referring to the walking which may fall in the early or late season in some places. This may mean that not all tourist facilities will be open at the time you visit.
When to book your walking holiday in Austria - Austria - Salzkammergut - Ten Lakes
| | | | | | | | | | | | |
| --- | --- | --- | --- | --- | --- | --- | --- | --- | --- | --- | --- |
| Jan | Feb | Mar | Apr | May | Jun | Jul | Aug | Sep | Oct | Nov | Dec |
| N/A | N/A | N/A | OK | Best | Best | Good | Good | Best | Good | N/A | N/A |
---
Request A Quotation Send Us An Enquiry