---
Holiday Highlights
Experience the delights of Upper Bavaria between Austria & Germany
Circumnavigate the impressive Mount Hochkönig at 2941m
Set your sights on the sparkling blue-green waters of Lake Konigssee
Request A Quotation
Send Us An Enquiry
Overview
Walking
Pricing
Map
Accommodation
Info
This area of Southern Germany and Northern Austria, commonly referred to as Upper Bavaria invites the trekker to enjoy walks with alpine meadows, wonderful mountain views often with snow at the top, panoramic views across green lush valleys and delightful lakes. You are walking around the towering peaks of the Hochkönig massif of which Mount Hochkönig itself at 2941m stands majestically above all of the others. You start in Germany, walk into Austria on the first walking day and back into Germany on the last. No need for passport checks when crossing borders as both countries are members of the Schengen Agreement (Borderless Europe). You will stay in a hamlet, alpine village, high alpine pass and in a small town in Austria, the first and last night are in Germany right by the beautiful blue-green waters of Lake Königssee.
The walking is on well marked paths with some rural roads for small sections. The highlights of the week are the exquisite lake at Königssee, the world renowned Seisenbergklamm Gorge and the final day's energetic but rewarding trek to the Jenner mountain cable car station before the glorious 25 minute ride back to Königssee.

Day 1: You will arrive in Königssee by bus from Berchtesgaden having travelled there from Salzburg (bus) or Munich (train). It is a short walk to your hotel. It is worth taking a stroll around the Lake or maybe take a boat trip if you arrive early enough. Overnight Königssee.
Day 2: You will be driven the short distance to Ramsau. First, you head off into the woods towards Hintersee where you are rewarded with a wonderful meander around a lake before ascending gently to the Austrian border where there is a café for lunch or take a picnic. Although you are crossing from Germany into Austria you will not need your passport. The final stretch is the gentle saunter downhill towards the magnificent Seisenbergklamm Gorge. In 1831 a wooden pathway through the 600 metre gorge was constructed. This enables you to tour this imposing monument along well-maintained pathways, it is truly awesome. You will need to pay on exit 4 Euros each. Overnight Weissbach.

Ascent: 740m. Descent: 780m. Distance: 12 miles. Time: 5 hours.
Day 3: A shorter walk today mainly along forest trails. A 25 minute taxi ride (included) will get you to the start point. Initially you ascend through forests and alpine meadows to the sound of cow bells to a height of 1824 metres with wonderful views down across the lush green valleys. After enjoying the serenity and wild flowers at the pass you start your descent to Dienten stopping off en-route at a small friendly family run café at Lettenalm for lunch. The final stretch of descent to the picturesque village of Dienten is again through meadows and down grass trails. The entrance to the alpine village of Dienten is made special by the 16th century St Nikolaus church which has a wonderful gilded high altar and sculptures worth viewing. Overnight Dienten.

Ascent: 800m. Descent: 720m. Distance: 8 miles. Time: 5 hours.
Day 4: From the village you set off uphill through the fir tree forest to the mountain café at Erichhutte and a chance to sample the warm cake and buttermilk drink, a delicacy of the area. Then follow the contours of the mountain side around Mount Hochkönig enjoying spectacular views of the majestic peaks, views across the valley where you can pick out the winter ski slopes and cascading waterfalls reaching lunch at one of four closely grouped huts 'Vier Hutten'. The last stretch is a gentle meander through alpine pastures affording spectacular views in every direction until you arrive at Arthurhaus nestling into the mountainside. Overnight Mühlbach.

Ascent: 800m. Descent: 300m. Distance: 10 miles. Time: 5 hours.
Day 5: You have two nights at Mühlbach so have a choice. Perhaps a chance to put your feet up in the sun with a sauna and massage. There's the chance to try your hand at archery in the woods just outside the hotel. Maybe catch a bus from outside the hotel to Mühlbach town centre to enjoy lunch at the alpine village or even a stroll to keep you trim! We have a 2 hour circular walk written up as it offers a marvelous opportunity to gently climb to a welcoming cafe at Mitterfeldalm for coffee and cake before descending down a grassy trail tracing a babbling stream to hopefully spot marmots in the wild. There are other walks available at the hotel. Overnight Mühlbach.

Ascent: 290m. Descent: 290m. Distance: 3 miles. Time: 1.5 hours.
Day 6: Today is nearly all downhill descending some 1000 metres through forests and meadows along small streams and farmhouses. From the hotel at 1500 metres you head down towards Stegalm following alpine meadows and forest trails. You soon glimpse the Tennengebirge mountain range ahead with its majestic peaks and continue around the contours of the hillside reaching Werfen some 4 hours later, before transferring by a short train ride (included) to Golling. You may consider a trip to the world's largest accessible ice caves at Eisriesenwelt. Allow 3 to 4 hours for this excursion. Alternatively you may visit the formidable medieval fortress for bird flight demonstrations. Werfen was made famous in the World War 2 action film 'Where Eagles Dare' and also makes a cameo appearance in 'The Sound of Music'. Overnight Golling.

Ascent: 140m. Descent: 1150m. Distance: 8.5 miles. Times: 4 hours.
Day 7: After a short section on a tarmac track and then on a forest trail you start your steady ascent. You continue ascending to the German/Austrian border (1736m), where there is a mountain hut open for refreshments, almost at the top of the climb. After a further 100 metres delightful slow ascent you reach the Cable Car station at Jennerbahn which you take for the descent (included) back to Königssee.Overnight Königssee.

Ascent: 1970m. Descent: 320m. Distance: 11 miles. Time: 5 ½ hours.
Day 8: Return by bus and train to Munich or Salzburg and on to the airport, if leaving later in the day Königssee is well worth exploring on a boat rip or just wander by the side of the lake. Or you can spend time in Salzburg or Munich.
Baggage Transfer
Your Baggage is transported for you from hotel to hotel so you can then travel with day rucksacks.
Walk Grading
Self-guided – Moderate, with one Challenging day. Total for standard week ignoring variations:- Ascent 4020m, Descent 3980m, 50.5 miles.
This map is for illustration purposes only and we cannot be held responsible for its accuracy.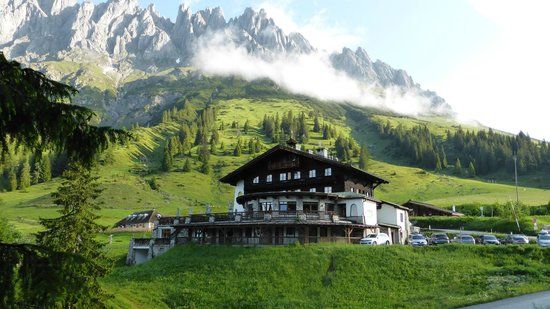 We have personally stayed in or visited all of our accommodations. They have all been selected for their great locations, friendly atmosphere and traditional hospitality, as well as the warm welcome they offer to walkers. Below is a summary of our usual accommodations*.
VIEW MORE INFORMATION
Availability Information
This walk is available from the middle of June to the middle of September. You can start on Saturdays or Sundays. As you are between 500m to 1300m on most days the temperature will be between 15 – 20C. Rainy days are highest in June and decline slightly as the summer progresses.

Please note our best to go information is generally referring to the walking which may fall in the early or late season in some places. This may mean that not all tourist facilities will be open at the time you visit.
When to book your walking holiday in Austria - Austria - Hochkönig - Lake Königssee
| | | | | | | | | | | | |
| --- | --- | --- | --- | --- | --- | --- | --- | --- | --- | --- | --- |
| Jan | Feb | Mar | Apr | May | Jun | Jul | Aug | Sep | Oct | Nov | Dec |
| N/A | N/A | N/A | N/A | N/A | Best | Best | Good | Best | N/A | N/A | N/A |
---
Request A Quotation Send Us An Enquiry