---
Holiday Highlights
Gaze at spectacular Zugspitze, Germany's highest mountain
Relish the wonderful 500m cable car descent from Ehrwald Alm to Ehrwald
Enjoy Low level walks within the Tirol area
Request A Quotation
Send Us An Enquiry
Overview
Walking
Pricing
Map
Accommodation
Info
This area of Southern Germany and Western Austria, commonly referred to as the Tirol invites the trekker to enjoy low-level walks with alpine meadows, wonderful mountain views often with snow at the top, panoramic views across green lush valleys and delightful lakes. You will be circumnavigating Zugspitze, a mountain of just under 3000m shared between Austria and Germany. It is Germany's highest mountain (but not Austria's) and has two cable cars (one from each country) giving easy access to the peak. You will visit famous ski resorts and old German towns.
It is easy to moderate walking along well-established trails. There is one vertiginous section, apart from a cable car, which is along the side of a gorge on a well protected walkway. This can be avoided by taking a short taxi ride. The paths are quite well marked but with our walk booklet that we have prepared, written by a native English speaker, you will not get lost. We provide a good walking map of the area. You will have two days walking in Germany and three days in Austria, with both countries being in the Schengen Agreement you will hardly notice the border.

Day 1: You will arrive in Garmisch-Partenkirchen by train from Munich (journey time 1 hour 30 minutes from the city centre) and either walk to your hotel across the station square or take a town bus (5 minutes). Garmisch is the gateway to the Zugspitze. Overnight Garmisch.
Day 2: After a short bus journey (free when you show your hotel guest card) you commence your trek to hike through the dramatic Partnachklamm Gorge (3 Euros entrance) before ascending through the woods to reach the wonderful panoramic views from the mountain hut at Eckbauer 1237 metres for refreshments. The route then zigzags into forest and alpine meadows along a contour ridge with spectacular views, before you arrive at your lunch spot, at the Elmau Alm mountain hut at 1203 metres. The last stretch is a leisurely downhill meander along a well-signed trail to reach the ornate village of Klais, where you can spend some time wandering around this pretty village with gaily painted houses before catching a regular train service (2.20 Euros) to your accommodation for the night in Mittenwald.

Ascent 980m Descent 750m Distance 11 miles 5 hours
Day 3: Today you cross into Austria. You walk from the hotel following a minor tarmac road to reach the impressive Geisterklamm Gorge in about 30 minutes. Here you have the option before entering the gorge of walking down to see the waterfall (2 Euros) 200 metres below and the narrowest point of the gorge at just 23 metres. You walk high above the gorge on metal pathways for 30 minutes (possibly vertiginous, to avoid, take a short taxi ride from the hotel to the end of the gorge). You then meander down the Leutasch valley following the mountain stream through woods with stunning mountain views all around to arrive in Weidach. Overnight Weidach.

Ascent 1070m Descent 945m Distance 10 miles 4 hours
Day 4: This is a rest day or a walking day as you choose; you can take the bus to Seefeld, one of the famous Austrian ski resorts and one of the 12 leading classic mountain resorts in the world. Or we have a walk documented if you prefer. Overnight Weidach.

Ascent 375m Descent 295m Distance 5 ½ miles 3 hours
Day 5: The highlight of today's walk is the wonderful 500 metre cable car descent from Ehrwald Alm to Ehrwald but first you have a little work to do! After a short transfer to the Gaistal National Park where you start your gentle ascent to a couple of mountain huts within 15 minutes of each other, ideal for the morning coffee stop. The first, at Gaistalalm has tremendous views of the Hohen Munde mountain range. Pause for refreshments and enjoy the total serenity and gentle tinkling of cow bells. After continuing through the valley to Tillfussalm and the second mountain hut, you commence an ascent to the Ehrwald Alm cable car station at 1502 metres enjoying the craggy peaks on either side as you saunter uphill. After a short 10 minute ride in the cable car (Euros 10.50) down to the village of Ehrwald, an easy stroll along the mountain stream brings you to your picturesque hotel in the middle of the bustling Alpine town. Overnight Ehrwald.

Ascent 575m Descent 350m Distance 10 miles 4 hours (inc cable car) Plus cable car 428m
Day 6: Today you return to Germany. The walk starts from your hotel with a slight ascent to the cable car station at the foot of the peak. If you wish you can finish walking here and ascend by cable car to the peak and then take the cable car down to Eibsee, walking from one country to another at nearly 3000m. If you wish to walk follow the mountainside around to your morning refreshments stop at the Hochthorle Hutte and into alpine meadows to reach the cable car station at Eibsee with options to continue to the peak by mountain train and glacial cable car, walk around the beautiful lake in an additional 90 minutes with refreshments at lakeside café, or continue down to Garmisch in 35 minutes by mountain train. Either way you are sure to enjoy the panoramic alpine scenery as you reflect on your final day's walking. Overnight Garmisch.

Ascent 545m Descent 550m Distance 7 ½ miles 4 hours
Day 7: Return by train to Munich and onto the airport, if leaving later in the day Garmisch is well worth exploring or take a trip to the top of Zugspitze. Or take a night in Munich to make it a 7 night holiday.

Baggage Transfer

Your Baggage is transported for you from hotel to hotel so you can then travel with day rucksacks.
Walk Grading

Self-guided – Moderate, with one long ascent. There is a small section which requires a good head for heights but this can be avoided by taxi.

Total for standard trek ignoring variations:- Ascent 3545m, Descent 2890m, 44 miles.
This map is for illustration purposes only and we cannot be held responsible for its accuracy.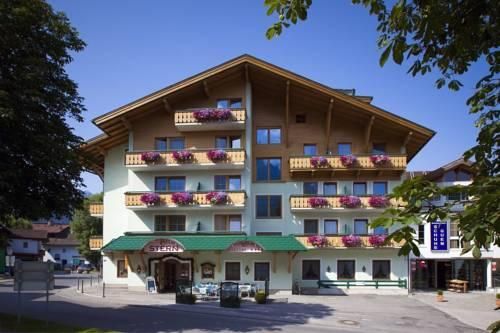 The hotels are mostly small family run hotels all 3*. All rooms have private bathroom, mostly with showers. You will be assured of dinner with local specialities and buffet continental breakfasts.
VIEW MORE INFORMATION
Availability Information
This walk is available from the middle of June to the middle of September. You can start on Fridays, Saturdays or Sundays. As you are between 500m to 1300m on most days the temperature will be between 15 – 20C. Rainy days are highest in June and decline slightly as the summer progresses.

Please note our best to go information is generally referring to the walking which may fall in the early or late season in some places. This may mean that not all tourist facilities will be open at the time you visit.
When to book your walking holiday in Austria - Austria - Zugspitze - Alpine Paradise
| | | | | | | | | | | | |
| --- | --- | --- | --- | --- | --- | --- | --- | --- | --- | --- | --- |
| Jan | Feb | Mar | Apr | May | Jun | Jul | Aug | Sep | Oct | Nov | Dec |
| N/A | N/A | N/A | N/A | N/A | Best | Best | Good | Best | N/A | N/A | N/A |
---
Request A Quotation Send Us An Enquiry