---
Holiday Highlights
Gaze at the spectacular contrasting scenery of this unspoilt island
Embark on a challenge with some high-level walking in the striking White Mountains
Visit the renowned Samaria Gorge and delight in plenty of relaxing swimming opportunities
Request A Quotation
Send Us An Enquiry
Overview
Walking
Pricing
Map
Accommodation
Info
The Island
Western Crete has long been a favourite destination for British walkers with many returning year after year to savour this very unspoilt part of the island. The region offers spectacular contrasting scenery. The White Mountains dotted with remote mountain villages rise to over 2400m providing some challenging walks for the experienced. Radiating from these mountains are numerous gorges running down to the sea, theWalking in South West Crete, Greece most renowned being the Samaria Gorge and many lesser known gorges to explore.Undoubtedly the sea is one of Crete's main attributes and coastal paths are enhanced by the Libyan Sea with shades of blue extending from the clearest pale turquoise to deep indigo blue. It's a destination where the people are as pleasant as the weather and the delicious locally produced foods (a haven for vegetarians by the way).
The Two Centres
In the far South West corner of Crete, we have chosen two bases for this holiday. For the first part of the week you stay in Paleochora with a choice of two hotels. Paleochora is a delightful village which straddles a narrow peninsular linking two beautiful bays. One side has a quiet sandy beach and the other rockier side offers endless views of the folds of mountains along the coast. The ferry comes and goes and the emphasis of Paleochora's slow pace of life is on taking a coffee and pastry in one of the many coffee houses or to enjoy the delicious Cretan cuisine of fresh fish, local cheeses, vegetables and honey in a shady taverna. The village provides a refreshing and relaxing base at the end of a days' walking. For the second part of your stay, you will be based in the stunning bay of Loutro – a perfect cove with whitewashed houses and tavernas overlooked by a ruined castle. Loutro is only accessible by boat or on foot giving it a special atmosphere. In Paleochora there is a choice of accommodation and we can add extra nights at either base.
Self-Guided Walking
In the first part of the week you will walk in the surrounding, lush hills of Paleochora carpeted in Springtime with wild flowers and deliciously scented herbs or, explore some of the coastal paths winding their way between turquoise bays and shady gorges including the famous Samaria Gorge. All are accessible by a reliable bus, ferry or water taxi. You will then transfer with your luggage by boat to Loutro and from here there are further gorges and coastal paths to walk to including the stunning Sweetwater Bay with its fresh water springs. All walks from Loutro are accessible by boat or directly from the hotel. Paths are well marked although often stony underfoot and some routes require an element of scrambling.
Much of the region is remote and sparsely populated so we would not recommend walking alone.
Walk Grading

Self Guided - Easy Moderate & Challenging
This map is for illustration purposes only and we cannot be held responsible for its accuracy.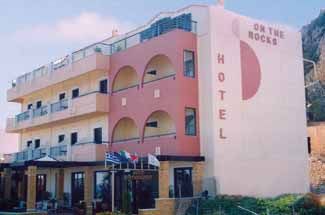 On the Rocks offers its guests a quiet and calming place to stay on the eastern side of the Paleochora peninsular. Set by the rocky waters edge, stunning views can be enjoyed from all rooms and from the colonial style terrace furnished with comfortable wicker sofas and armchairs.
All rooms feature free Wi-Fi, television, telephone, safe, air conditioning and private bathroom with WC, shower/bath and hairdryer.
VIEW MORE INFORMATION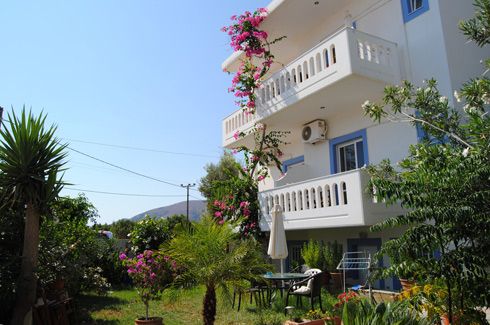 Facing west, near the sandy beach, these lovely apartments are very spacious with simple Cretan furnishings. Most rooms have a small balcony with distant views of the sea. Breakfast and any other snacks may be taken in the taverna. Some of the rooms have a kitchenette with kettle and fridge.
All rooms feature free Wi-Fi, television, telephone, air conditioning, tea/coffee making facilities and private bathroom with WC, shower/bath and hairdryer.
VIEW MORE INFORMATION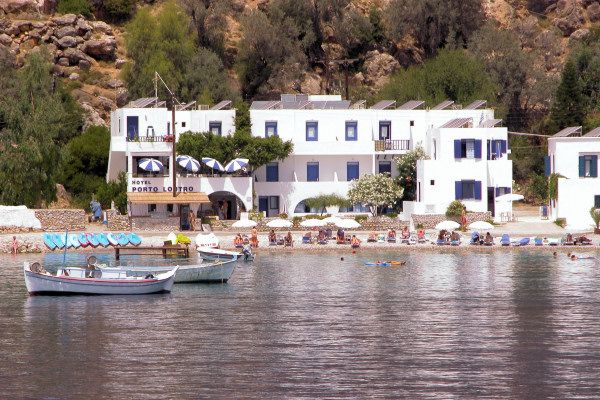 This hotel is in two parts – upper and lower (we mainly use the lower part), located by the sea and is delightfully furnished in Cretan style. The owner is English and has lived for many years in this beautiful spot. Breakfast is a simple continental buffet, but you may purchase additional items. Breakfast is taken on a lovely terrace overlooking the bay; this is not a place you will wish to leave!
All rooms feature free Wi-Fi, television, telephone, safe and private bathroom with WC, shower/bath and hairdryer.
VIEW MORE INFORMATION
Availability Information
Walking can be enjoyed for most of the year in south west Crete with the landscape at its best from April to June for wild flower and bird enthusiasts. From June to September, although much hotter, with a little caution and frequent swims in the crystal clear sea walking is still feasible. Ferry boats are less frequent from the end of October to Easter.

Please note our best to go information is generally referring to the walking which may fall in the early or late season in some places. This may mean that not all tourist facilities will be open at the time you visit.
When to book your walking holiday in Greece - Crete - Greece - Crete - Bays & Coves
| | | | | | | | | | | | |
| --- | --- | --- | --- | --- | --- | --- | --- | --- | --- | --- | --- |
| Jan | Feb | Mar | Apr | May | Jun | Jul | Aug | Sep | Oct | Nov | Dec |
| N/A | N/A | N/A | Good | Best | Best | OK | OK | Best | Best | N/A | N/A |
---
Request A Quotation Send Us An Enquiry