---
Holiday Highlights
Experience the mountains of the Troodos range with vast coast to coast views
Enjoy the friendly, local lifestyles of each village at the end of scenic walks
Walk around the top of Mount Olympus and to the Baths of Aphrodite
Request A Quotation
Send Us An Enquiry
Overview
Walking
Pricing
Map
Accommodation
Info
Cyprus offers great variety in its walking. You can experience the mountains of the Troodos range where you have wide ranging views over the island from coast to coast. There are valleys to explore with burbling streams running alongside you, the chirping of birds and perhaps the sighting of a mouflon. Medieval Venetian watermills and bridges add a historical context to the area along with deserted Turkish Cypriot villages. Forests range across the island which offer shade and a different kind of scenery to explore. Finally you get down to the coast with its stunning blue seas.
All over the island there are small rural villages, some of which look as if time has forgotten them as they appear the same as they did 100 years ago. Walking through and staying in these villages offer a vastly different experience to staying in the tourist-centric resort towns and cities by the coast. You are able to enjoy the friendly, local lifestyles of these villages at the end of each scenic walk.
You will be walking primarily on tracks which are numerous on the island, usually a mixture of gravel and dirt but there are some concrete sections. On three of the days where walking paths are taken they are fairly well signed. Some days are long at around 22km but the tracks are good and aid swift progress. On the opening two days you will receive transfers to and from the hotels and the walking.
There are a few sections which may be vertiginous to some although most tracks are wide, approximately 3 metres.
Day 1 Arrive in Paphos where you will be transferred to your first hotel in Kakopetria (about 1 hour 30 minutes). Depending on your arrival time you may be able to explore the village or possibly take a short walk.
Day 2 Today you have a choice of 2 walks. The shorter option (Artemis Trail) is a circular walk around the top of Mount Olympus and is the highest walk on the island at an average altitude of 1850m. The longer option (Madari Circular) is between 1200m and 1600m and is to the east of Kakopetria. Both walks are primarily in wooded areas but have plenty of opportunities to take in the views that you would expect from this height. Overnight Kakopetria.

Short option Ascent 100m Descent 100m Distance 4 1/4 miles 2 hours.

Long option Ascent 600m Descent 600m Distance 8 miles 4 1/4 hours.
Day 3 After a 1 hour transfer you start your walk descending slowly into the valley, surrounded by hills. Having arrived at the river, which you ford 3 times, you follow it for most of the walk. Shaded by trees all you can hear is the burbling of the river and chirping birds. If you are very lucky you may see a mouflon, a wild species of sheep. End with a transfer of about 30 minutes to your accommodation. Overnight Trachypedoula.

Ascent 450m Descent 900m Distance 10 1/2 miles 4 1/2 hours.
Day 4 After a short tarmac road start you drop down to the river which you ford in front of a formidable rock formation. You then broadly follow the river upstream, passing 3 medieval watermills en route, with grasslands around you. You will also be walking under the imposing Ais Yiannis cliffs. By the time you reach the Roudias Venetian bridge you will have forded the river twice more. From here it is uphill all the way to Pano Panogia, passing by the Paphos forest as you go. Overnight Pano Panagia.

Ascent 1000m Descent 750m Distance 13 miles 8 hours.
Day 5 A shorter day and one where you can see your goal almost from the very start! As you descend out of Pano Panagia you are able to see the path continuing down in front of you and then rising up again in the distance. That rise goes up to Phiti, a village reached about a mile before arriving at your accommodation. On the way you spend time next to a river until you reach the village of Kannaviou. From there you climb up next to farmland and terraces until you reach the beautiful old village of Phiti. From here it is a short descent to Lasa. Overnight Lasa.

Ascent 370m Descent 620m Distance 8 1/2 miles 4 1/4 hours.
Day 6 As you leave Lasa you are confronted by a stunning wide vista, the Troodos Mountains on your right, hills ahead and the valley affording views all the way to the coast. Droushia may be seen away to the left. As the route levels you stay close to a river on your journey to the Evretou Dam. You pass the dam on its south shore with the deserted former Turkish Cypriot village of Evretou on the other side. Passing through Kato Akourdaleia walk along the deep and steep Gorge of Tzihmenou. At its end you reach a watermill with a millers cottage, but also a chapel in an unlikely location! From there it is uphill all the way to your accommodation. Overnight Droushia.

Ascent 900m Descent 900m Disntace 14 miles 7 1/2 hours.
Day 7 On the final day of the trek you are accompanied by an almost constant view of the sea. After leaving Droushia and passing St Luke's chapel you walk on a ridge with coastal views on both sides. You then enter the wooded Akamas peninsula. After a small detour to take some shade and a picnic, continue north before turning onto the Adonis Trail, and then the Aphrodite Trail, a longer path which comprises of a circular walk of the Akamas peninsular. The path leads you up to the Moutti Tis Sotiras peak at 400m yet you are only about 400m from the coast. From here marvel at the fantastic 360 degree vista. Descend to your hotel at sea level, but not before stopping off at the Baths of Aphrodite along the way. Overnight Lakhi.

Ascent 550m Descent 1150m Distance 14 miles 7 hours.
Day 8 If the flight departure time permits, you may enjoy a walk either to the west along the coast to the "Blue Lagoon" cove which is great for swimming (round trip 9.5 miles) or go east and visit the touristy town of Lakhi (round trip 5 miles). You will be transferred to Paphos airport which will take about an hour.

Baggage transfer
Your Baggage is transported from hotel to hotel so you can travel with day rucksacks.

Walk Grading
Self-guided – Challenging due to the long days and some small river crossings. Total for standard week ignoring variations:- Ascent 2890m, Descent 4070m, 70 miles.
This map is for illustration purposes only and we cannot be held responsible for its accuracy.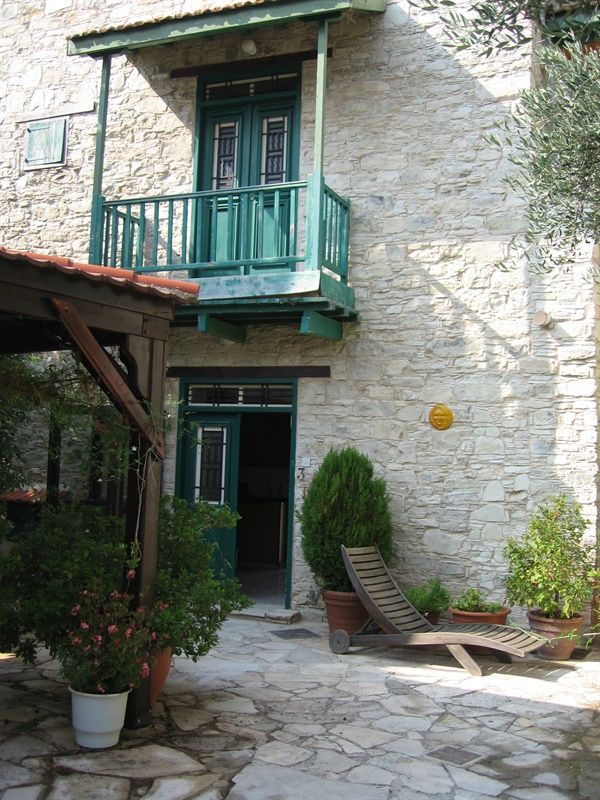 The hotels are mostly small family run hotels. All rooms have a private bathroom, mostly with showers. You will be assured of dinner with local specialities.
VIEW MORE INFORMATION
Availability Information
This trek is constrained by two contrasting types of weather. For the first two nights where you are in the Troodos Mountains snow may be a factor during the winter months, but the lower of the 2 walks should be possible throughout that season. At lower elevations the summer temperatures can rise to over 35 degrees Celsius making it too hot for most. We therefore recommend spring and autumn as the best times to do this trek.

Please note our best to go information is generally referring to the walking which may fall in the early or late season in some places. This may mean that not all tourist facilities will be open at the time you visit.
When to book your walking holiday in Cyprus - Cyprus - Walk to Aphrodite
| | | | | | | | | | | | |
| --- | --- | --- | --- | --- | --- | --- | --- | --- | --- | --- | --- |
| Jan | Feb | Mar | Apr | May | Jun | Jul | Aug | Sep | Oct | Nov | Dec |
| OK | OK | Good | Best | Best | N/A | N/A | N/A | Good | Best | Good | Good |
---
Request A Quotation Send Us An Enquiry