---
Holiday Highlights
Explore the mesmerising heart of the Chianti Classic wine-growing area
Visit the breathtakingly beautiful cities of Florence & Siena, classed as World Heritage Sites
Indulge in the delicious olive oils and fabulous cuisine of the Tuscan region
Request A Quotation
Send Us An Enquiry
Overview
Walking
Pricing
Map
Accommodation
Info
Beauty, relaxation, history and wine! Our Tuscany trek leads you through the mesmerising heart of the Chianti Classico wine-growing area. You will travel from Renaissance Florence to the medieval city of Siena. Both cities are World Heritage Sites and breathtakingly beautiful. Why not have a few extra days to explore them? You will be walking through vineyards where the world-famous Chianti wines are produced and you will be able to enjoy plenty of these on the way! It is from this area alone that Chianti is able to boast its black-rooster seal, "gallo nero". You will also be able to indulge in the delicious food and olive oils of the Tuscan region.
This easy-to-moderate trek leads you – along "strade bianche", which are local white or unsurfaced roads unique to the Tuscan region – through vineyards and olive groves, along cypress-lined roads and through oak, beech and chestnut forests alive with birdsong. Medieval hamlets teeter on hills, and offer panoramic views of the Chianti area. You will be intrigued by roadside memorials from classical times, deserted medieval chapels, extraordinary villas and churches, and sleepy villages all drenched in golden Tuscan sunlight.

Day 1: Arrive in Pisa or Florence (see 'how to get there' for arrival arrangements). Overnight in Florence.
Day 2: Begin in the outskirts of Florence. Pass Renaissance villas and traditional villages, until you reach hills peppered with cypresses, olive groves, vineyards, villas and hilltop hamlets, and later a serene wooded valley. Overnight at Impruneta.

Ascent 445m (+70m from centre of Florence), Descent 290m, Distance 11 ¼ miles from centre of Florence, 9 ½ miles from the outskirts, Time 6 hours/5 hours.
Day 3: Start the day in the wide piazza at the heart of Impruneta. Wander through beautiful vineyards and olive groves until you descend to the small town of Ferrone. From Ferrone, follow a long gradual ascent to the Poggio al Mandorli, then bear left for Strada in Chianti or continue on for Chiocchio for the night.

Ascent 335m, Descent 355m to Strada. Ascent 340m Descent 315m to Chiocchio. Distance 5 miles to Strada, 6 ½ miles to Chiocchio, Time 4 hours to Strada in Chianti, 5 hours to Chiocchio.

Day 4: Today you will pass the imposing gateway to the Castillo de Mugnana before rising through forested hills to the S. Giusto Plateau. Descend via Uzzano and its castle through sweeping vineyards to Greve in the heart of the Chianti Classico region. Greve is a popular destination and has an intriguing arcaded main square with plenty of cafes, shops, wine bars and museums.

Ascent 620m/495m, Descent 610m/535m, Distance 10 ½ miles from Strada in Chianti, 1 ½ miles less from Chiocchio, Time 5 ½ hours/4 ½ hours
Day 5: A short yet spectacular circular walk – and the epitome of Tuscany. This walk will take you to Montefioralle, which is a gem of a "burgo" (village), perched in the hills and retaining its medieval flavour within its ancient walls. This walk will leave you with free time to visit the Cantina di Greve in Chianti where there are over 100 wines to be tasted! Overnight in Greve.

Ascent 220m, Descent 220m, Distance 3 ¾ miles, Time 2 ¼ hours Overnight in Greve in Chianti.
Day 6: After a 20-minute transfer to the mountain village of Baddaccia Montemuro, the walk begins with a gradual descent into a beautiful wooded valley before climbing to Volpaia, an entrancing village where you can linger to sample the local Volpaia wine in the castle or at the renowned local cafe. From here you can see Radda in Chianti across the valley and a circuitous route takes you there via the church of Santa Maria Novella and the Molino S. Cassiano. Overnight in Radda in Chianti.

Ascent 435m, Descent 600m, Distance 9 miles, Time 5 ¼ hours.
Day 7: Walking mostly on "strade bianche" and forest roads, you will leave the vineyards and head for a broad ridge with extensive views. Later you will climb to S. Giusto in Salci. Then on to Galenda through vineyards and olive groves, passing the church at Poggio S. Polo before descending into woodland. Cross a stream and then a tough climb to your destination at Vagliagli where your transfer to Siena will be waiting.

Ascent 505m, Descent 525m, Distance 9 miles, Time 5 ¼ hours.
Day 8: From Siena we arrange a bus back to Florence or Pisa airport.
Baggage Transfer


Your baggage is transported for you from hotel to hotel so you can then travel with day rucksacks.
Walk Grading

Self-guided – Easy to Moderate due to ascents and descents on two days. Total for standard week ignoring variations:- Ascent 2560m, Descent 2600m, 50 miles.
This map is for illustration purposes only and we cannot be held responsible for its accuracy.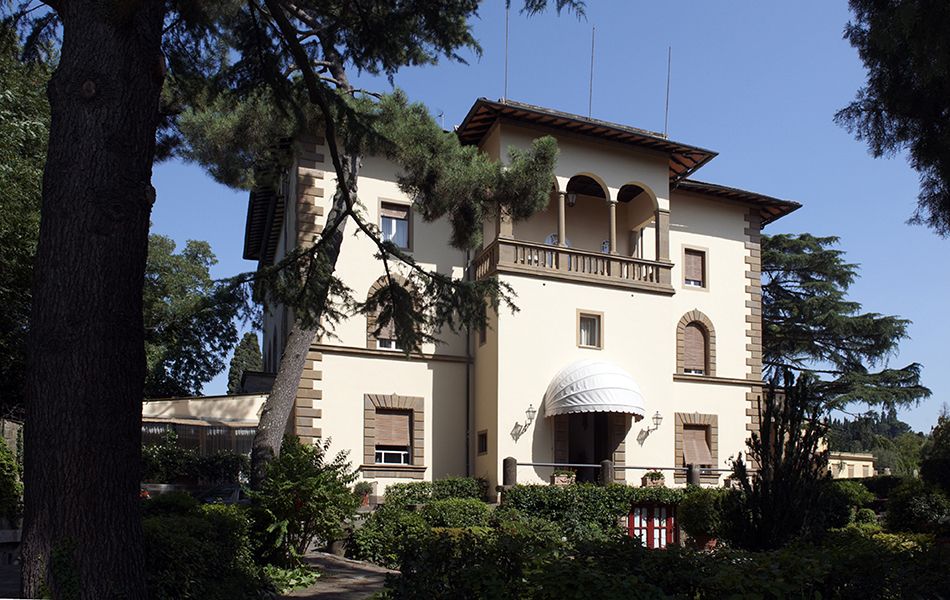 You stay in 3-star hotels or, on 1 night, an agriturismo. All are small and family-owned, chosen for their locations and friendly service. All rooms have a private bathroom. We include dinner on two nights; on other nights there are many local restaurants to choose from.
VIEW MORE INFORMATION
Availability Information
The trek is available from April to October. The best time to visit Tuscany is from April to June and from September to October when weather is usually good, it is not at its hottest and there are fewer tourists.

Please note our best to go information is generally referring to the walking which may fall in the early or late season in some places. This may mean that not all tourist facilities will be open at the time you visit.
When to book your walking holiday in Italy - Italy - Tuscany Chianti - Wine & Vineyards
| | | | | | | | | | | | |
| --- | --- | --- | --- | --- | --- | --- | --- | --- | --- | --- | --- |
| Jan | Feb | Mar | Apr | May | Jun | Jul | Aug | Sep | Oct | Nov | Dec |
| N/A | N/A | N/A | Good | Best | Best | Good | OK | Best | Good | N/A | N/A |
---
Request A Quotation Send Us An Enquiry