---
Holiday Highlights
Witness one of the most breath-taking coastlines in Europe
Wander over high mountain flanks, providing a perfect backdrop to the colourful coastline
Walk the most famous footpath of the Amalfi Coast, 'Sentiero degli Dei' (Footpath of the Gods)
Request A Quotation
Send Us An Enquiry
Overview
Walking
Pricing
Map
Accommodation
Info
The Amalfi Coast stretches 50km from Sorrento to Salerno and is one of the most breath-taking coastlines in Europe. Steep terraces full of scented lemon groves fall sheer into a deep blue Mediterranean Sea; whitewashed houses cling precariously to unforgiving slopes while sea and sky merge in one vast blue horizon. Colourful towns are pasted onto the steep slopes and have a history dating back 100's of years.
This trek takes in all the spectacular views of the coastline that you could wish for, but in addition the route leaves the coast to stay in villages whose way of life remains as they were before the area was touched by tourism. Some days wander over the flanks of the high mountains which provide a perfect backdrop to the stunning coastline.
Day 1: If you fly into Naples you are transferred to your first hotel in Cava dei Tirreni.

Day 2: The first days' walking follows the most famous pilgrim's route of the area to the Madonna dell'Avvocata, situated on a spectacularly panoramic balcony high above the Amalfi Coast. More panoramic views 'to die for' unfold as from a hermitage you can see as far as Paestum and the mountains of Calabria to the south, while views of the Amalfi Coast reach as far as Ravello and Conca dei Marini. This is definitely one of the most beautiful trails of the entire coast, unknown to most if not all foreign tourists. Descend to the village of Maiori, from where you catch a regular bus to Amalfi. Overnight Amalfi.

Ascent 800m Descent 1150m Distance 6 miles Time 4 ½ hours
It is possible to reduce the days walking if you would prefer. Turning off the path before the Madonna dell'Avvocata you head down a ridge towards the prominent Monte Falerio then turning down into the deep Cetara valley, until you reach this unspoilt coastal village. From Cetara you catch a regular bus to Amalfi.

Ascent 450m Descent 800m Distance 4 miles Time 2 ½ hours

Day 3: Today's walk immediately lets you step into the amazing culture and natural heritage of the Amalfi Coast. Wandering through quiet little back alleys of Amalfi still reminiscent of strong Moorish influence, then ascending to the charming village of Pontone with wonderful coastal views along the way. Deeper inland the path goes through a valley of watermills with the ruins of Europe's most ancient paper mills dating back to the 11th century. On the return to Amalfi through lemon groves you pass the paper museum where more can be learned about this ancient craft. Overnight Amalfi.

Ascent 500m Descent 500m Distance 6 miles Time 4 -5 hours

Day 4: It will be difficult to leave beautiful Amalfi, but better is to come, climb through the village of Pogerola (or hop on a bus for the first section!), to the small church of Madonna dei Fuondi, from where you have impressive views over the whole coastline. Then follow a balcony path through chestnut forests and deep valleys, partly along the edge of the high plain all with marvellous views over the whole coast and Capri, to the small village of San Lazzaro on the plain of Agerola. Time here for exploration in a world apart from the busier coastal villages. Continue to your hotel. Overnight Agerola in your hotel or Agriturismo.

Ascent 935m Descent 560m Distance 5 ½ miles Time 4 ¾ hours

Day 5: Take either a rest day or another walk which will take you along the valley sides of Agerola to Bomerano, ascend to the mountains above and the ridge of the Monte Tre Calli with its 360 degree unrivalled views! A fantastic scenic walk takes you along the ridge, through meadows and forest; to a natural rock formation known as the 'mushroom'. Retrace your steps to your accommodation.

Ascent 550m Descent 550m Distance 9 miles Time 5 ½ hours

Day 6: Crossing the valley this time to Bomerano and onto the most famous footpath of the Amalfi Coast, the 'Sentiero degli Dei' (Footpath of the Gods), it's a walk with incredible views. After the first beautiful stretch through terraced vineyards and ancient houses you reach Colle Serra where the views open up towards the other end of the peninsula and onto the island of Capri. Next comes a terrific panoramic stretch through spectacular scenery with bizarre rock formations and luxurious vegetation. Here the 'Footpath of the Gods' really lives up to its name! Then after passing through some delightful hamlets, descend to Positano, one of the most charming villages of the Coast. Overnight Positano.

Ascent 255m Descent 740m Distance 5 ¼ miles Time 3 ¾ hours

Day 7: Today ascend through lemon and olive groves to Montepertuso, or take a local bus from where you start a great day walk around the valley of Positano. Following ancient footpaths through the forest and along marvellous viewpoints you climb up towards a fortress from where you can admire both the Gulf of Salerno and the Bay of Naples. Walk on through a park like landscape of cypresses before descending on a zig-zag like path and medievan mule track to Positano. Overnight Positano.

Ascent 450m Descent 750m Distance 6 ¾ miles Time 4 ½ hours

Day 8: Either take the bus to Sorrento and onto Naples airport (all payable locally) or take a private transfer directly to the airport at a supplement.



Baggage Transfer
The luggage is transferred for you from hotel to hotel leaving you free to travel with just a day pack.
Walk Grading
Self-guided – Moderate, with some Challenging descents. Total for standard week ignoring variations:- Ascent 4300m, Descent 5090m, 45 miles.
Extension
You can extend your stay on the Amalfi Coast with 3 nights in Sorrento. As well as enjoying the town overlooking the Bay of Naples you could visit the Roman cities of Pompeii and Herculaneum or take a trip to Vesuvius.
This map is for illustration purposes only and we cannot be held responsible for its accuracy.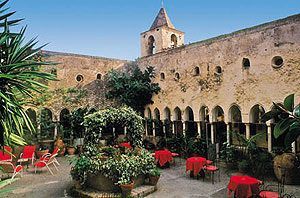 We offer standard grade hotels with mostly 3* hotels, the first night is in a 4*. The hotels are all small family run and are chosen for location and friendliness. In both cases 3 nights are half board, and 4 nights in Amalfi and Positano are B&B as there are a large selection of restaurants nearby to choose from.


VIEW MORE INFORMATION
Availability Information
The best time to go is in spring or autumn. Summer is also good but it can be hot and the coast is at its busiest.

Please note our best to go information is generally referring to the walking which may fall in the early or late season in some places. This may mean that not all tourist facilities will be open at the time you visit.
When to book your walking holiday in Italy - Italy - Amalfi Coast - Coast of Colours
| | | | | | | | | | | | |
| --- | --- | --- | --- | --- | --- | --- | --- | --- | --- | --- | --- |
| Jan | Feb | Mar | Apr | May | Jun | Jul | Aug | Sep | Oct | Nov | Dec |
| N/A | N/A | OK | Best | Best | Best | Good | OK | Best | Best | OK | N/A |
---
Request A Quotation Send Us An Enquiry