---
Holiday Highlights
Follow the Camí de Cavalls, an ancient pathway which encircles the whole island
Pass by stunning scenery of steep cliffs, peaceful orchards and bizarre prehistoric structures
Spot birds of prey as you traverse the rugged and isolated coast
Request A Quotation
Send Us An Enquiry
Overview
Walking
Pricing
Map
Accommodation
Info
Menorca is the second largest of Spain's four beautiful Balearic Islands and its name derives from the Latin for 'smaller island' due to its size in comparison with Mallorca. The island is also much quieter than its neighbour giving a more relaxed and less busy feel. This trek will take you across various sections of the island where you will be following the Camí de Cavalls. This ancient pathway, which in total encircles the whole island, was built in order to connect the many cannons, fortresses and watchtowers needed to protect the island from invaders. This created a path for soldiers to patrol on horseback; the word cavalls means horses in Mallorquin. The sections we feature will take you past stunning and varied scenery featuring steep cliffs, peaceful orchards and bizarre prehistoric structures as well as deep blue bays and white sand beaches.
The walking on the Camí de Cavalls takes in not just the coastline with its rugged bays and cliff top walks. You will also experience a nature reserve with an abundance of birdlife, shady woodland, agriculture, moorlands and grasslands. You are walking on predominantly good paths, rocky in some places, and occasionally on beaches. There is one section which some may find slightly vertiginous. You should have time to explore Mahon, the islands' capital, after your arrival or before departure. You will also get to enjoy the island's former capital, Ciutadella.
Day 1: Fly to Mahon and transfer to your hotel. If you have time, you can explore the nearby old city. Overnight Mahon.
Day 2 : After a brief transfer your walk takes you through a nature reserve. You traverse a large area of wetland, including a lagoon, dunes, rocky cliffs and several sandy beaches. The further west the rougher and rockier the coast becomes. You can visit this wild headland with its prominent lighthouse. Towards the end of the day you pass old salt pans. A short transfer takes you to your hotel. Overnight Fornells.

Ascent: 320m. Descent: 290m. Distance: 11 ¾ miles (additional 1 ¼ miles to visit the lighthouse). Time: 5 hours.
Day 3: After a transfer you walk along the rugged and isolated coast through the hilliest terrain of the trek. You walk along cliff tops and through fields, across moorland and through a variety of Menorcan vegetation and past sandy beaches. There's a good chance of spotting some interesting birds of prey. Before the end of the walk, you turn inland through pleasant woodland. You are then transferred to return to your hotel. Overnight Fornells.

Ascent: 440m. Descent: 410m. Distance: 9 ½ miles. Time: 4 ¾ hours.
Day 4: You are transferred to where you finished yesterday. The first section is a pleasant woodland walk down to the coast. After some moderately hilly terrain, you walk through an area of agriculture and shady woodland to arrive at a sandy bay. Shortly after these beaches you pass through a cove used as a small fishing port. From here it is limestone scenery which will dominate the trek. You climb out of this valley to round a headland to the resort of Cala Morell. Overnight Cituadella.

Ascent: 290m. Descent: 270m. Distance: 8 ½ miles. Time: 3½ hours.
Day 5: You are transferred back to Cala Morell, where you begin your walk through an area adorned by dwellings from thousands of years ago. Surrounded by typical Mediterranean vegetation you walk across a dry limestone plateau, where the northerly tramuntana wind blows constantly across the fields. You will see the strange pyramidal goat barns, the barracas. You finish walking to Ciutadella or you can take a bus. Overnight Ciutadella.

Ascent: 220m. Descent: 230m. Distance: 11 ¾ miles (8 ½ miles if bus taken). Time: 5 hours (3½ hours if bus is taken).
Day 6: After a transfer you start at the SW corner of the island, walking east, initially in a landscape of evergreen shrubs and short, steep sea cliffs. Soon you come across a hidden smugglers' cave carved to form a small harbour. As the day progresses you encounter more woodland. You pass several beautiful bays and coves and walk through deep barrancos as the terrain becomes more rugged, eventually reaching the coastal resort of Cala Galdana. Overnight Cala Galdana.

Ascent: 135m. Descent: 120m. Distance: 9 miles. Time: 3½ hour.
Day 7: Today provides yet another contrast, as you pass through a hilly and much more wooded landscape. You leave the resort and reach the popular beach of Cala Mitjana. Thereafter, you turn inland to find peace and quiet. Reaching the coast again at a long, sandy beach, you turn back westwards on the coastal path to walk along rocky cliffs and past coves with beaches before arriving back at Cala Mitjana and retracing your steps to Cala Galdana.Overnight Mahon B&B.

Ascent: 410m. Descent: 410m. Distance: 12 ¼ miles. Time: 5 hours.
Day 8: You will be transferred to the airport for your flight home.
Baggage Transfer
Your baggage is transported from hotel to hotel so you can travel with day rucksacks.
Walk Grading
Self – Guided - Easy to Moderate due to the total distance. On one day there are some steep slopes and rocky areas which some may find vertiginous. Total for standard week ignoring variations:- Ascent 1815m, Descent 1730m, 60 miles.
This map is for illustration purposes only and we cannot be held responsible for its accuracy.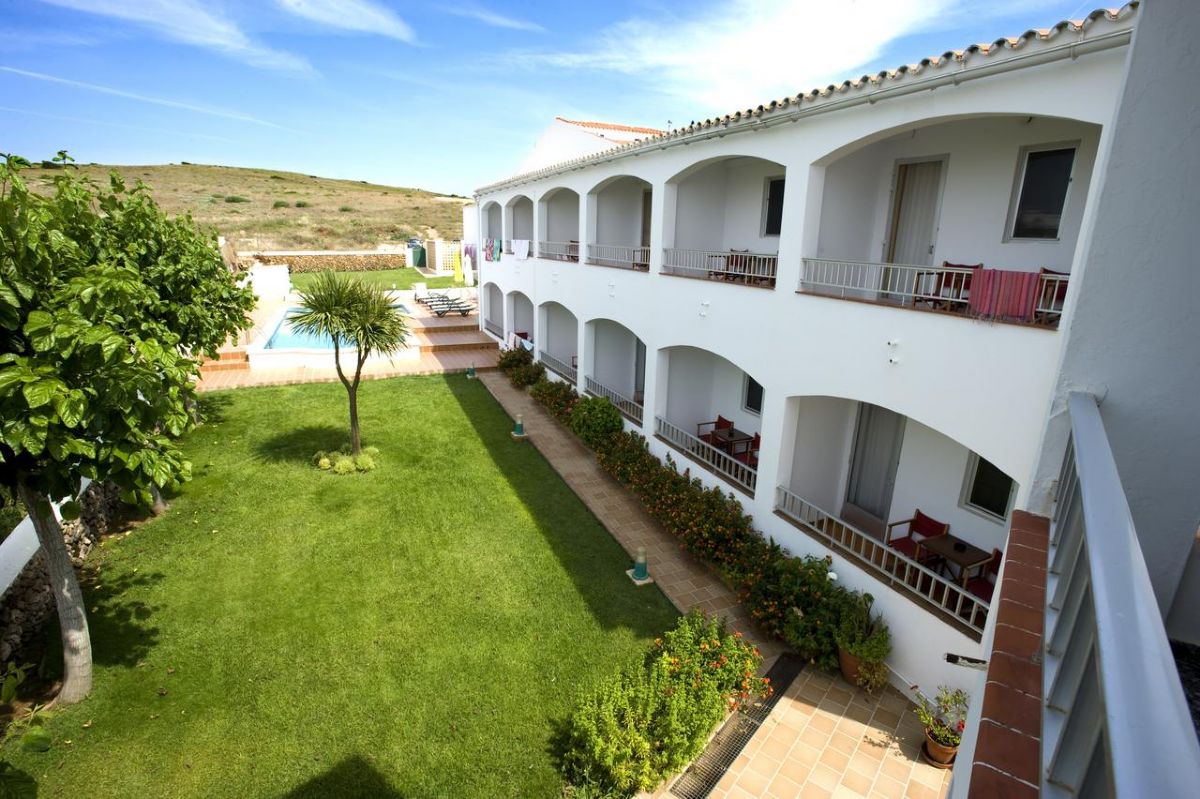 On the trek you spend 5 nights in hotels which are 2* and higher. In each you will have a private bathroom and breakfast. On the other 2 nights you will stay in an Agriturisme where you will have a private bathroom, breakfast and dinner.
VIEW MORE INFORMATION
Availability Information
This trek is available from mid-March to late October, except in late July and August which can be too hot with average high temperatures of over 28C but on the coast there is often a cooling breeze. June to August are the driest months with very little precipitation. Autumn is a little cooler, Spring even more so.

Please note our best to go information is generally referring to the walking which may fall in the early or late season in some places. This may mean that not all tourist facilities will be open at the time you visit.
When to book your walking holiday in Spain - Balearic Islands - Spain - Balearic Islands - Menorca - Around the Coast
| | | | | | | | | | | | |
| --- | --- | --- | --- | --- | --- | --- | --- | --- | --- | --- | --- |
| Jan | Feb | Mar | Apr | May | Jun | Jul | Aug | Sep | Oct | Nov | Dec |
| N/A | N/A | OK | Best | Best | Best | OK | N/A | Best | Good | N/A | N/A |
---
Request A Quotation Send Us An Enquiry