---
Holiday Highlights
Also known as the 'Coast of Death' due to many ships wrecked along the rocky shoreline
Walk this wild, rugged coastal route dotted with relics of ancient Galicia
Sample the most diverse range of seafood and
Request A Quotation
Send Us An Enquiry
Overview
Walking
Pricing
Map
Accommodation
Info
Along Galicia's northern coast between Malpica and Cape Finisterre extends a wonderful, unknown coastal path. This is the Coast of Death whose grim name refers to the many ships wrecked along the rocky shoreline over the centuries. The wild and rugged beauty, soaring cliffs and seabirds are the essence of this coastal trek. Relics from ancient Galicia dot the landscape; stone crosses, megalithic tombs and an impressive variety of stone 'horreos'. With life here focused on the sea, long empty beaches of pristine white sand and harbours full of colourful fishing boats provide the backdrop of your overnight stays and the freshest and most diverse range of seafood tempt the appetite accompanied by Galicia's refreshing wines.
The Walking
This beautiful coastal path is well marked and follows a high percentage of coastal and country paths. Just one day follows a narrow tarmac lane for some distance before rejoining the coastal path, but there is little traffic in this quiet corner of Spain. As the week progresses you veer away from the sea to pass through Galicia's time locked landscape to walk through farming hamlets bypassing impressive Pazos; country houses with fine gardens. Although you can follow the Costa da Morte trail consecutively, some days are long and so we provide transport to key points to reduce the effort. You may of course, walk it all!


Day 1: Fly to Santiago or La Coruna and transfer by car to Laxe.
Day 2: Balares to Laxe A short transfer takes you through the attractive town of Ponteceso to the pretty bay at Balares. Resisting a swim, the coastal path sets off over the sands with fine views to Laxe. Leaving the sea, follow a country trail passing close to the pre Roman settlements of Borneiro and megalithic tomb of Dombeiro before climbing the 'mountain' 175m, from where the route drops down to join the sea near Laxe. Overnight Laxe.
Ascent: 440m. Descent: 430m. Distance: 16 ¼ miles. Time: 7 hours.
Day 3: Laxe to Arou Walking from Laxe, head out of town past the ancient Iglesia Virgen de la Barca to the lighthouse on Cabo da Insua. Continue along the coast to Soesto and Traba Beach where migrating birds are often spotted. Reaching the fishing village of Arou, transfer to Camarinas.Overnight Camarinas.
Ascent: 315m. Descent: 320m. Distance: 12 ½ miles. Time: 5 hours.
Day 4: Santa Marina to Camarinas Transfer to Santa Marina (or back to Arou for a longer day) and walk out to impressive Cape Vilan lighthouse at 125m high protecting this most dangerous part of the Costa da Morte. The pounding seas and majestic cliffs make one very pleased to have feet firmly on the ground! Continue round the cape on the coastal path to Camarinas. Overnight Camarinas.
Ascent: 440m. Descent: 440m. Distance: 11 miles. Time: 5 hours.
Day 5: Ponte do Porto to Muxia A short transfer to the beautiful riverside town of Ponte do Porte (option to walk from Camarinas) from where you continue on to Muxia. This day is a combination of coastal path and narrow tarmac lane through attractive landscapes. Muxia is a small fishing port with a fine white sand beach and the impressive Iglesia Virgen de la Barca. Enjoy one of the harbour side fish eateries or take an excellent dinner in the hotel. Overnight Muxia.
Ascent: 430m. Descen:t 430m. Distance: 10 ½ miles. Time: 5 hours.
Day 6: Muxia to Lires Leaving the sea, today's route follows a section of the Camino de Santiago through pastoral lands dotted with ancient 'horreos', stone farmhouses and tumbling streams. Farming methods are from bygone days and villages few in this remote corner of Galicia. Overnight in the small hamlet of Lires.
Ascent: 365m. Descent: 340m. Distance: 9 ½ miles. Time: 5 hours.
Day 7: Lires to Finisterre Today you will also follow the Camino de Santiago as it climbs over higher landscapes to the 'end of the earth'. You have three options to end your journey with; walk just to Finisterre town (perhaps you have a late departure next day), continue and stay overnight in the lighthouse on the Cape, or walk to the Cape and back to town for your final night in a cosy converted farmhouse with pool, gardens and fine views.
Ascent: 340m. Descent: 320m. Distance: 9 ½ miles. Time: 5 hours.
Day 8:
Transfer by car to Santiago or La Coruna, or take the local bus at a price reduction.
Luggage Transfer

Luggage is transported from hotel to hotel so you can travel with day rucksacks only.

Walk Grading
Self-Guided - Easy, with some long days. Total for standard week ignoring variations:- Ascent 2335m, Descent 2270m, 70 miles.
This map is for illustration purposes only and we cannot be held responsible for its accuracy.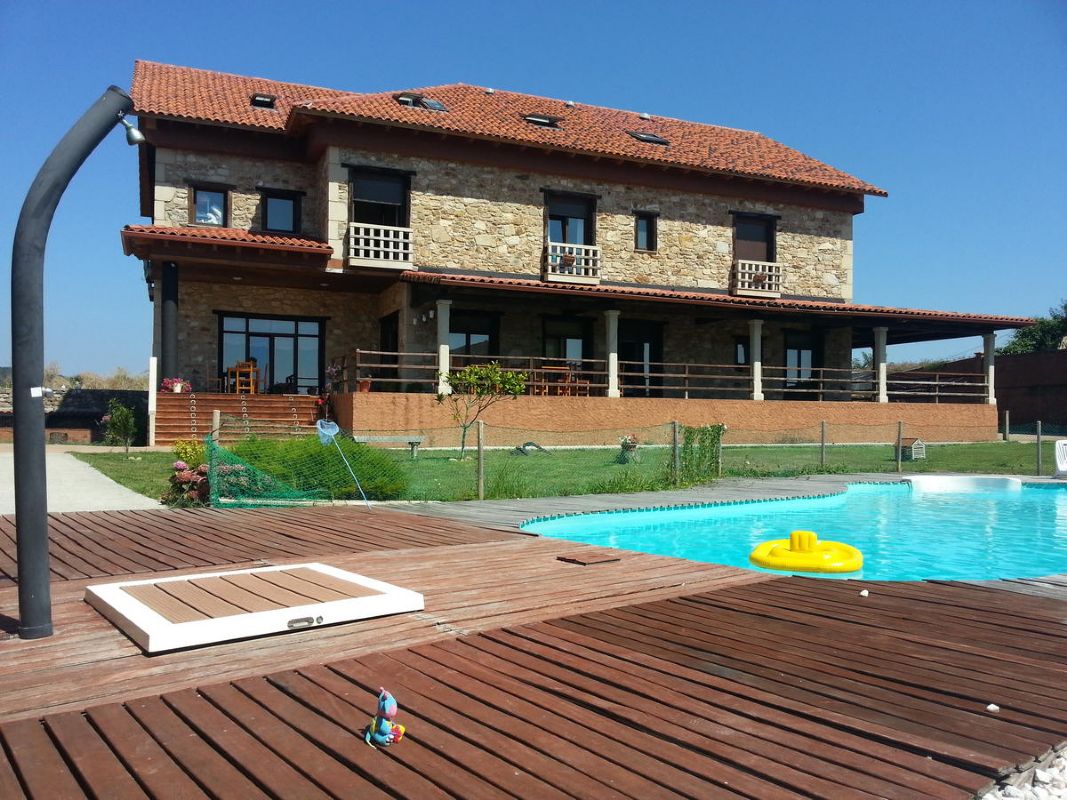 Your hotels have been carefully selected to be friendly, welcoming and comfortable. They are of varying grades and styles in good seaside locations convenient to the Costa da Morte. All rooms have private bathrooms.
VIEW MORE INFORMATION
Availability Information
This walk can be undertaken all year subject to hotel availability 'out of season'. It is best in spring, early summer and autumn. High summer is busy and will be hot with little shade.

Please note our best to go information is generally referring to the walking which may fall in the early or late season in some places. This may mean that not all tourist facilities will be open at the time you visit.
When to book your walking holiday in Spain - Mainland - Spain - Costa da Morte - Into Galicia
| | | | | | | | | | | | |
| --- | --- | --- | --- | --- | --- | --- | --- | --- | --- | --- | --- |
| Jan | Feb | Mar | Apr | May | Jun | Jul | Aug | Sep | Oct | Nov | Dec |
| OK | OK | OK | Best | Best | Best | Good | Good | Best | Best | Good | OK |
---
Request A Quotation Send Us An Enquiry