---
Holiday Highlights
Become immersed in the rich history and stunning landscapes of the diverse Welsh lands
Follow the coastline around the peninsula and dip inland to visit intriguing prehistoric sites
Add extra nights to summit the highest mountain in Wales, Mount Snowdon
Request A brochure
Send Us An Enquiry
Overview
Walking
Pricing
Map
Accommodation
Info
New Experience Holidays is delighted to offer a section of the completed Wales Coast Path which extends for 870 miles around the entirety of Wales from the walled city of Chester, England to Chepstow in the far south eastern corner beyond Cardiff. Being close to our base, we have chosen to promote what we feel portrays the very best of Wales and walking the Llŷn peninsula will definitely leave you with a desire to explore more of this beautiful land.
The Llŷn Peninsula was new to the Welsh coastal path in 2012 and therefore the natural beauty of its route is untouched. From the moment you enter Caernarfon, although it was the English King, Edward I who built the impressive castle and walled town, you become submersed into the diverse wealth of our Welsh culture.
At its gateway, lies the Snowdonia National Park covering 823 square miles of diverse landscapes as well as being a living working area, home to over 26,000 people. Add an extra night in Caernarfon before setting off along the coastal path and take one of our 3 chosen hikes to ascend Mount Snowdon - Yr Wyddfa 1085m. From its summit you will see the whole of your trekking route for the days ahead as well as the largest natural lake in Wales and picturesque villages like Betws y Coed and Beddgelert nestling in the surrounding lush, green valleys. Snowdonia is an area steeped in culture and local history, where more than half its population speak Welsh.
This small peninsula contains some of the richest history and most stunning landscapes to be found anywhere. Celtic churches dating from the 6th Century, Prehistoric hill forts, and Neolithic standing stones; all leaving the visitor captivated by mythological stories of pilgrimage, ancient traditions and language.
Nature provides flower covered cliff tops, rare migratory birds, basking sharks and dolphins and colourful seasonal contrasts. In addition, panoramic views diversify from the far off coast of Ireland to the nearby Snowdonia National Park where Wales' highest mountain is outlined against the sky. At 'lands end' across a treacherous 2 mile stretch of sea lies the mysterious Island of Ynys Enlli – Bardsey Island. Enshrouded in holy history it is reputed that over 20,000 Saints made pilgrimage to the island to die and be buried. Take a break from walking to explore this unique land.
As you progress through the 7 day trek the landscape and feel of your surroundings changes as you journey over cliffs, across white sand beaches, through tiny settlements and over purple covered moorland resplendent against the blue sea.
Following the Llŷn Coastal Path you shall mostly follow the coast around the peninsula, known as the Lands End of Wales. On occasions, you dip inland to explore a Prehistoric site or church of ancient pilgrimage as well as taking an overnight stay or two away from the sea. Walking trails are well kept and clearly sign posted therefore you can relax and absorb your surroundings. The walks themselves aren't too challenging but keep you going for the majority of the day. On some days you can opt to walk less or more to suit your ability and the weather.
A visit to Ynys Enlli - Bardsey Island is a real 'must do' if time permits. Taking an extra night in Aberdaron, boats leave from the nearby cove of Porth Meuddwy taking a small number of visitors on a 4 hour trip which includes a nature and history talk as well as time alone to walk, sit and reflect in the islands' unique atmosphere. Tickets may be booked in advance to ensure space on the boat - weather permitting of course!
For the optional ascent of Yr Wyddfa - Mount Snowdon, either at the start or end of this trek, we offer a choice of 3 routes to the summit, easy, moderate and challenging. Access to the mountain is just 20 minutes from Caernarfon or Pwllheli and can be reached by a regular Sherpa Mountain Bus or by pre arranged taxi.

Day 1: Arrive in Caernarfon. Caernarfon is very accessible by train or taxi, which we shall arrange, and only takes 1 hour 45 minutes from Manchester airport or 20 minutes from Bangor Station en route from London Euston. As Caernarfon is on the door step of the Snowdonian mountain range we recommend an extra day or two in this historic, castellated town. Either hike up, or take the Snowdonia Mountain Railway to the summit of Wales' highest mountain at 1085m affording incredible views even as far as the end of your trek route. Overnight in an ancient Coaching Inn.

Day 2: Caernarfon to Clynnog Fawr or Trefor. The first half of this easy day takes you on a scenic route along the Menai Strait, through nature reserves and long ago havens for Viking longboats. The second stage follows the road until the end destination at Clynnog Fawr where there is an impressively large pilgrim's church with origins dating to 630AD. From there a transfer will take you to your accommodation. Overnight B & B with far reaching views to both coasts or Nant Gwrtheyrn, the Welsh Heritage Centre.

13 ½ miles Ascent 80m Descent 50m 5 hours (option to keep walking as far as Trefor 17 ½ miles Ascent 130m Descent 100m 7 ½ hours).

Day 3: Clynnog Fawr or Trefor to Nefyn. This section is more demanding as the trail climbs over Yr Eifl, but offers some spectacular scenery and ancient monuments as a reward for your efforts. Despite being shorter than the first day, the walk consists of steeper gradients descending to Nant Gwrtheyrn a Cultural and Heritage Centre for the Welsh Language. Return to your B & B or Nant Gwrtheyrn for a second night and dine just outside of Nefyn in a welcoming and typically rural Welsh Inn or at your accommodation. 9 ½ miles Ascent 595m Descent 595m 5 ¾ hours

Note: When staying at Nant Gwrtheyrn you can shorten the day by just walking on to Nefyn missing out a short section.

Day 4: Nefyn to Porth Colmon. Breathe in the fresh sea air whilst walking along the undulating cliff top path which follows the coastline for the entirety of today's walk. Pause at Porth Dinllaen – a perfect spot for coffee or something stronger in its beach side tavern. There will be an organized transfer at the end of the walk to take you to your beachside hotel in Aberdaron.

12 miles Ascent 280m Descent 280m 5 ¼ hours

Day 5: Porth Colmon to Aberdaron. A transfer will be arranged and take you back to Porth Colmon. This is a simply stunning section as you walk around the 'Lands End' of Wales passing enclosed sandy bays including the famous whistling sands. Rounding the headland, mysterious Bardsey Island lays just 2 miles off shore whilst the trail crosses the tiny, ancient fields of Uwch Mynydd as it continues on its way towards the picturesque descent into Aberdaron and your hotel.

12 ½ miles Ascent 550m Descent 550m 6 ½ hours

Day 6 Aberdaron to Llanengan and Abersoch. Leaving Aberdaron, the coastal path moves inland crossing rural farmland whilst retaining the character and culture of this beautiful part of Wales. Part of the walk includes some very quiet, single track country road walking before walking past the impressive stretch of sand known as Hell's Mouth. Arriving in the hamlet of Llanengan, home to the oldest church on the Llŷn, you cut across to Abersoch and your overnight hotel, where comfort and excellent cuisine awaits.

11 miles Ascent 270m Descent 260m 6 hours

Day 7 Llanengan to Llanbedrog (or easy day Abersoch to Llanbedrog). Return to Llanengan and today's walk takes in a stunning headland, passes through Abersoch and skirts impressive Mynydd Tir y Cwmwd before dropping down to Llanbedrog. Alternatively, the walk may be shortened to give the option of lingering by the pretty harbour in Abersoch before setting off on the short walk over to Llanbedrog. Here, spend the afternoon relaxing and wandering around its renowned art gallery, ancient church and superb beach with colourful beach huts. Overnight in a nearby B & B, or transfer (higher grade) to a country house hotel.

14 miles or (4 miles) Ascent 420m (160m) Descent 400m (150m) 7 hours (1 ¾ hours)
Day 8 Depart from your hotel after breakfast for journey home or onwards.

Extensions
Spend a couple of extra days at the beginning or end in Caernarfon exploring the castle and visiting the Snowdonia National Park or an extra day in Aberdaron to follow the Pilgrim Trail to its end on
mysterious Bardsey Island.

Self-Guided
Our Llŷn Peninsula trek is offered on a self-guided basis. We provide full walking notes and all the relevant maps, backup support you may need as well as transport timetables to help you on your way.

Baggage Transfer
Throughout this trek your luggage (1 bag per person) is transported from hotel to hotel so it will not be necessary to carry more than a light pack containing items you will need during the day.
Walk Grading
Self Guided- Easy, with some long days. Total for standard week ignoring variations:- Ascent 2195m, Descent 2135m, 70 miles.
This map is for illustration purposes only and we cannot be held responsible for its accuracy.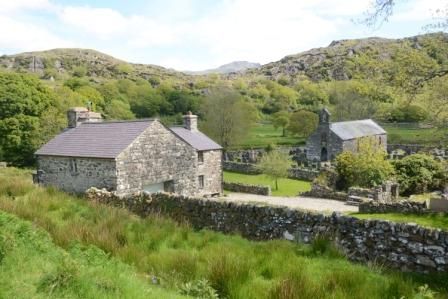 On two nights we offer a choice of a higher category of accommodation one of which is the last evening when you can luxuriate in the comforts of a beautiful 5* Country House Hotel set within 3 acres of lush land.
Additionally, on two nights you can opt to stay in Nant Gwrtheyrn, the centre of Welsh Culture and Heritage. A stay here gives the full experience of everything 'Welsh' where not only is the setting of this former quarrying community just about as beautiful as you can ever experience, but also the accommodations are furnished with Welsh Oak, custom made woollen textiles, local herbal toiletries and soft, soothing decor to complement the exterior sea and mountain views. All meals are prepared using Welsh ingredients and are enjoyed in a fantastic dining area overlooking the sea. Dinner is included on the two nights here as there is no nearby alternative.
Whatever category of accommodation you choose, all rooms are warm and comfortably furnished and offer private bathrooms.
Breakfast is included daily and dinner may either be taken in your accommodation or at a nearby restaurant or Pub. Picnic lunch not included.
VIEW MORE INFORMATION
Availability Information
The Natural beauty of the Llŷn Peninsula without doubt, is best experienced 'out of season' although it is a year round destination.

Late autumn, winter and early spring offer the walker the stunning beauty and true spiritual essence of this remarkable landscape with empty paths, quiet places to stay and of course, the variable Welsh weather. In addition, during April and September, Dolphins frolic in the waters close to land. The rest of the year whilst generally offering a more stable climate, is busy with visitors although this is mainly restricted to villages and beaches.

In late summer the sea, already warmed by the Gulf Stream, is warm enough for a swim from a golden sandy bay. Early booking is essential for school and public holidays when accommodation is at a premium and difficult to secure.
Please note our best to go information is generally referring to the walking which may fall in the early or late season in some places. This may mean that not all tourist facilities will be open at the time you visit.
When to book your walking holiday in Wales - Wales - Llŷn Peninsula
| | | | | | | | | | | | |
| --- | --- | --- | --- | --- | --- | --- | --- | --- | --- | --- | --- |
| Jan | Feb | Mar | Apr | May | Jun | Jul | Aug | Sep | Oct | Nov | Dec |
| N/A | N/A | OK | Good | Best | Best | Good | Good | Best | Best | OK | N/A |
---
Request A brochure Send Us An Enquiry