---
Holiday Highlights
Quiet, rural, untouched land presents a true insight into authentic Italy
Experience crystal-clear waters of the Calore River and the extinct volcanic Cervati moutains
Sample local specialties of olive oils, white figs, buffalo mozzarella and lavender
Request A Quotation
Send Us An Enquiry
Overview
Walking
Pricing
Map
Accommodation
Info
Cilento offers a very different kind of experience to its more popular neighbour, the Amalfi Coast. With quiet, rural and untouched land, Cilento presents a true insight into authentic Italy. Close to the World Heritage listed Cilento National Park you will find yourself in the real "Heart of the Cilento". Immerse yourself in the glistening crystal clear waters of the Calore River, the wilderness of the Cervati mountain range located on an extinct volcano and finally the imposing limestone cliffs of the Alburni Mountains. Inland Cilento is largely unspoilt; you will encounter few other tourists along your way, making it a peaceful and unique experience. You will pass through pristine beech and oak forests, mountain meadows, stunning river valleys and impressive canyons. You will also walk through countryside with vineyards, olive groves and many cultural treasures such as chapels, old watermills and charming medieval villages which will capture your imagination. At either end of your trek you will also have an opportunity to visit the Greek temples of Paestum or even just spend some time relaxing on the beautiful sandy beaches.
Stretching across 65 miles of coastline, extending south from the Gulf of Salerno in Campania down to the border of the Basilicata region, stunning Cilento has much to offer. Enjoy discovering tiny villages, the 7th-century Greek temples of Paestum and the beautiful wildlife of one of Italy's largest Nature Reserves, Cilento National Park. The region's natural beauty, hospitality and charm attract tourists who are looking to delve deeper and experience a real taste of Southern Italy. Enjoy the outstanding crystal-clear waters of the Calore River which is home to many animal species including otter, brown trout, kingfisher and salamander as well as a wealth of flora. Not only will you delight in this magical landscape, you will also have the chance to sample the local delicacies of olive oils, white figs, buffalo mozzarella and the artichoke of Paestum.
Most of the walks are on good paths, but can be overgrown in places which can make navigation difficult. Some sections are waymarked, elsewhere your maps will provide you with all the information you need to find your way. Discover yourself wandering over the flanks of high mountains, providing a perfect backdrop to the stunning coastline.

Day 1: On your first day you will arrive by train at Capaccio/Paestum station. If arriving early, you can visit the famous Greek temples of Paestum (please note there is no luggage deposit available) before being transferred to your agriturismo in the green valley of the stunning Calore River where you will be staying for the next two nights. Overnight Felitto.

Day 2: Today you will enjoy a circular walk that will introduce you to the landscape and culture of the area. You will walk, or be transferred, to Felitto which towers high above the green canyon of the Calore River, a real treasure of the Cilento National Park. From here, an old path will lead you to this majestic river where you will walk along a beautiful path to a picnic area at a small lake, and then into the wildest part of the canyon. Here you will pass through some forest into one of the most unspoilt areas of the National Park which features unique views overlooking the canyon. You will come across old caves and the ruins of watermills where vegetation is abundant. In the crystal-clear water there are still otters and trout, and there are several pleasant spots for swimming. Cross over a natural bridge (it is also possible to descend into the canyon here, all the way down to the riverbed) and continue along the riverbank beneath towering coloured rocks until you reach the famous medieval bridge. From here you will walk back to the lake and then onto Felitto where you can either be picked up or choose to walk back to your agriturismo. Overnight Felitto.

Ascent: 300m. Descent: 300m. Distance: 7.5 miles. Time: 4-5 hours.
Day 3: Begin with a short journey to a pretty town high above the river. Follow the canyon beneath this town until you arrive at a small medieval bridge that leads to the little church of Sant' Elena. From here a mule track leads you into the 'real mountains' following a spectacular green valley. Through thick forests you come to a beautiful mountain meadow, home to many ruins. Further on you can discover one of the most interesting phenomena of the area – a whole river disappearing into the ground! On your way back, you will pass some breathtaking viewpoints and you can visit the cave of St Michael with its stunning archangel entrance. From here it is an easy route down to a pretty village where you will stay just above the village square. In the evening you will eat in the renowned 'Slow Food' restaurant. Overnight Valle dell'Angelo.

Ascent: 500m. Descent: 500m. Distance: 9.5 miles. Time: 5-6 hours.
Day 4: Begin by descending into a peaceful green valley with olive groves and orchards before you reach a village. An old footpath will bring you to a charming small town where the cathedral is a must-see. Then descend along a medieval mule track to the source of the Sammaro River, which is a perfect spot for a picnic lunch. The path continues to a scenic 'ghost town' also known as the 'Pompeii of the 19th century'. This little village is known as such because it has remained exactly as it was at the beginning of the 20th century when it was abandoned. From here you will walk up to Roscigno where you will spend the night. Overnight Roscigno.

Ascent: 400m. Descent: 400m. Distance: 8.75 miles. Time: 5 hours.
Day 5: Your walk continues from your accommodation, climbing to an archaeological site to admire breathtaking views, impressive stone walls and tombs from the 4th century BC. From here you will descend to an attractive village – a fortified medieval town centre built overlooking the valley. You will then pass old watermills and meander through olive groves to a pretty town. At the end of the day, you will have time for a drink before you walk back to your beautifully located agriturismo where you can enjoy your dinner overlooking the whole of the valley. Overnight Sant'Angelo a Fasanella.

Ascent: 350m. Descent: 350m. Distance: 7.5 miles. Time: 4-5 hours.
Day 6: After a short transfer you will arrive at the high plain of the Alburni Mountains which is home to many secluded caves, vast beech forests and even a few wandering wolves. Note the prehistoric stone warrior sculpted into the rock! Along easy mule tracks and past several sinkholes, you will reach the edge of the mountain plateau at one of the most impressive viewpoints in the area – a sheer drop of hundreds of metres overlooking sea and mountains. Through a delightful beech forest, you will arrive at a mesmerising village where you can wander through the old streets before being transferred to your homely agriturismo. Overnight Sicignano degli Alburni.
Ascent: 250m. Descent: 850m. Distance: 10 miles. Time: 5 hours.
Day 7: On your last day of walking, you will have the enjoyable experience of visiting the northern side of the Alburni Mountains where you can explore delightful countryside and medieval villages. Take time to enjoy the stunning views and the ruins of a castle before continuing into another 'ghost town' which has dramatic views over the whole plain. For those who wish, there are opportunities to embark on more strenuous walks into the 'real' mountains.Overnight Sicignano degli Alburni.

Ascents and Descents: 200-600m. Time: 2-8 hours (several possible options).
Day 8: You will be transferred to the train or bus station for your return journey to Naples Airport.


Baggage Transfer
The baggage is transferred for you from hotel to hotel, leaving you free to travel with a day rucksack only.
Walk Grading
Self-guided – Moderate, with one longer descent. Total for standard week ignoring variations:- Ascent 2400m, Descent 3000m, 53 miles.
This map is for illustration purposes only and we cannot be held responsible for its accuracy.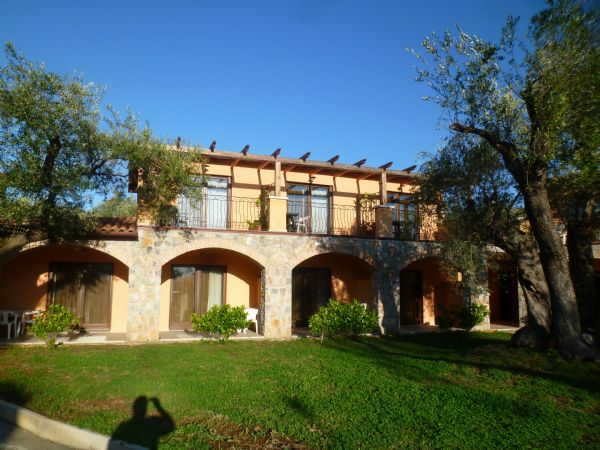 The hotels are all small, family-run 'agriturismos' or inns and are chosen for their location, friendliness and charm. All rooms stays are on a half-board basis and all have private bathroom, mostly with showers. You will be assured of breakfast and dinner with local specialities.
VIEW MORE INFORMATION
Availability Information
This trek is ideal to experience throughout late spring and autumn. As the walk is quite high, it may be cool enough and still quiet enough to possibly enjoy the walking throughout summer.

Please note our best to go information is generally referring to the walking which may fall in the early or late season in some places. This may mean that not all tourist facilities will be open at the time you visit.
When to book your walking holiday in Italy - Italy - Heart of Cilento - Rural Italy
| | | | | | | | | | | | |
| --- | --- | --- | --- | --- | --- | --- | --- | --- | --- | --- | --- |
| Jan | Feb | Mar | Apr | May | Jun | Jul | Aug | Sep | Oct | Nov | Dec |
| N/A | N/A | N/A | N/A | Best | Best | Good | Good | Best | Best | N/A | N/A |
---
Request A Quotation Send Us An Enquiry