---
Holiday Highlights
Walk some of the finest paths in the high Pyrenees traverse across the whole country from the French border
Experience unique character, wildflower meadows & towering peaks
Traverse across the whole country from the French border
Request A Quotation
Send Us An Enquiry
Overview
Walking
Pricing
Map
Accommodation
Info
Andorra is well known for its unique mountain walking, offering unforgettable views over vast lakes and lush countryside with its highest mountain Coma Pedrosa, standing at a sizeable 2943 metres! Most of the small towns and villages in Andorra are characterised by their medieval charm and intrigue, leaving much to explore. We selected this route to get the very best out of the stunning Andorran Pyrenees and are also the first people to offer a trek across the whole country. The Andorran cuisine also takes on many influences from its neighbouring countries serving delicious dishes of cured meats, fresh fish and hearty mountain stews.
This intriguing landlocked principality, situated high in the Pyrenees boasts isolated refuges, medieval villages, soaring mountain passes and the beautiful tranquillity of a thousand lakes. Andorra offers all the spectacular views of ever-changing scenery a walker could wish for, some of the most dramatic in all of the Pyrenees. Of course, many will recognise Andorra as a large duty free shopping mall, but our trek completely takes you away from all of that and allows you to discover the true serenity of Andorra that many don't realise is there.
With its independent character, wildflower meadows and towering peaks, Andorra offers some of the finest paths in the Pyrenees making it a walker's paradise. The variety and quality of paths is quite exceptional. Many are well way-marked and clearly signposted, elsewhere your maps and our notes will provide you with all the information you will need to find your way and make the most of this vibrant land.
This trek will take you across Andorra, on old smugglers roads, sometimes touching France and occasionally your path will coincide with the long distance GR7 route which traverses across Spain, France and of course Andorra, with the best section of the Pyrenees reputed to be in Andorra.

Please note that for departures in 2022, our standard accommodation in Pas de la Casa will not be open, you will therefore stay in Grau Roig on Nights 1 & 2. Your included arrival transfer will take you to Grau Roig and a private transfer will bring you to Pas de la Casa to start your walk on day 2.

Day 1: On arrival you will have a scheduled transfer (included) to Andorra la Vella which will take about 3 hours. From here you change onto another transfer up to Pas de la Casa which will take around 30 minutes (included). Pas de la Casa is right on the French border and an important gateway to begin your Andorra trek. Overnight Pas de la Casa.
Day 2: This is a relatively demanding day for the first of your Andorran trek, but as you very quickly leave behind the shops and less than attractive town, within steps you will be immersed in the sheer majesty of the high Pyrenees and quite likely, you will have it all to yourselves. Beginning from your hotel in Pas de la Casa you will pass shimmering lakes, soft meadows and rocky ridges. Your route will take you onto the GR7 long distance path offering fine views of the valleys beneath crossing in and out of France, and if you're lucky enough, see a group of the local Pyrenean Chamois, Isards. Your final descent will bring you to a delightful area full of streams and pools where frogs hop from rock to rock and marmots call in the distance. You will leave the GR7 path and have a gentle descent to your hotel. Overnight Grau Roig.
Ascent: 850m. Descent: 830m. Distance: 6 ¾ miles. Time: 6 hours.
Day 3: This is a challenging high level walk crossing via Pic de Pessons. If weather is fine, this is an incredible walk over high rugged mountains, strings of lakes, tumbling waterfalls and stunning views of peaks in Spain, France and of course Andorra. As the climb becomes more challenging, you may be able to spot vultures and often a golden eagle. Below Pic de Pessons, the landscape is soft with huge boulders of granite and alpine flowers. The latter part of the descent presents a narrow ambling path leading through cooling forest with streams and flowers like natures own rock garden. Overnight Encamp.
Ascent: 710m. Descent: 905m. Distance: 8 ½ miles. Time: 6 ¼ hours.
Day 4: An easier and contrasting day to the previous two of the trek leaving the option of a later start or a free afternoon in lovely Ordino. Just at the start of the walk is a Moorish tower and a beautiful 12th century church open daily (highly recommend a visit inside). Following an ancient mountain trail, the walk rises steeply up to Coll d'Ordino. From here you can see Andorra's highest peaks and pass by the country's centre. From the Coll, an enjoyable descent leads straight into the beautiful medieval town of Ordino. Overnight Ordino.
Ascent: 710m. Descent: 695m. Distance: 5 miles. Time: 4 hours.
Day 5: Today the trek will follow the valley up to El Serrat. From here the already pleasing riverside trail is made more so by the interest of it being the Ruta de Fero that has sculptures and relics depicting the history of the iron mining era in Andorra. You also pass some very pretty houses on the riverside where you will also see an old sawmill. Towards the end you will pass a beautiful Romanesque bridge and cross a small meadow until you come to the river again and finally ascend past the church into El Serrat. Overnight El Serrat.
Ascent: 835m. Descent: 590m. Distance: 7 ½ miles. Time: 5 ½ hours.
Day 6: Today you have an out and back walk to the stunning blue lake Estany Blau located in France, you have the option to walk as far as you wish today. Following the beautiful Rialb valley with its rushing mountain waters, wild flowers and ancient shepherds huts, the initial ascent is easy and relaxed. At the valleys head, a steep climb leads over Port de Siguer with incredible views into France and the shimmering Estany Blau below beckoning for a picnic and a swim. Return by the same route back to El Serrat. Overnight El Serrat.
Ascent: 900m. Descent: 900m. Distance: 8 miles. Time: 5 hours.
Day 7: The Grand Finale of your Andorran trek and what an ending! This is a long, demanding day taking you over the high mountain crossing of L'Angonella to the deep valley setting of Arinsal. You begin in Llorts following the river through a wooded area until you reach a point where the landscape opens up and the stunning valley head draws ever closer. It then descends down a wide grassy ridge and is quite sensational. Towards the end you will begin the descent into the valley below passing ponds and renovated shepherds houses. Finally through thin forest you will reach the lovely village of Arinsal. Overnight Arinsal.
Ascent: 1165m. Descent: 1115m. Distance: 6 ½ miles. Time: 7 hours.
Day 8: Transfer to the airport for your return journey home.


Luggage Transfer
The luggage is transferred for you from hotel to hotel, leaving you free to travel with a day rucksack only.
Walk Grading
Self-guided: Challenging. Total ascents = 5170m. Total descents = 5035m. Total distance = 40 miles.
This map is for illustration purposes only and we cannot be held responsible for its accuracy.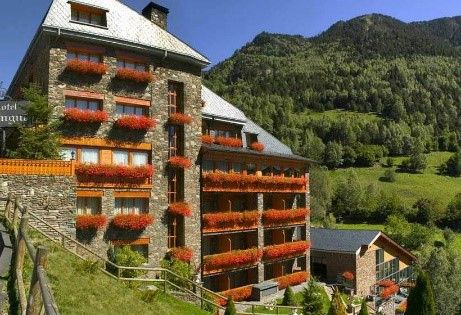 On this trek, the accommodations are mostly small and family-run, all rooms have a private bathroom. We offer higher grade accommodations on 3 nights.
VIEW MORE INFORMATION
Availability Information
This trek is available from late June to October however there is a good chance of snow at the beginning and end of this period. The best time to go is from mid July and to mid September with the stunning wildflowers in full bloom in July.

Please note our best to go information is generally referring to the walking which may fall in the early or late season in some places. This may mean that not all tourist facilities will be open at the time you visit.
When to book your walking holiday in Andorra - Andorra - Trek Across the Country
| | | | | | | | | | | | |
| --- | --- | --- | --- | --- | --- | --- | --- | --- | --- | --- | --- |
| Jan | Feb | Mar | Apr | May | Jun | Jul | Aug | Sep | Oct | Nov | Dec |
| N/A | N/A | N/A | N/A | N/A | OK | Best | Best | Best | OK | N/A | N/A |
---
Request A Quotation Send Us An Enquiry