---
Holiday Highlights
Landscapes of forest and fishponds, fairy-tale Chateaux and sublime villages
Walk in the unique 'Geopark' with striking organ-pipe like rock formations
Visit historical monuments along the trek and in the popular city of Prague
Request A Quotation
Send Us An Enquiry
Overview
Walking
Pricing
Map
Accommodation
Info
Walking in Bohemia is very varied, fondly known as the Bohemian Paradise, it is just 1 ½ hours' drive from the bustling historic city of Prague, where you will find beautiful countryside with landscapes of forest and fishponds, fairytale chateaux and sublime villages home to timber cottages and rural farms. The countryside here offers endless possibilities for visiting places of natural beauty, in particular the striking rock labyrinths which are famous in the Bohemian Paradise, as well as many historical monuments and majestic castles.
Bohemia, or Bohemian Paradise, is a picturesque region containing several impressive sandstone rock cities or rock labyrinths locally known as 'Skalni Mesto'. It is the oldest nature reserve in the Czech Republic and is included in the UNESCO list of Geoparks. The beautiful unspoiled landscapes are comprised of imposing organ-pipe like rock formations contrasting strikingly against the surrounding linden trees and charming folk villages. The wind, rain, frost and sun have sculpted these bizarre sandstone formations allowing us to marvel in their very grand and unique presence. The symbol of the Bohemian region is Trosky Castle. Now in ruins, Trosky Castle is easily distinguished by its twin towers set on two basalt steep cliffs (the towers are called Baba – Old Woman, and Panna – Young Girl) both offering unique views over the land. Trosky was a volcano 16 million years ago, each top has erupted once. Our trek will take you to these renowned sights within the Czech Republic.
The route is well way-marked along defined paths. We have created our trek to ensure it follows the best route to allow you to visit the various gothic castles, explore the striking rock cities and experience the fairytale like countryside with flowing rivers and shimmering lakes near tracks where it doesn't take much to imagine horses and carts trundling past. You will pass through narrow corridors of rock cities, interesting rock labyrinths and splendid view points. We have also put together a self-guided walk for your day in Prague. This will take you to what we feel are the best sights to visit and will hopefully inspire you to further explore this amazing city.

Day 1: Arrive at Prague airport and transfer directly to your first hotel in Jičin (included). Overnight Jičin.
Day 2: You walk out of Jičin along a striking avenue of lime trees and can visit an impressive 'summer house' in a park, before passing through agricultural land and villages until you reach forest on higher ground. A pleasant path takes you to your hotel. After a break there you have the option for something a little more strenuous (extension), but not to be missed! A short walk takes you to the entrance to Prachovské Skály, ('rocks'). You can easily spend hours exploring this unique and dramatic landscape. There is a choice of routes, of varying length. Overnight Prachovské Skály.

Ascent: 200m. Descent: 100m. Distance: 6 1/2 miles. Time: 2 1/2 hours.
Ascent: 450m. Descent: 350m. Distance: 10 miles. Time: 5 hours (including extension).
Day 3: Today you walk through varied woods, villages and agricultural areas, a little further than yesterday. Two undoubted highlights are a castle at Pařez and a chateau at Sobotka. The first is a ruin from the late 14th century and is dramatically situated on top of a rocky outcrop in the forest. There are rooms carved in the sandstone. The second, known as Humprecht castle, was built in the late 17th century as a hunting lodge and now houses an exhibition and is open to the public for a modest charge. Being located on top of a hill it is a significant landmark and provides expansive views of the surroundings. Overnight Libošovice.
Ascent: 320m. Descent: 420m. Distance: 9 miles. Time: 3 1/2 hours.
Day 4: You go through picturesque villages, walk along unusual sandstone gorges, pass lakes and marshes, wander through woods and forest… and visit two stunning castles. At Kost, you can pay to join a tour if the time is right; later in the day, at Trosky, you can wander around at your own pace. The latter castle is quite incredible and not to be missed. Overnight Hrubá Skála.

Ascent: 320m. Descent: 290m. Distance: 11 1/2miles. Time: 4 1/2 hours.
Day 5: By staying at Hrubá Skála for two nights, you can spend as much or as little time as you wish exploring the area today. Mind you, it's well worth the effort as it is very picturesque. We describe a route which takes in much of the so-called rock town ('Hruboskalské Skalní Město'), several viewpoints, fresh-water springs that emerge below the sandstone, the dramatically positioned Valdštejn castle, a memorial to Bohemian mountaineers, an old farmstead and a curious area of rock carvings created many years ago by a self-taught sculptor. Overnight Hrubá Skála.

Ascent: 420m. Descent: 420m. Distance: 7 1/2 miles. Time: 3 3/4 hours.
Day 6: A 15 minute transfer takes you into the centre of the substantial town of Turnov, famous for processing of precious stones. Here you can visit the Bohemian Paradise Museum. Not long into the walk you pass a farm museum, at Dolánky. You may well be ready for a rest by the time you get to Drábovna, a 'rock town' with views over the valley of the River Jizera. Within a few kilometres of this, you pass the distinctive castle of Frýdštejn, which you can go into. Finally, walking down a sharp ridge towards Mála Skála, you pass rocky outcrops with rather airy ladders and walkways; and just before reaching the valley bottom, you can visit another castle, called Vranov (otherwise known at the Pantheon). This is quiet an incredible place. Overnight Mála Skála.

Ascent: 390m. Descent: 380m. Distance: 8 miles. Time: 3 3/4 hours.
Day 7: Today you can either transfer to Prague in the morning or you can enjoy a circular walk in Mala Skala before transferring to Prague in the afternoon. There is much to see and do in Prague, it is undoubtedly a very beautiful city, one for which we have prepared an exciting self-guided itinerary as a suggestion for your stay. Our aim was to include many of the most popular visitor destinations, as well as some that are somewhat lesser known. Overnight Prague.
Day 8: Depending on your flight departure time you may be able to further explore the fascinating city of Prague before making your way to the airport. Alternatively, add some extra nights in Prague to fully appreciate this historic city.

Baggage Transfer
The Baggage is transferred for you from hotel to hotel, leaving you free to travel with a day rucksack only.

Walk Grading
Self-guided – Easy. Total ascents = 1900m. Total descents = 1860m. Total distance = 45 miles.
This map is for illustration purposes only and we cannot be held responsible for its accuracy.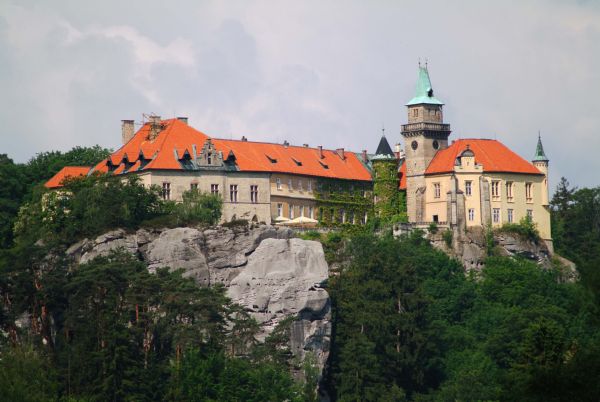 On this trek we offer 3-4* hotels, with two nights spent in an extravagant gothic castle with incredible views overlooking the high forests and rock cities.
The hotels have been chosen for their charm, location and friendliness. All rooms have a private bathroom, mostly with showers only. The hotels will let you know about any local specialities for dinner and a buffet-style continental breakfast.
VIEW MORE INFORMATION
Availability Information
Spring is when the rivers are at their fullest and there is a bloom in vegetation. The hottest month is July when the average temperature is 20 degrees C, although this is when the most rainfall occurs. September welcomes autumn which is still warm but much drier than the summer. Most of the hotels are closed during the winter season, it is for this reason we do not recommend visiting during the winter months.

Please note our best to go information is generally referring to the walking which may fall in the early or late season in some places. This may mean that not all tourist facilities will be open at the time you visit.
When to book your walking holiday in Czech Republic - Czech Republic - Bohemian Paradise Trek
| | | | | | | | | | | | |
| --- | --- | --- | --- | --- | --- | --- | --- | --- | --- | --- | --- |
| Jan | Feb | Mar | Apr | May | Jun | Jul | Aug | Sep | Oct | Nov | Dec |
| N/A | N/A | N/A | Good | Best | Best | Good | Good | Best | Good | N/A | N/A |
---
Request A Quotation Send Us An Enquiry