---
Holiday Highlights
Add extra nights in the vibrant city of Barcelona before or after your holiday!
Witness spectacular views and ever-changing scenery and an exceptional variety and quality of walking paths
Medieval villages, isolated refuges and soaring mountain passes
Request A Quotation
Send Us An Enquiry
Overview
Walking
Pricing
Map
Accommodation
Info
This intriguing landlocked principality, situated high in the Pyrenees boasts isolated refuges, medieval villages, soaring mountain passes and the beautiful tranquillity of a thousand lakes. Andorra offers all the spectacular views of ever-changing scenery a walker could wish for, some of the most dramatic in all of the Pyrenees.

Andorra is well known for its unique mountain walking, offering unforgettable views over vast lakes and lush countryside with its highest mountain Coma Pedrosa, standing at a sizeable 2943 metres! Most of the small towns and villages in Andorra are characterised by their medieval charm and intrigue, leaving much to explore. We selected these two centres as they are good bases to get the very best out of the stunning Andorran Pyrenees. The Andorran cuisine also takes on many influences from its neighbouring countries serving delicious dishes of cured meats, fresh fish and hearty mountain stews.
Our two centres have been chosen for their accessible locations, high standard of hotels and of course the quality of the surrounding walks. You will first be based in Encamp, a lovely parish located on the stunning Valira d'Orient River with good bus links. You can then opt to either walk or be transferred to your second centre in El Serrat. The walking is more mountainous in this village and has a surplus of beautiful wild flowers framing deep lakes.
The Walking

We have carefully selected our routes to ensure the walker truly experiences the best the Andorran Pyrenees has to offer. With its independent character, wildflower meadows and towering peaks, Andorra offers some of the finest paths in the Pyrenees making it a walker's paradise. The variety and quality of paths is quite exceptional. Many are well way-marked and clearly signposted, elsewhere your maps and our notes will provide you with all the information you will need to find your way and make the most of this vibrant land.


Self-Guided Walking
We provide you with our self-guided walk booklet with walks catering for all abilities. We also provide a local walking map. Our recommended walks include some circular routes, whilst others are more suitable as a linear walk. Public transport is available but the timings are not always walker friendly, particularly in the quiet season. Transfers can be arranged locally with our local partners.
Guided Walking
Please enquire for further information on guided walking.

Walk Grading
Self-guided: A Selection of Easy, Moderate and Challenging walks that you can choose from
This map is for illustration purposes only and we cannot be held responsible for its accuracy.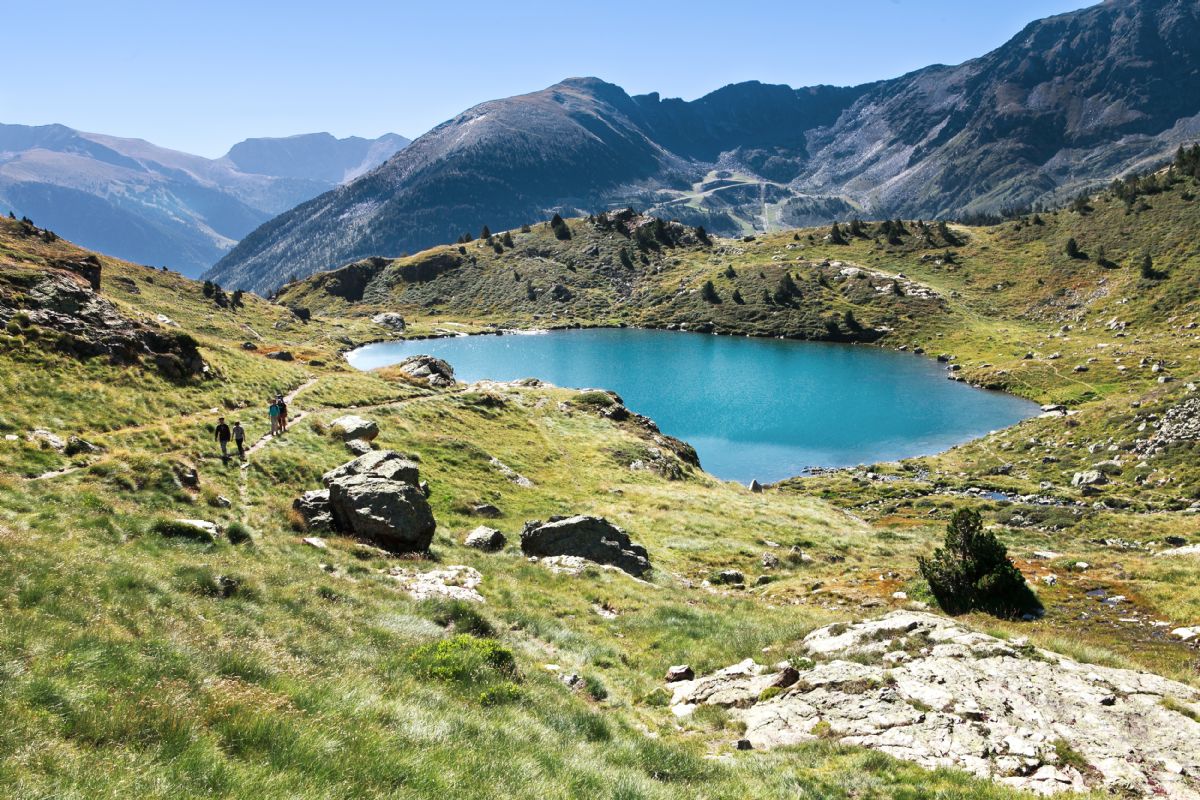 We have personally stayed in or visited all of our accommodations. They have all been selected for their great locations, friendly atmosphere and traditional hospitality, as well as the warm welcome they offer to walkers. Below is a summary of our usual accommodations*.
VIEW MORE INFORMATION
Availability Information
This holiday is available from June to October however there is a chance of snow before at the beginning and end of this period. The best time to go is between mid June and September with the stunning wildflowers in full bloom in July.

Please note our best to go information is generally referring to the walking which may fall in the early or late season in some places. This may mean that not all tourist facilities will be open at the time you visit.
When to book your walking holiday in Andorra - Andorra - Rugged Pyrenees
| | | | | | | | | | | | |
| --- | --- | --- | --- | --- | --- | --- | --- | --- | --- | --- | --- |
| Jan | Feb | Mar | Apr | May | Jun | Jul | Aug | Sep | Oct | Nov | Dec |
| N/A | N/A | N/A | N/A | N/A | OK | Best | Best | Best | OK | N/A | N/A |
---
Request A Quotation Send Us An Enquiry