---
Holiday Highlights
Rich in culture, traditions and history, an area of striking beauty
Varied walking through mountains, beside the River Lima and along the Green Coast. Visit local wineries where you can sample the renowned excellent wines
Request A brochure
Send Us An Enquiry
Overview
Walking
Pricing
Map
Accommodation
Info
Marked by the intense green of its fields and vineyards, the Minho regions' natural landscape is one of enormous beauty and biodiversity. Not yet well known as a 'walkers paradise', it is safe to say the Minho is reasonably 'less trodden' than other regions of Portugal such as the Southern Algarve or the autonomous islands of Madeira.
This trek begins in the Serra D'Arga Mountains on the Spanish border where you enjoy your first two days walking. On your third day you meet the beautiful River Lima which you walk beside before reaching the historic town of Ponte de Lima known as the oldest village in Portugal. This charming village is home to one of the few crossing points of the river over a picturesque medieval bridge. Your remaining days are enjoyed walking along the Green Coast past attractive windmills ending on a high point as you cross the River Minho into Spain for your last ascent.
We have carefully selected our routes to ensure the walker truly experiences the best the Minho region has to offer. The majority of our walks are easy to navigate on clear paths with the exception of our routes in the Serra D'Arga Mountain where our walk notes and maps will guide you through the stunning landscape. You can expect to walk alongside the river, visit a National park and also visit the local wineries along your route.

Day 1: Arrive at Porto airport and transfer directly to your first accommodation in Soajo (transfer included). Overnight Soajo.
Day 2: Transfer to Lindoso (included) where you then descend to cross the Rio Lima via an impressive hydro-electric dam. This involves 2 km of tarmac road, thereafter you walk along ancient tracks and paths. Today's route takes you through picturesque villages, farmland and forest. You will witness a disappearing way of life. Much of this landscape was farmed in the past – numerous terraces, water channels, barns and grain stores attest to this heritage. Overnight Soajo.
Ascent: 350m. Descent: 500m. Distance: 7 miles. Time: 3.45 hours.
Day 3: You follow old tracks along the mountainside, westwards from Soajo, and apart from short downhill sections you will be gradually ascending the whole way. Reaching the village of Vila de Soente, you walk up their access road and cross the main road to enter a wooded area; transfer at the end to your hotel. Overnight Ponte de Barca.
Ascent: 590m. Descent: 380m. Distance: 7.5 miles. Time: 3.45 hours.
Day 4: Leaving Ponte da Barca, you walk alongside the peaceful Rio Lima for most of your day to the historic town of Ponte de Lima. Today's walk is a complete contrast to the previous two days. Only towards the end do you leave the riverside for a kilometre or so. The going is very easy, being virtually level and traffic-free nearly all the way. Take your swimming things if you like a dip – there are some lovely swimming spots along the river. Overnight Ponte de Lima.
Ascent: 100m. Descent: 150m. Distance: 11 miles. Time: 4.15 hours.
Day 5: Today you have easy walking again, as you continue along the valley of the Rio Lima from Ponte de Lima. Most of the route is level and much of it is traffic-free. You leave Ponte de Lima along the magnificent avenue of plane trees by the river then mainly walk on tracks or rural roads, through fertile agricultural land and woodland. At Passagem, where there used to be a ferry across the river, you turn south towards the hills and into an area of intensive grape growing and wine production. Overnight Viana do Castelo.
Ascent: 80m. Descent: 30m. Distance: 8.75 miles. Time: 3 hours.
Day 6: After two days in the mountains and then two days along the valley of the Rio Lima, today's walk is another complete contrast, as you walk along the 'Green Coast' northwards from Viana to Vila Praia de Âncora. Apart from one modest hill at Montedor mid-way along the route (and occasional sand-dunes) the walking feels more or less level. Some of the time you have the option to walk along the beach. Overnight Vila Praia de Âncora.
Ascent: 150m. Descent: 150m. Distance: 12 miles. Time: 4.15 hours.
Day 7: Today's walk is in two distinct sections. The first takes you to the town of Caminha where your last night's accommodation is located. You can then extend the walk by taking a ferry across the Rio Minho to Galicia in Spain to walk up Monte de Santa Trega (aka Tecla or Tegra), the striking conical hill opposite Caminha, returning later by ferry. Starting along the 'prom' in Vila Praia de Âncora, you continue your trek northwards along the coast until you pass the resort town of Santana. Thereafter you leave the bustle behind and walk through shady pine forest to the mouth of the Rio Minho estuary and a sheltered beach. If you would like a swim but don't fancy the open sea at Santana, this is a good place to stop. Overnight Caminha.
Ascent: 350m. Descent: 350m. Distance: 11 miles. Time: 5 hours.
Day 8: You will be collected from your last trek hotel and transferred back to Porto airport, or to Porto City if you are opting for extra nights in this beautiful city.
Self-Guided Walking
We provide you with our self-guided walk booklet which documents each walk. We also provide a route map for each days walk and an overview map of the Minho region.
Luggage Transfer
The luggage is transferred for you from hotel to hotel, leaving you free to travel with a day rucksack only.
Walk Grading
Self-Guided – Easy with some long days. Total for standard week ignoring variations:- Total ascents: 1780m. Total descents: 1570m. Total distance: 57.25 miles.
This map is for illustration purposes only and we cannot be held responsible for its accuracy.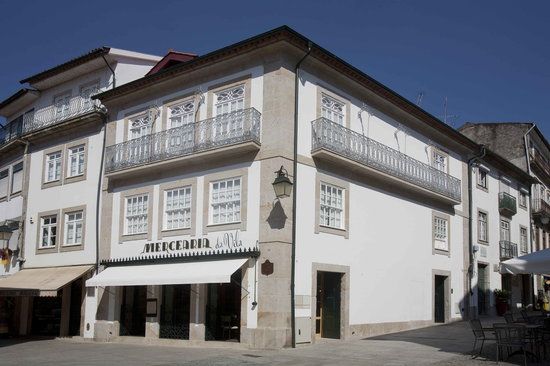 On this trek we offer mostly 3-4* hotels with 2 nights spent in lovely cottage style houses. You have the option to upgrade on 6 nights (all but your last night). These have all been chosen for their charm, location and friendliness. All rooms have a private bathroom, mostly with a shower over the bath. The hotels will let you know about any local specialities for dinner and a buffet-style continental breakfast.
VIEW MORE INFORMATION
Availability Information
Late Spring is the best time to visit Portugal, particularly if you want to see the beautiful array of flowers in bloom, although February to March is when the almond blossom decorates the landscape. Early Autumn is also a good time when it's still warm but not too hot. July and August will most likely be too hot for walking and there is a chance of snow from November to January.

Please note our best to go information is generally referring to the walking which may fall in the early or late season in some places. This may mean that not all tourist facilities will be open at the time you visit.
When to book your walking holiday in Portugal - Mainland - Portugal - Minho Mountains, Valleys & Coast
| | | | | | | | | | | | |
| --- | --- | --- | --- | --- | --- | --- | --- | --- | --- | --- | --- |
| Jan | Feb | Mar | Apr | May | Jun | Jul | Aug | Sep | Oct | Nov | Dec |
| N/A | Good | Best | Best | Best | Good | OK | OK | Best | Best | OK | N/A |
---
Request A brochure Send Us An Enquiry