---
Holiday Highlights
Combine the countryside route of the 'Historical Way' with the coastal 'Fishermen's Trail'
Carefully selected routes highlight the very best of this picturesque long-distance route
Enjoy exceptionally varied walks including hills, cliffs, sea, rivers, flora, fauna within the diverse Alentejo Natural Park
Request A Quotation
Send Us An Enquiry
Overview
Walking
Pricing
Map
Accommodation
Info
So what is Rota Vicentina? In case, you aren't yet familiar with this long distance route, Rota Vicentina is a network of well-preserved walking trails in South-West Portugal totalling 450km. Comprised of two main routes (several circular routes are also available) – The Historical Way (inland) and The Fishermen's Trail (coastal) propose an exceptional journey between the two contrasting personalities of this admired route which was certified as a 'Leading Quality Trail' within Europe in 2016.
Rota Vicentina was officially established in 2013 when an association was founded who adopted responsibility for this project. Aware that this region is one of the last wildernesses of Europe's Southern Coast, the founding association, composed of local establishments and local people, feared its destruction and were determined to preserve that which makes it so special for us today.
United by two extraordinary Portuguese regions, this area combines Alentejo's serene ambiance with the only coastal stretch of Algarve that remains truly genuine and wild. Pampered by over 300 days of sunshine a year, this region is an unmissable destination for lovers of walking within nature.
We have carefully selected what we feel highlights the very best of this picturesque route that you can complete within just one week. Our combination of the Historical Way (inland route) and the Fishermen's Trail (coastal route) offers a unique experience to discover the two worlds between an authentic rural culture and a surprisingly wild coastline within the Alentejo Natural Park.
Treat yourself to the excellent Portuguese cuisine (and wine!). In particular this area of Alentejo highlights their exceptional seasonal produce and demonstrates diversity across such short distances in the same region. Fresh seafood cooked in a traditional Portuguese style, combined with their precious grapes used to create their world famous wines is difficult to surpass.
The route is very well way-marked, the paths are clear and the walking is generally easy going (becomes less easy towards the end on the coast). Whilst you walk along the Historical Way you pass by rural villages following a stunning, tranquil route through stretches of cork trees, rivers and creeks; with even the possibility to spot the local otter! Whilst following the Fishermen's Trail, you become immersed in a more wild experience as you traverse along the cliffs listening to the abundant sea birds whilst facing the approaching striking natural landscape.

Day 1: Arrive into either Lisbon or Faro airport and take the necessary local transport to your first hotel (see 'how to get there' for more details). Private transfers between Lisbon or Faro airport and your first/last hotels are available at a supplement – this may be necessary if your flight arrives too late for the train. Overnight Odemira.
Day 2: Today's walk passes through sparsely populated, hilly countryside with lots of cork oaks, and for part of the way, eucalyptus forest. With the Rivers Mira and S. Teotonio for company, you become truly immersed in the beauty of this inland area between the hills and the sea. This is a good warm-up day – whilst it's quite long, it is easy going with the whole of the route following country tracks and only modest ascents and descents. Overnight Sao Teotonio.
Ascent: 400m. Descent: 250m. Distance: 12 miles. Time: 4.5 hours.
Day 3: Today is a little more challenging than walk day 1. As you walk alongside streams and through the countryside, you will begin to recognise the amazing biodiversity in this area such as Portuguese heather, Oregano and May-flower. You are rarely out of sight or hearing of the many beautiful birds that make this countryside their home. You may notice holes dugs in the banks made from the local Water Voles, Signal Crayfish or even Kingfishers. Overnight Odeceixe.
Ascent: 250m. Descent: 400m. Distance: 10.5 miles. Time: 4.75 hours.
Day 4: With two nights in the same accommodation, you can choose how much walking to do today. We describe a circular walk, shorter and easier than the previous two days, which takes you down to a beautiful stretch of coast. The highlights of the circuit are undoubtedly this coastal section, together with Praia (beach) de Odeceixe and the village of Odeceixe itself, which is worth exploring. There is a small section alongside an irrigation canal (quite a novelty – look out for the turtles) and another section along the striking cliff tops. Overnight Odeceixe.
Ascent: 110m. Descent: 110m. Distance: 8 miles. Time: 3.5 hours.
Day 5: Today you turn northwards. This coastal walk is in complete contrast to previous days. The first section follows along the north side of the river from Odeceixe nearly to the river mouth. Opposite Praia de Odeceixe, you climb steeply up to the headland and thereafter most of the walk is along tracks or narrow paths, along the top of high cliffs, traversing a beautiful section of coast where you come close to the sand dunes which are home to many burrowing mammals. Overnight Zambujeira do Mar.
Ascent: 340m. Descent: 370m. Distance: 11.5 miles. Time: 4.25 hours.
Day 6: A varied walk today. After a very short section of cliff-top path, you walk on to the fishing port of Entrada da Barca. Leaving this little valley, the path takes you steeply up rocks, but there is a handrail. From there to the lighthouse of Cabo Sardao you walk along tracks getting ever closer to the fascinating cliffs. The route from the lighthouse to the approach to Almograve is much wilder, and you walk on stony or sandy paths and tracks along a spectacular coastline. Overnight Almograve.
Ascent: 220m. Descent: 230m. Distance: 13 miles. Time: 4.75 hours.
Day 7: This is shorter than previous days and somewhat easier. Although there are sandy parts, especially in the first 1/3rd, there is less up and down – the cliffs are lower here. Described by locals as 'a day to purify your soul' thanks to the overwhelming views over Vila Nova de Milfontes and the Mira River as it meets the ocean, this is a spectacular walk. In the summer there is a regular ferry boat across the Rio Mira to Vila Nova, which is a great way to end the trek. Out of high season, you can phone for the ferry although we understand that it does not run in the winter. More details are given within our holiday documents. Overnight Vila Nova de Milfontes.
Ascent: 150m. Descent: 170m. Distance: 6.5 miles. Time: 3 hours.
Day 8: Depart from your last hotel on the necessary local transport to either Lisbon or Faro airport (see 'how to get there' for more details). Alternatively, we can arrange a private transfer from your hotel in Vila Nova to Lisbon or Faro airport at a supplement.
You can of course choose to stay on for a couple of nights in either Lisbon or Faro which we highly recommend.

Extra Nights
We recommend adding extra nights in Lisbon or Faro (depending on which airport you are using). Both of these coastal cities are extremely beautiful and are teeming with sights to see and history to discover. They are also both very nearby to some fantastic beaches should you wish to relax in the sunshine for a little longer.

Self-Guided Walking
We provide you with our exclusive self-guided walk booklet created by a member of our UK based walk writing team (first language English) which documents each walk. We also provide the official Rota Vicentina map – certainly the best for this trek!

Luggage Transfer
The luggage is transferred for you from hotel to hotel, leaving you free to travel with a day rucksack only.
Walk Grading
Self-Guided – Easy to Moderate walking. Total for standard week ignoring variations:- Total ascents: 1470m. Total descents: 1530m. Total distance: 61.5 miles / 98km.
This map is for illustration purposes only and we cannot be held responsible for its accuracy.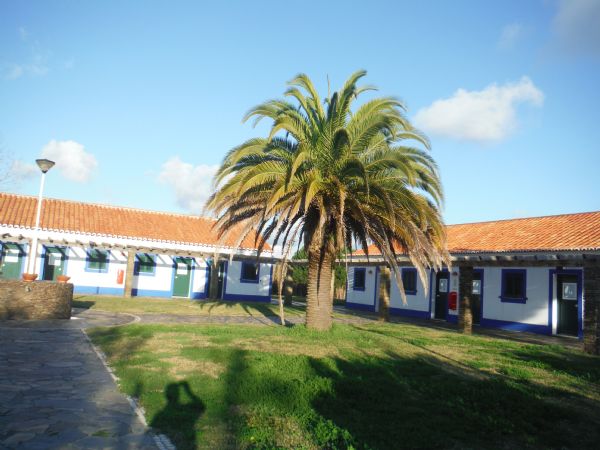 We offer standard grade and higher grade accommodation every night on this trek. All are of good quality chosen for their charm, location and friendliness. All rooms have a private bathroom, mostly with a shower over the bath. The hotels will let you know about any local specialities for dinner and/or breakfast.
All of our standard grade accommodations have been selected for their convenient location close to the Rota Vicentina and for their simple, yet comfortable rooms. Each night is breakfast only as they are ideally located in the towns/villages within walking distance of a choice of good local restaurants.
All of our higher grade accommodations have been selected for their more luxurious appeal, all set within beautiful farmland and all offer a swimming pool making them a more rural, relaxing choice of accommodation. Due to their tranquil isolation, transfers are required between the path and accommodations, most of which we are currently unable to include in the holiday price (approx €5-€10 paid locally per transfer). Breakfast and dinner is taken at each accommodation usually utilising their own fresh local produce.
VIEW MORE INFORMATION
Availability Information
This trek is available from March to October; however we wouldn't recommend travelling in July & August due to expected high temperatures and high volumes of visitors which also makes hotel availability limited. March to June is the best time for flowers.

Please note our best to go information is generally referring to the walking which may fall in the early or late season in some places. This may mean that not all tourist facilities will be open at the time you visit.
When to book your walking holiday in Portugal - Mainland - Portugal - Highlights of Rota Vicentina
| | | | | | | | | | | | |
| --- | --- | --- | --- | --- | --- | --- | --- | --- | --- | --- | --- |
| Jan | Feb | Mar | Apr | May | Jun | Jul | Aug | Sep | Oct | Nov | Dec |
| N/A | N/A | Good | Best | Best | Good | OK | OK | Best | Best | N/A | N/A |
---
Request A Quotation Send Us An Enquiry