---
Holiday Highlights
Walk along the famous 19th century `Camino de Ronda', a route built to prevent smugglers
Relax on some of the best beaches and coves of the Costa Brava
Set your sights on fantastic rugged coastal scenery and beautiful fishing villages
Request A brochure
Send Us An Enquiry
Overview
Walking
Pricing
Map
Accommodation
Info
A beautiful coastal walk along the famous `Camino de Ronda'. Originating in the 19th century, the Camino de Ronda was formed along the Costa Brava coast to help the Guardia Civil control the coast and stop smuggling.
Starting in the historic town of Begur, you will walk along the coast to the beautiful coastal village of Tamariu and then southwards along the famous "Camino de Ronda", an incredible trail offering you some fantastic rugged coastal scenery. You will visit some beautiful fishing villages along the way, such as Llafranc and Calella de Palafrugell, which still preserve their original charm. Along the way you will visit some of the best beaches and coves of the Costa Brava. This is an adventure you will never forget!
We believe that food is an important feature of this holiday and have only included breakfast as there is a good choice of restaurants. Dinner is an optional extra but if you decide to take dinner at the hotels you are in for a treat as on most nights you will dine beside the sea in the hotel's own restaurants. You will have the chance to savour the best of Catalan cuisine, with its excellent seafood, and meat dishes.
The Walking
You will follow a mix of coastal paths, with some forest paths and some promenade walking.

Day 1: You will be transferred from Girona airport or station to your accommodation in Begur. This picturesque, medieval town nestles in the hillside under its 16th Century fortified castle (well worth a visit for spectacular views over the region), many of the narrow cobbled streets at its base are now pedestrianised as is the hub of the town itself. Overnight Begur.
Day 2: Begur Circular – Starting in Begur, this walk follows a circular route, from the town over the surrounding hills and descending to a spectacular small bay. The route then follows the rugged coastline before ascending to the view - point (Mirador) at Puig Rodo where you can take in spectacular panoramic views over the bay to the Medes Islands nature reserve. The route then winds through the wooded hills back to the start point. Overnight Begur.
Ascent 310m, descent 169m, 5 miles, 3 ½ hours
Day 3: Begur to Llafranc – Today's walk is along a beautiful coastal trail, from Begur to Tamariu, then onwards around the La Musclera Headland and the bay of Cala Pedrosa. You will reach the San Sebastián lighthouse with incredible views out over the Mediterranean and the majestic high Pyrenees, finally arriving in the picturesque fishing village of Llafranc.

Ascent 557m, descent 357m, 8.5 miles, 4 - 5 hours
Day 4: Llafranc to Calella de Palafrugell – Today you head inland from Begur to the historic market town of Palafrugell along a quiet track, giving you the opportunity to experience the beautiful Catalan interior. Here you can stop for refreshments in one of the many restaurants and bars, or visit the churches, museums and shops. From here you head back towards the coast to the seaside town of Calella de Palafrugell.
Ascent 115m, Descent 205m, 7 ½ miles, 4 ½ -5 hours
Day 5: Free day in Calella de Palafrugell. Today you take a short walk up to the Botanical Gardens at Cap Roig (30 minute walk from the hotel), which runs down in terraces from the castle to the sea, or spend the day enjoying this beautiful seaside village. Overnight Calella de Palafrugell.
Day 6: Calella de Palafrugell to La Fosca – Leaving Calella de Palafrugell behind, you first continue along the scenic coastal trail with many beautiful secret coves. Eventually you head inland across fields and through hills clad in pine, olive and oak trees, passing a protected fishing hamlet and finally arriving at La Fosca, a lovely village on the seafront. Overnight La Fosca.
Ascent 234m, Descent 240m, 5 ½ miles, 3 - 3 ½ hours.
Day 7: La Fosca to S'Agaró - From La Fosca you first follow the promenade, before picking up the beautiful Cami de Ronda coastal path, this is a lovely scenic route along the coast with the Mediterranean sparkling in the sun on your left and pine clad hills on the your right. Overnight S'Agaro.
Ascent 222m, Descent 197m, 9.5 miles, 5 ½ hours.
Day 8: Pick up and transfer to Girona airport for your flight home, or to Girona station for your train if flying from Barcelona.


Luggage transfer
Your luggage is transported for you from hotel to hotel so you can then travel with day rucksacks.
Extension options
Why not combine our Rugged Coast trek with our Catalonian Coast & Mountains trek? Please contact us for more details.
You could also stay a night or two in the historic city of Girona - we can arrange a hotel.
Walk Grading
Self-guided – Easy. Total for standard week ignoring variations:- Ascent 1438m, Descent 1168m, 36 miles.
This map is for illustration purposes only and we cannot be held responsible for its accuracy. ,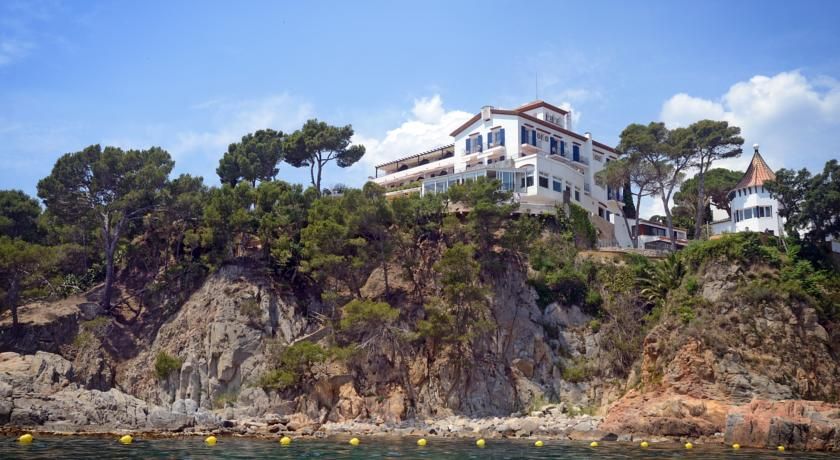 Availability Information
The best time to go is February to May and October, although the trek is possible from March to October. This walk is possible year round as far as the weather is concerned, however the hotels close down during the winter months.
July and August are very hot and the hotels are full at this time of year so we do not offer these months. Also from late October some hotels close for winter. June and September can also be hot and January and December a little cold.

Please note our best to go information is generally referring to the walking which may fall in the early or late season in some places. This may mean that not all tourist facilities will be open at the time you visit.
When to book your walking holiday in Spain - Mainland - Catalonia - Rugged Coast & Bays
| | | | | | | | | | | | |
| --- | --- | --- | --- | --- | --- | --- | --- | --- | --- | --- | --- |
| Jan | Feb | Mar | Apr | May | Jun | Jul | Aug | Sep | Oct | Nov | Dec |
| N/A | Good | Best | Best | Best | N/A | N/A | N/A | Best | Good | N/A | N/A |
---
Request A brochure Send Us An Enquiry