---
Holiday Highlights
Venture into the Heart of the Jungle where enchanting nature and wildlife awaits you. Spot wild elephants, sloth bears, leopards, rhinos, monkeys, over 500 species of birds and possibly even the elusive Royal Bengal Tiger!
Enjoy activities such as Jungle Jeep or Foot Safari, Crocodile Canoe Tour, Elephant Bathing, Cultural Dance Performances and fascinating Bird Watching Tours
Request A Quotation
Send Us An Enquiry
Overview
Walking
Pricing
Map
Accommodation
Info
The meaning of the name Chitwan translates to 'Heart of the Jungle' - a perfect description which truly illustrates the enchanting nature of this Nepalese treasure.
Wildlife & Culture
You will have a brilliant chance of seeing monkeys, one-horned Asiatic rhinos, crocodiles, lizards, deer, and some of the more than 500 species of birds including the stunning wild peacocks. If you're lucky, you may stumble across wild elephants, sloth bears, leopards and maybe even perhaps the elusive royal Bengal Tiger!
Chitwan is a UNESCO World Heritage reserve located in Nepal's Inner Terai Valley between the foothills of the Himalayas and is one of the few remaining undisturbed vestiges of the Terai region. It protects more than 932 square km of forests, marshland and grassland containing vast animal populations, resulting in it being one of the best national parks for viewing wildlife in Asia.
Chitwan History & Protection
Established in 1973, Chitwan was Nepal's first National Park and is impressively rich in unique flora and fauna which makes it one of Nepal's most celebrated attractions. The spectacular landscape is covered with lush vegetation with the majestic Himalayas acting as a stunning backdrop. Chitwan is an outstanding example of biological evolution, the combination of flood plains and riverine forest provides an excellent habitat for many wildlife, particularly for the great one-horned rhino where the world's second largest population of this species is found. It is also the prime habitat for the Bengal Tiger and supports a viable population of this endangered species (currently 125 Bengal Tigers reside in Chitwan National Park).
Chitwan has a long history of protection dating back to the early 1800's, it was recognised and legally protected as a World Heritage listed reserve in 1973. The Nepalese Army has been deployed for park protection since 1975 (you will see many Army stations throughout the park), which in addition to other regulations, adequately ensure the protection of natural resources and peoples participation in conservation. This makes Chitwan an outstanding example of Government Community partnership in biodiversity conservation.
Chitwan was a dense forest ruled by the Tharu God/King Chitrasen Baba who used to worship in the deep forest. Local people believed him to be the incarnation of Lord Vishnu, still today the Tharu people worship him. It is still the homeland of Tharu people who are renowned for their cultural arts and drawings. The people who now inhabit the Chitwan District are mostly peasant farmers cultivating crops such as rice, wheat, beans, lentils, mustard and vegetables.
Activities
There are many exciting activities on offer at Chitwan National Park, all of which immerse you in the local culture and bring you closer to the fascinating wildlife. Please see a few of them listed below:
Jungle Safari:
This is a truly immersive experience and a fantastic way to see the majority of the park and spot the local wildlife. The whole trip lasts around 5 hours including a short break at the crocodile breeding centre half way. Sightings are of course variable, but to give you an idea, we were lucky enough to see a Bengal Tiger, one-horned rhinos, monkeys, monitor lizards, spotted deer, crocodile and plenty of colourful peacocks.
Elephant Bathing:
You will take a short walk down the river where your elephant will be waiting with their keeper. Follow them into the river and give your elephant a good scrub! It is a wonderful experience and you're also assisting with one of the elephants 4 baths a day which they relish. A guide is on hand with towels and to take some great photos for you.
Jungle Walk:
If you don't fancy the longer jeep ride, exploring the jungle on foot is a healthier alternative which also gives you a chance to get up close to the unique flora of the National Park as well as exploring its fascinating habitats. You will be lead on your walk by an experienced and very knowledgeable guide who is sure to have the answers to all of your questions!
Canoeing:
This isn't canoeing how we know it… Firstly, it is a narrow hollowed out tree with small wooden seats rather than an actual canoe, and secondly you don't do any paddling yourself. The river guide will stand on the back of your canoe and steer using a very long bamboo stick, you will also be accompanied by another guide to offer their knowledge along the way (and to spot the crocodiles!). The boat trip lasts around half an hour and ends with a visit to the elephant breeding centre, you will then be driving back to your lodge.
Tharu Cultural Show:
Presented in the evenings in the village hall, this wonderfully loud performance displays a number of traditional dances and musical talents whilst learning all about the Tharu culture. You even have the opportunity to join in on the final dance!
Bird Watching:
Boasting over 650 species of birds, you certainly won't be short of sighting opportunities. Within the jungle itself, beautiful wild peacocks roam elegantly through the trees. Head to the river banks where kingfishers can be seen swooping down into the waters for their catch. Cranes, purple herons, cinnamon bittern and black-crowned night are also amongst the many species which live in the National Park.
Chitwan National Park Presentation:
This very detailed slideshow presentation is given by one of Chitwans extremely knowledgeable leaders. They will educate you on the fascinating history of Chitwan along with photographs dating back many years which depicts perfectly the journey this National Park has been on.
Cycling:
Go at your own pace and rent some bikes. Explore the edges of the National Park or the nearby villages which are full of interest.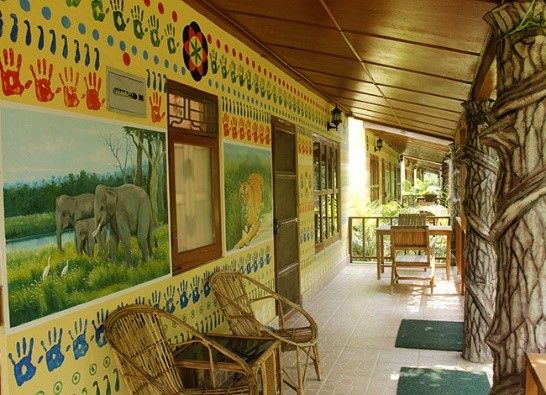 Rhino Land Jungle Lodge is located on a small side street to one of the main streets running through the accommodation district. They feature a variety of colourful cabin style rooms set in the peaceful gardens, all of which have private en-suite bathrooms, air conditioning, mosquito nets, free Wi-Fi and other essential amenities. There is an outdoor swimming pool within the grounds for all guests to enjoy, the restaurant and bar is located on the first floor of the main building.
VIEW MORE INFORMATION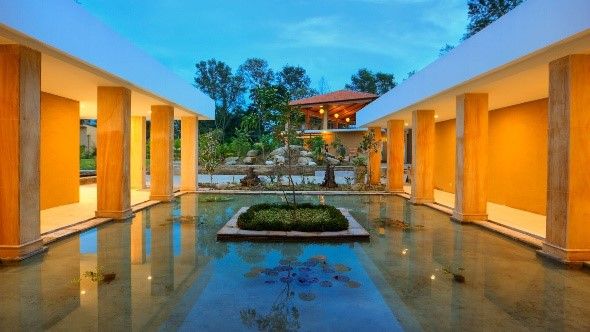 Kasara is a fairly secluded resort giving it a more luxurious and peaceful atmosphere. The paths throughout the grounds are intertwined with water ways and lush plants, these paths lead you to the luxurious individual cabins. Each room/cabin has its own private water garden courtyard, relaxing day bed, private en-suite bathroom with outdoor shower, air conditioning and free Wi-Fi. There is a lovely outdoor swimming pool surrounded by comfortable sun loungers and also a luxury spa just next to the pool. The restaurant focuses on good quality locally sourced produce making your dining experience one to remember.
VIEW MORE INFORMATION
Availability Information
It is possible to go anytime from mid-September when the Monsoon finishes to late May when the Monsoon starts. With today's unpredictable weather patterns there is a possibility that May and September will be affected by Monsoon rains. Please check the best time to go on your chosen Nepalese Trek with which you are combining this with.

Please note our best to go information is generally referring to the walking which may fall in the early or late season in some places. This may mean that not all tourist facilities will be open at the time you visit.
When to book your walking holiday in Nepal - Nepal - Chitwan Jungle - National Park
| | | | | | | | | | | | |
| --- | --- | --- | --- | --- | --- | --- | --- | --- | --- | --- | --- |
| Jan | Feb | Mar | Apr | May | Jun | Jul | Aug | Sep | Oct | Nov | Dec |
| Good | Good | Good | Best | Good | N/A | N/A | N/A | Good | Best | Best | Good |
---
Request A Quotation Send Us An Enquiry