---
Holiday Highlights
Embark a journey of discovery through beautiful Mediterranean countryside
Walk through terraces of oranges, lemons and olives cultivated by the Moors over 1000 years ago
Enjoy some of the highest peaks with unrivalled views of the Costa Blanca
Request A Quotation
Send Us An Enquiry
Overview
Walking
Pricing
Map
Accommodation
Info
This trek takes you through some of the most stunning scenery to be found in this part of Spain. It is a journey of discovery through beautiful Mediterranean countryside with overnight stays in whitewashed Moorish villages. As you walk through terraces of oranges, lemons and olives first cultivated by the Moors over 1000 years ago you will enjoy the sights and scents of a multitude of fragrant flowers and herbs. Your ascents are rewarded by viewpoints with panoramic views of the surrounding valleys. Our carefully selected accommodation blends in with the journey and heightens the experience.
The Walking
You will walk along quiet country lanes, tracks and ancient footpaths. The paths are not difficult to follow, there are some steep climbs but no scrambling is involved. We grade this trek as moderate.

Please note it is only possible to start our standard trek on a Sunday, Monday, Tuesday and Wednesday.
Day 1: Transfer from the airport to Finestrat and take some time to look around this charming area. Overnight Finestrat.
Day 2: Begin by exploring the remarkable landscapes characterised by limestone ridges that divide the area into separate valleys. You wind through farmland, along country lanes and shady pinewoods. Overnight Sella.
Ascent: 760m. Descent: 600m. Distance: 9 miles. Time: 4.5 hours
Day 3: Todays route takes in the quiet valleys between the Sierra de Aitana and Puig Campana. You'll enjoy panoramic views over the whole and adjoining Guadalest valley. Pass by the native Mediterranean pine forest and tempting strawberry trees. Overnight Guadalest.
Ascent: 800m. Descent: 670m. Distance: 11.5 miles. Time: 7 hours.
Day 4: Explore some of the peaks of the highest mountain range in the region, topped by the 1558m Sierra de Aitana. From these peaks you have an unrivalled view of the Costa Blanca. Overnight Confrides.
Ascent: 780m. Descent: 560m. Distance: 8.5 miles. Time: 6.5 hours.
Day 5: Today's route takes you out of the broad Guadalest Valley, over the Sierra de Serrella and into the eastern end of the Seta Valley. The geology predominates with deep valleys, pinewoods and sheer limestone cliffs that give the landscape a distinctly alpine flavour and contrasts with the more open topography of the lower Guadalest Valley. Transfer to your accommodation. Overnight Castell de Castells.
Ascent: 620m. Descent: 605m. Distance: 7 ¼ miles. Time: 5.5 hours
Day 6: Transfer to the start of this walk which takes you out of the Guadalest Valley, over Serrella and into the parallel Castell de Castells Valley. The route's features include a series of cave shelters in use for millennia, freshwater springs, a medieval stone anhydrite mill, a veteran pine and olive trees and a medieval irrigation aqueduct. Overnight Castell de Castells.
Ascent: 745m. Descent: 965m. Distance: 10 ½ miles. Time: 5 ¼ miles.
There is also an alternative shorter and lower route – Ascent: 275m. Descent: 500m. Distance: 8 ¼ miles. Time: 4 hours.
Day 7: Travel through the quietest and most uninhabited part of your route into the hidden valleys of Garx and Bijauca, Moorish names that have persisted for more than 1000 years. Along the way you will also visit the impressive rock arches at Plans de Aialt and a Moorish underground cistern. Overnight Tarbena.
Ascent: 590m. Descent: 600m. Distance: 12 miles. Time: 5.5 hours.
Day 8 Transfer to the airport for your return journey home.

Self Guided
You can walk entirely at your own pace with our extensive walking notes giving route directions, ascents, descents, distances and walking times (as well as where those most important cafe and toilet stops are)! If you wish to lengthen the holiday we can easily add rest days when you make the booking.

Baggage transfer
Your bags will be transferred daily to your next hotel so that you can enjoy the walking with just a day pack.

Walk Grading
Self-guided – Moderate with Challenging options. Total for standard week ignoring variations:- Ascent: 4105m. Descent: 3680m. 58 miles.
This map is for illustration purposes only and we cannot be held responsible for its accuracy.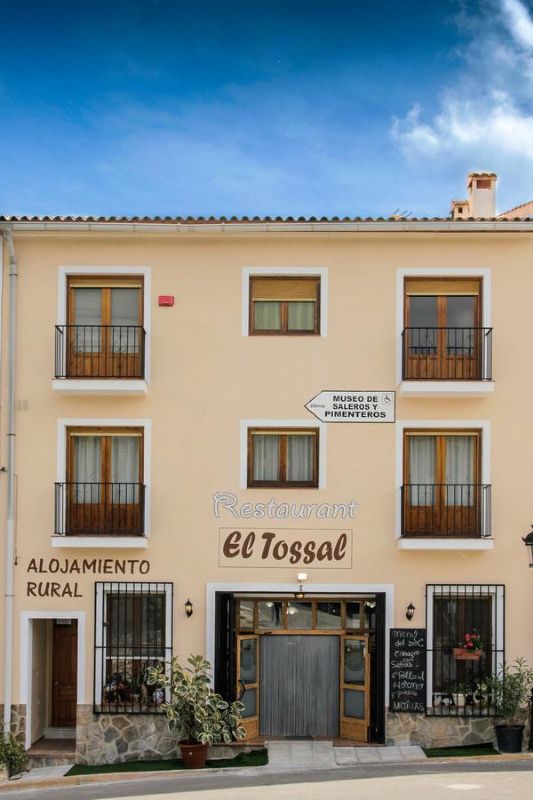 We have especially selected accommodation that fits in with the character of the trek – small, quiet, Spanish family run establishments. We use a mixture of Pensions, Casa Rurals and Hotels, whichever we feel has the best quality of service from the choice available in the village. You will be assured of a friendly welcome at the end of a day's walking, and maybe take a dip in the pool, enjoy aperitifs on your balcony, or roof top dinner, depending on the location.
VIEW MORE INFORMATION
Availability Information
This trek is available throughout the whole year; however we do not recommend the trek during July and August due to high summer temperatures.
Please note our best to go information is generally referring to the walking which may fall in the early or late season in some places. This may mean that not all tourist facilities will be open at the time you visit.
When to book your walking holiday in Spain - Mainland - Spain - Alicante - Las Marinas
| | | | | | | | | | | | |
| --- | --- | --- | --- | --- | --- | --- | --- | --- | --- | --- | --- |
| Jan | Feb | Mar | Apr | May | Jun | Jul | Aug | Sep | Oct | Nov | Dec |
| Good | Best | Best | Best | Best | Good | N/A | N/A | Best | Best | Best | Good |
---
Request A Quotation Send Us An Enquiry