---
Holiday Highlights
Follow the GR10 long distance route from France to Spain
Journey from the peaks of the Pyrenees to the shores of the Atlantic
Uncover the unique identity of the Basque Country
Request A Quotation
Send Us An Enquiry
Overview
Walking
Pricing
Map
Accommodation
Info
Journey from the peaks of the Pyrenees to the shores of the Atlantic encountering the charm of the Basque countryside with every step. Starting from the pilgrimage town of St Jean Pied de Port, follow the GR10 long distance route from France to Spain taking you through varied landscapes, from spectacular mountains to picturesque countryside with rolling hills and dramatic coastlines.
Passing through the traditional red and white villages you will uncover the unique identity of the Basque Country, one of Europe's most culturally rich regions. With its distinctive language (Euskara), traditions and world-famous gastronomy, the Basque Country is astonishingly diverse. Our route offers you a unique opportunity to immerse yourself in its varied landscapes and ancient culture.
Day 1: On arrival from Biarritz Airport you will take the short bus journey to Bayonne City Station (payable locally) where you then take the train to your first trek hotel in St Jean Pied de Port (included – approximately 1hr 15 minutes), it is then a short walk to your first hotel. If you arrive early you will have time to explore St Jean Pied de Port which is also the most popular starting point for the Camino de Santiago. Overnight St Jean Pied de Port.
Day 2: This morning you will be transferred to Col D'Ispeguy to start your walk to Bidarray. This is a challenging walk, ascending the red sandstone ridges of the Iparla along the border between the Basque Country and Navarre. Your route will take you along the GR10 long distance path, look out for the Griffon vultures as they glide overhead. Descend on a network of paths that connect the hamlets and continue towards Bidarray and its remarkable Romanesque church. Your hotel overlooks the three valleys of Nive, Baztant and Begi-Eder. If you prefer to take an easier route on your first day of your trek there is an alternative walk which start from St Martin d'Arrosa which initially follows an historical iron mining trail. Overnight Bidarray
Distance: 9 miles or 4.5 miles Ascent: 840m or 330m Descent: 1,370m or 510m
Day 3: From Bidarray, you have an undulating walk which criss-crosses through a myriad of farms and meadows, followed by an ascent to the summit of Artzamendi (924m). Descend along the green Nive gorge and discover the natural curiosity that is the Pas de Roland before continuing on to the charming village of Itxassou, famous for its cherries. If you want a shorter/lower route for your second day, there is an alternative walk which misses out the ascent to the summit of Artzamendi. Overnight Itxassou.
Distance: 11 miles or 8 miles Ascent: 940m or 600m Descent: 1050m or 680m
Day 4: Only a few hills separate the villages of Itxassou and Espelette but our route takes a worthwhile detour to the summit of Mondarrain. Following a track to Col de Legarre you continue uphill on the flank of the Pic d'Ezcondray until you arrive at the Col d'Amezketa. As you walk through this beautiful landscape you will experience the local flora and fauna, such as the free- spirited pottoks. They are a true emblem of the Basque Country. Climb to the summit of Mondarrain (749m) to enjoy stunning views of the French and Spanish peaks of the Basque Country and beyond to the Atlantic Ocean. Descend to the typical Basque village of Espelette, known for its dried red peppers which are hung outside many of the houses and shops. Overnight Espelette
Distance: 10 miles Ascent: 840m Descent:830m
Day 5: Todays walk is less mountainous than previous days. Following the GR8, todays walks follows gentle ridges through countryside and villages passing a series of forts. Among the most beautiful villages in France, Sare is an authentic Basque village, lined with typical white houses with red and green timbering. Overnight Sare.
Distance: 12.5 miles Ascent: 820m Descent: 830m
Day 6: A long steady climb up the GR10 takes you up to a pleasant col where you have the choice to ascend the summit of La Rhune (905m). Alternatively, you can take a different route from Sare and catch the rack and pinion train to the summit. The summit of La Rhune marks the border with the Spanish Basque Country, enjoy (weather dependent) 360 ° panoramas, east towards the endless Pyrenees you have crossed and west to the Atlantic coast. Descend along tracks and paths to the village of Ascain. From here you will get a short transfer to the fishing port of St Jean de Luz. Overnight St Jean de Luz.
Distance: 9 miles Ascent: 880m Descent: 950m
Day 7: This varied route takes you from the busy port of St Jean de Luz through pleasant, hilly countryside to La Corniche, the dramatic rocky coast that is of great geological interest. You walk mostly along roads and tracks in the first part, and on paths later. The last stage is a wonderful beach and then a ferry boat across the harbour to Spain – and the fortified city of Hondarriba. Overnight Hondarribia.
Distance: 12 miles Ascent/Descent: 400m
Day 8: From Hondarriba you will take a direct transfer to Biarritz Airport.


Baggage Transfer
Your baggage is transported for you from hotel to hotel so you can walk with day rucksacks.
Walk Grading
Our standard itinerary has been graded as challenging with some long days, big ascents and/or descents and sometimes through quite remote areas. Ascent: 4720m Descent: 5430m Distance: 65 miles
There are alternative walks on days 2 & 3 which are both shorter and easier. If you follow this itinerary, we would grade the trek as moderate to challenging. Ascent: 3870m Descent: 4200m Distance: 58 miles.
This map is for illustration purposes only and we cannot be held responsible for its accuracy.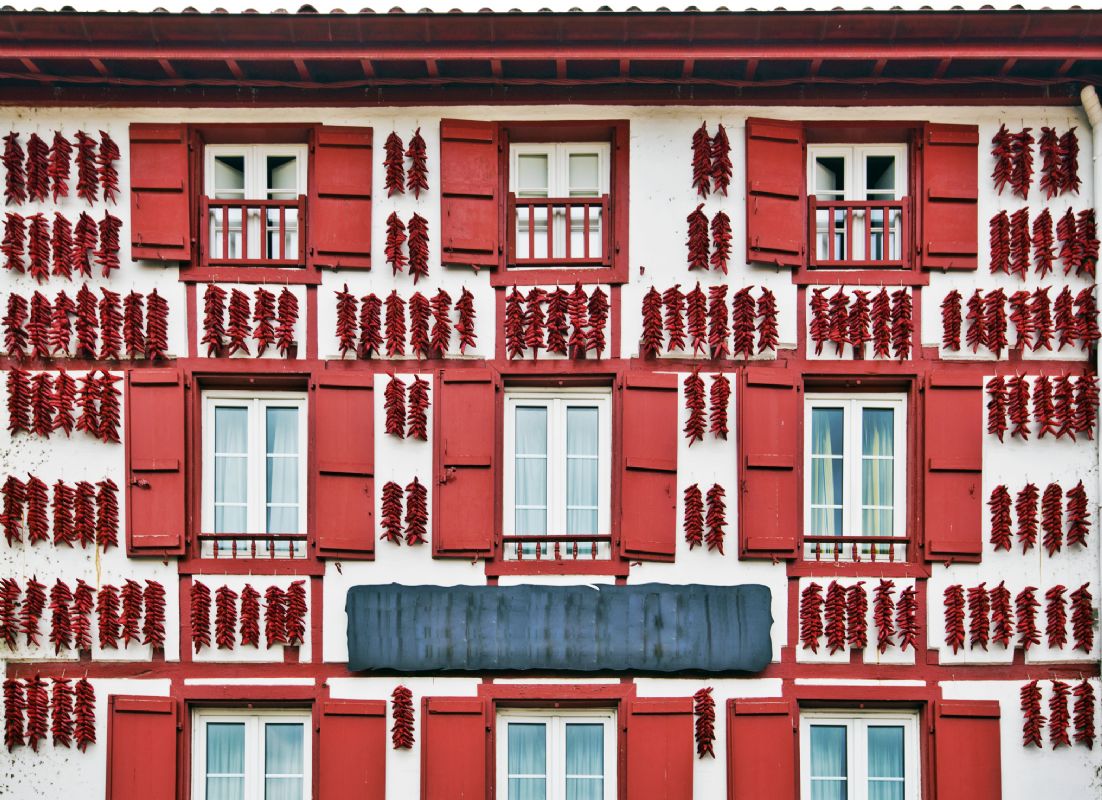 On this trek, the accommodations are mostly small and family-run, all rooms have a private bathroom. You can choose to upgrade to 4* higher grade hotels on 4 nights.
We have personally stayed in or visited all of our accommodations.They have all been selected for their great locations, friendly atmosphere and traditional hospitality, as well as the warm welcome they offer to walkers. Please click below for a summary of our usual accommodations*
VIEW MORE INFORMATION
Availability Information
This trek is available from April to September however we would not recommend travelling in July and August due to high volumes of visitors which makes hotel availability limited.
Please note our best to go information is generally referring to the walking which may fall in the early or late season in some places. This may mean that not all tourist facilities will be open at the time you visit.
When to book your walking holiday in France - France - Basque Country - Mountains to the Ocean
| | | | | | | | | | | | |
| --- | --- | --- | --- | --- | --- | --- | --- | --- | --- | --- | --- |
| Jan | Feb | Mar | Apr | May | Jun | Jul | Aug | Sep | Oct | Nov | Dec |
| N/A | N/A | N/A | OK | Good | Best | Good | Good | Best | Good | N/A | N/A |
---
Request A Quotation Send Us An Enquiry