---
Holiday Highlights
Discover some of the most remarkable geological landscapes
Walk in varied landscapes from idyllic golden crescents to rolling hills
Experience the unique Basque culture with its distinctive language, traditions and world-famous gastronomy
Request A Quotation
Send Us An Enquiry
Overview
Walking
Pricing
Map
Accommodation
Info
Discover the beauty of the magnificent Basque coastline where mountains plunge into the sea. This cross-border route follows the coastline from East to West and features some remarkable geological landscapes. Take in sweeping panoramas of the Atlantic as you walk along idyllic golden beaches and rolling hills following the GR 121.
Uncover the unique identity of the Basque Country, one of Europe's most culturally rich regions. With its distinctive language (Euskara), traditions and world-famous gastronomy, the Basque Country is astonishingly diverse. From the fishing port of St Jean de Luz, once the centre for Basque corsairs to the historic city of San Sebastian and the charming seaside villages that sit along this spectacular stretch of coastline. Our route offers you a unique opportunity to immerse yourself in its varied landscapes and ancient culture.
Day 1: On arrival from Bilbao Airport you will take a direct transfer (90 minutes) to your first trek hotel in St Jean de Luz. If you arrive early you will have time to explore this port town and its beaches.Overnight St Jean de Luz.
Day 2: This varied route takes you from the port of St Jean de Luz through pleasant, hilly countryside to La Corniche, the dramatic rocky coast that is of great geological interest. You walk mostly along roads and tracks in the first part, and on paths later. The last stage is a wonderful beach and then a ferry boat across the harbour to Spain – and the fortified city of Hondarriba. Overnight Hondarriba.
Ascent/Descent: 400m Distance: 12 miles
Day 3: Todays route takes you up through shady woods to the Ermita Guadalupe, with good views eastwards over Hondarriba. Unless you chose to skip the detour, there are superb 360° views at the top to reward your effort.
Reaching the rocky coastline, you turn eastwards along a nice path and enjoy dramatic scenery. Rounding the headland of Higuer, you finish by walking through Hondarriba, passing a swimming beach on the way. Overnight Hondarriba.
Ascent/Descent: 650m Distance: 10 miles
Day 4: To begin today's walk you will be transferred up onto the ridge of Monte Jaizkibel. The route takes you along this ridge with a quite remarkable last section before descending steeply into Pasai and its sheltered harbour. It is worth spending a while exploring the old streets before taking a short ferry ride across the river. The route then climbs up steps and continues through woodland until you drop down into the city of San Sebastian, also known as Donostia, where you walk along the seafront, with a swimming beach, before crossing to your hotel. Overnight San Sebastian.
Ascent:520m Descent:920m Distance: 11 miles
Day 5: Leaving the city of San Sebastian you climb up to the hills to the west and walk, often on country roads, through woods and farmland, parallel with the coast. You are following a section of the 'Chemin de St Jacques' so are likely to be walking with pilgrims, heading the same way as you. The route eventually descends to the riverside town of Orio. You then walk over the hills beyond until the magnificent beach of Zarautz is revealed. Overnight Zarautz.
Ascent/Descent: 620m Distance: 14 miles
Day 6: A shorter walk today, using a mixture of paths, tracks and roads. From Zarautz you walk over the hills to the historic and picturesque village of Getaria, home to Juan Sebastian Elkano, who completed the first circumnavigation of the world. Our route takes you up the rocky promontory beyond the harbour to enjoy the views. After walking over lower hills you will then descend to Zumaia, another harbour town. Overnight Zumaia.
Ascent/Descent: 550m Distance: 9 miles
Day 7: Todays route follows the GR121 for much of the time and parts of it are popular with walkers. Near the start and midway along you will see the most incredible rocky coast, called Flysch. Your destination today is quite different in that it is in a quiet hamlet up in the hills, above the town of Deba. Overnight Deba.
Ascent: 800m Descent: 620m Distance: 10 miles
Day 8: From Deba you will take a direct transfer to Bilbao Airport. If you have time to explore Bilbao, there is plenty to see from cultural activities to some of the best art galleries in Spain including the world-famous Guggenheim Museum. If you chose to spend time in the city you will need to take a bus (payable locally) to Bilbao Airport.

Baggage Transfer
Your baggage is transported for you from hotel to hotel so you can walk with day rucksacks.
Walk Grading
Our trek has been graded as moderate and requires a reasonable level of fitness.
There are some slightly vertiginous sections on day 3. Ascent: 3540m Descent: 3760m Distance: 68 miles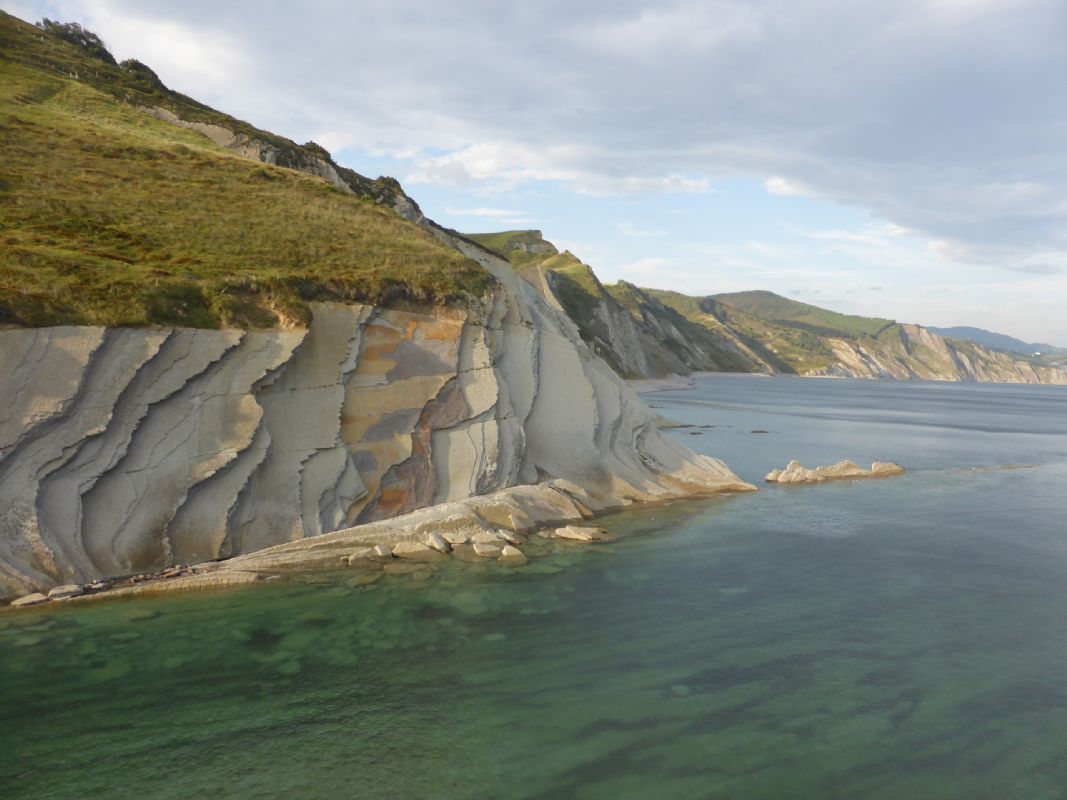 We have personally stayed in or visited all of our accommodations. They have all been selected for their great locations, friendly atmosphere and traditional hospitality, as well as the warm welcome they offer to walkers. Please click below for a summary of our usual accommodations*
VIEW MORE INFORMATION
Availability Information
Please note our best to go information is generally referring to the walking which may fall in the early or late season in some places. This may mean that not all tourist facilities will be open at the time you visit.
When to book your walking holiday in Spain - Mainland - Spain - Basque Country - Along the Atlantic
| | | | | | | | | | | | |
| --- | --- | --- | --- | --- | --- | --- | --- | --- | --- | --- | --- |
| Jan | Feb | Mar | Apr | May | Jun | Jul | Aug | Sep | Oct | Nov | Dec |
| N/A | N/A | OK | Good | Best | Best | Good | Good | Best | OK | N/A | N/A |
---
Request A Quotation Send Us An Enquiry