---
Holiday Highlights
Walk the dramatic limestone mountain range, Sierra de Tramuntana
Stay in the bustling town of Sóller surrounded by Mallorca's highest mountains
Enjoy spectacular coastal panoramas
,
Request A Quotation
Send Us An Enquiry
Overview
Walking
Pricing
Map
Accommodation
Info
Traverse the Serra de Tramuntana mountain range, following ancient cobbled paths which wind their way through drystone terraces and shady holm oak forests, opening up to reveal spectacular panoramic views towards the coast. Our trek takes you on the long-distance GR221 route through Northwest Mallorca, linking delightful mountain villages and providing glimpses of Moorish traditions of bygone days.
Day 1: Arrive at Palma airport and transfer to your first trek hotel. Overnight Peguera.
Day 2: Es Capadella to Banyalbufar
You will be transferred to the start of your walk at the village of Es Capedella. The path meanders through a fertile valley to the Finca Galatzó estate. Continue on a track which climbs to the Coma d'en Vidal, providing fantastic panoramic views towards the coast. You then descend to the village of Estellencs, from here you follow an undulating path along cultivated terraces to the picturesque village of Banyalbufar. This day can be shortened by 4 ½ miles if you take the bus from Estellencs to Banyalbufar. Overnight Banyalbufar
Ascent:950m Descent: 970m Distance: 14 ½ miles Time: 6.5hrs
Day 3: Banyalbufar to Valldemossa
Leaving the village square, you will climb until reaching a cobbled path called the Cami des Correu or 'Post path'. Dating from the 15th century, this path is the old royal way connecting the villages of Banyalbufar and Esporles. Enjoy views of staggered terraces before continuing in the shade of holm oak woodlands to reach the village of Esporles. You will climb gently from here to Coll de sa Basseta (455m), the track then levels out passing several sitja sites, remnants of charcoal burning activity. Overnight Valldemossa.
Ascent: 1020m Descent: 730m Distance: 11 miles Time: 6hrs
Day 4: Valldemossa to Deia
Ascend along a series of mule tracks through a wooded valley, the path becoming gradually steeper before levelling out and providing good views back down the valley towards Puig des Galatzo. You are now following the Cami de s'Arxiduc, or 'Archduke's Path' to the hilltop village of Deia. From Deia, you take the bus to Sóller. Alternatively, you can continue on to the picturesque coastal village of Port de Sóller and take the tram back to Sóller. Overnight Sóller.
Ascent: 620m Descent: 860m Distance: 8 miles Time: 4.5hrs
Day 5: Sóller to Cúber Reservoir
Todays route starts among citrus groves as you follow a cobbled path to the village of Biniaraix. The path zigzags uphill through terraces of olive trees and crossing streams to eventually reach the Coll de L'ofre (875m), from here you will get your first glimpse of the Cúber reservoir with Puig Major, the highest peak on Mallorca, rising behind. Descend through pine forest to reach the reservoir. From here you will be transferred back to Soller. Overnight Sóller.
Ascent: 920m Descent: 200m Distance: 8 ½ miles Time: 4.5hrs

Day 6: Cúber Reservoir to Lluc
You will be transferred from Soller back to Cúber Reservoir to continue your crossing of the island. Following sections of the pilgrimage route to the Lluc Monastery, todays walk takes you into the heart of the Tramuntana mountains. These paths were built by snow collectors (nevaters), and signs of this trade are still evident by the many snow pits that can be seen in Mallorca's highest mountains. A forest trail leads you to the magnificent Santuari de Lluc. Overnight Lluc.
Ascent: 620m Descent: 910m Distance: 9 miles Time: 5hrs
Day 7: Lluc to Pollença
The final section of the GR221 is gentle and mostly downhill. Leaving Santuari de Lluc you walk up a cobbled zig zag path to reach the 13th century Refugi de Son Amer, this hilltop site offers spectacular views down towards the Lluc valley. Following a shaded forest path which runs parallel to a river, you will arrive at Refugi del Pont Roma. The path eventually leads to the hilltop chapel of Esglesia del Calvari, enjoy impressive views across Pollença to the Tramuntana beyond. From here you'll take the 365 stone steps down to the old town. This impressive stairway is one of the towns most iconic locations with each step representing a day of the year. Overnight Pollença.
Ascent: 350m Descent: 850m Distance: 12 miles Time: 5hrs
Day 8: Transfer from Pollença to Palma airport for your return flight home.
Baggage Transfer
Your baggage is transported for you from hotel to hotel so you can walk with day rucksacks.
Walk Grading
Self-Guided - Moderate to Challenging. Ascent:4,480 Descent: 4,520m Distance: 63 miles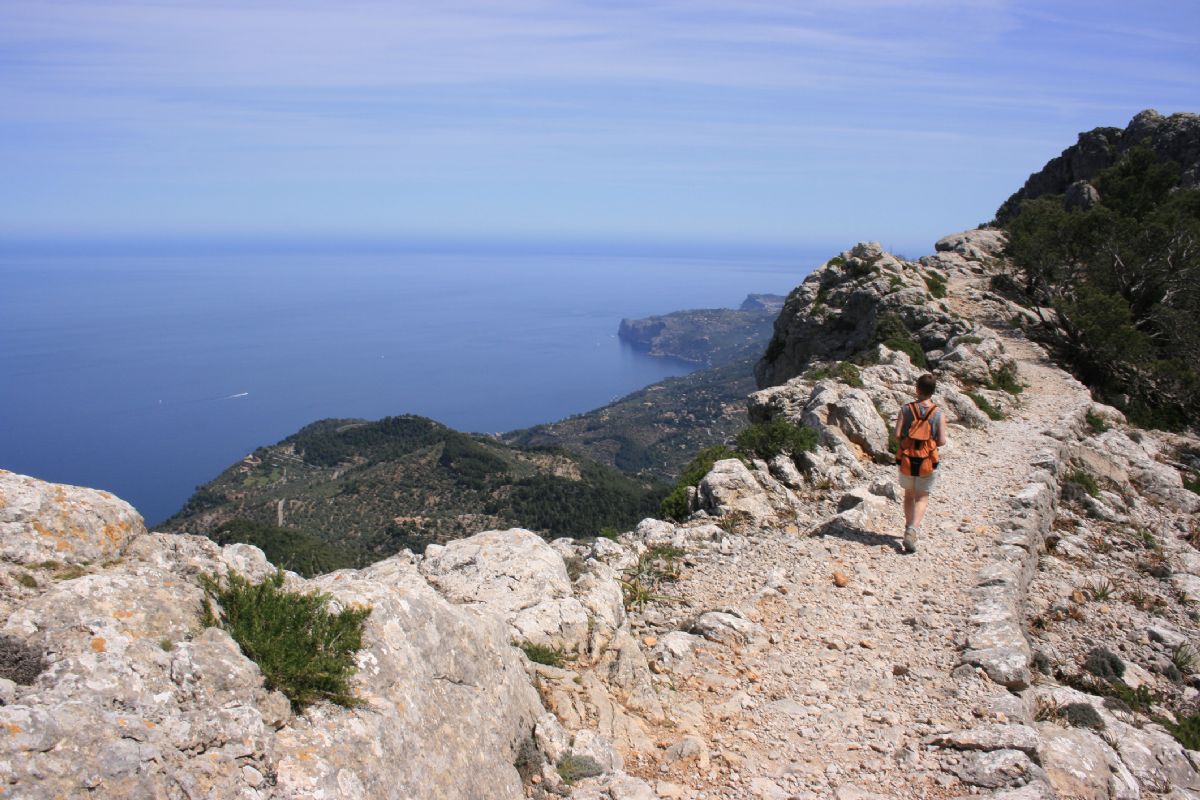 On this trek, the accommodations are mostly small and family-run, all rooms have a private bathroom.
We have personally stayed in or visited all of our accommodations. They have all been selected for their great locations, friendly atmosphere and traditional hospitality, as well as the warm welcome they offer to walkers. You can opt to upgrade to 4* higher grade hotels on 3 nights. Please see below for a summary of our usual accommodations*
VIEW MORE INFORMATION
Availability Information
When to book your walking holiday in Spain - Balearic Islands - Spain - Balearic Islands - Mallorca - The Drystone Way
| | | | | | | | | | | | |
| --- | --- | --- | --- | --- | --- | --- | --- | --- | --- | --- | --- |
| Jan | Feb | Mar | Apr | May | Jun | Jul | Aug | Sep | Oct | Nov | Dec |
| N/A | N/A | N/A | N/A | Best | Best | OK | OK | Good | Best | N/A | N/A |
---
Request A Quotation Send Us An Enquiry