---
Holiday Highlights
Walk through three stunning gorges including the renowned Samaria Gorge
Follow beautiful coastal paths and spend a night in the high White Mountains
Explore stunning archaeological sites such as the impressive Roman Settlement Lissos
Request A Quotation
Send Us An Enquiry
Overview
Walking
Pricing
Map
Accommodation
Info
We have put together a stunning trek combining some of the prime walks South West Crete has to offer taking in three gorges and three coastal sections of the E-4 route. Walk along ancient mule tracks linking coastal villages often still only accessible by boat or on foot with a chance to take a swim in the enticing Libyan Sea along the way. Gorges including the renowned Samaria provide shady contrasts to the coastal sections and a night in Omalos at 1080m provides a feel for the high landscapes of the White Mountains. The walking is of moderate to challenging level with an element of scrambling and several short but potentially vertiginous sections. The only real hazard is dehydration during hotter months which may easily be prevented.
Day 1: Arrive in Crete. Following a short welcome brief by our local partner transfer to your first hotel in Paleochora. Settle into the slow pace of life with an aperitif in the hotel bar followed by dinner (included) at a nearby restaurant.
Day 2: Today's walk takes you along a stunning coastal path to Sougia. The highlight of the walk is the Roman settlement of Lissos where you can explore its archaeological sights followed by a swim from the gorgeous bay. Continue to Sougia for overnight stay.

Ascent 280m Descent 280m 10 miles 5½ hours
Day 3: Away from the sea today you walk up through the lush Agia Irene Gorge. Carpeted with Oleander and Chestnut Trees and redolent with the smells of sage rosemary and thyme (no parsley) the walk is pleasantly shaded. A short transfer takes you to the mountain village of Omalos for your overnight stay. This night is without baggage. Dinner included.

Ascent 580m Descent nil 6½ miles 3 hours.
Day 4: An early start today and a short transfer to Xiloskalo at the head of the Samaria Gorge. Spend the day enjoying one of the finest gorges in Europe with its ancient settlements vegetation and 600m high walls. End the day with a swim and overnight in Agia Roumeli.

Ascent 35m Descent 1250m 10 miles 5 hours.
Day 5 Perhaps our favourite walk of the trek this magnificent coastal path takes you past the ancient beach-side church of St Paul along herb covered cliffs and down to secluded coves perfect for swimming. End at Loutro accessible only on foot or by boat. Here you stay for 2 nights.

Ascent 270m Descent 250m 9 miles 5 hours.
Day 6: Today you may prefer to relax in Loutro hire a canoe sunbathe and swim... or take a stiff climb up to the remote Aradena Gorge which winds its way down to Marmara Bay. Enjoy lunch in the lovely taverna, swim, relax and return by water taxi to Loutro. Overnight Loutro.

Ascent 570m Descent 570m 6 ½ miles 3 ½ hours.
Day 7: Before setting off along another stunning coastal path take a stroll around the ancient sites of Loutro. Then a reasonably short walk along the coast via the stunning Sweetwater Bay (a must for a swim) to Sfakia where you will be met by your driver to return to the historic and beautiful walled harbour town of Chania. Spend your last night in a luxurious 3 star hotel and choose one of the many harbour side tavernas for dinner. Overnight in Chania.

Ascent 150m Descent 150m 4½ miles 2 ¼ hours .
Day 8: Depending on your departure time spend the morning exploring old Chania port before meeting your driver to return to the airport.


Baggage Transfer
Every day your baggage is transported on to your next hotel either by taxi or boat enabling you to walk with just a day rucksack except when in the mountains at Omalos when you will need to carry overnight kit for a one night stay.
Walk Grading
Self-guided – Moderate to challening, with the Samaria Gorge being Moderate for the descent. Total for standard week ignoring variations:- Ascent 1885m, Descent 2500m, 45 miles.
This map is for illustration purposes only and we cannot be held responsible for its accuracy.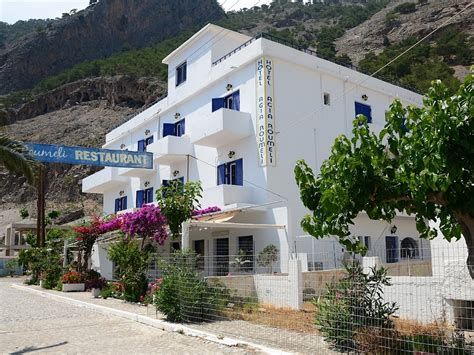 Your hotels except for the last night will be small family run establishments. Small Greek hotels are not luxurious but each night you can be assured of a quiet sleep in a clean comfortable room always with private facilities. Breakfasts are simple but usually have the option of adding extra items for a small charge. Dinner is included on your first night to get you started, and on night 3 when you are in the mountains. For your last night you will stay in a family run 3* hotel right on the harbour front in Chania.

VIEW MORE INFORMATION
Availability Information
This trek is restricted by the ferry which only operates from Easter to October and the opening of the Samaria Gorge which is generally 1st May to October, the opening and closing times being dictated by rainfall. From July to September, although much hotter, with a little caution and frequent swims in the crystal clear sea walking is still feasible.

Please note our best to go information is generally referring to the walking which may fall in the early or late season in some places. This may mean that not all tourist facilities will be open at the time you visit.
When to book your walking holiday in Greece - Crete - Greece - Crete - Coast and Gorges
| | | | | | | | | | | | |
| --- | --- | --- | --- | --- | --- | --- | --- | --- | --- | --- | --- |
| Jan | Feb | Mar | Apr | May | Jun | Jul | Aug | Sep | Oct | Nov | Dec |
| N/A | N/A | N/A | Good | Best | Best | OK | OK | Best | Best | N/A | N/A |
---
Request A Quotation Send Us An Enquiry