---
Holiday Highlights
Offers all the attributes of high mountain walking with the exploration of lower foothills
Cross over into France via a high pass once used by exiled bandits and smugglers
Rare flowers, glaciated lakes and soaring birds of prey add to the appeal
Request A brochure
Send Us An Enquiry
Overview
Walking
Pricing
Map
Accommodation
Info
The eastern Pyrenees offer the hiker all the attributes of high mountain walking along with exploration of the lower foothills. Close to the Mediterranean it is a region of great geological interest with mountain peaks plunging to deep valleys where stone built villages nestle beside rushing rivers. Rare flowers, glaciated lakes and soaring birds of prey add to its appeal and all is enhanced by the proud warm-hearted people of Catalonia and the special culture unique to this part of Spain.
At the eastern side of the Pyrenees this itinerary offers a wide variety of landscapes as the route progresses from the lower foothills near Beget at 500m up to a stunning high level crest walk via the Pic de la Vaca at Walking Catalonian Pyrenees, Spain2801m. On the second day you cross over into France via a high pass once used by exiled bandits and smugglers. Landscapes change through deciduous forests, especially stunning during autumn, to typical alpine pine forests interspersed with fast-flowing streams from melting snows high above. Emerging out into the higher meadows carpeted with wild flowers in Springtime the high mountains draw ever closer. Now with spectacular views in all directions the route continues up amongst the high peaks, lakes and iced valleys as you approach the ancient Monastery of Nuria, first documented by Pope Alexander in the 12th century. Finally descend down to Ribes de Freser, home to the museum and station for the rack railway which was renovated in 2008 after being in service to Nuria since 1912. The last day is free to explore the high mountains from Nuria once again or to take a lower level walk to an ancient village.

Day 1: Arrival. Transfer to your first hotel in Camprodon either from Ripolles station (included) or from Girona or Barcelona airports. The charming town of Camprodon has two rivers, a renowned Romanesque bridge and a lively Sunday market making a good base to start the trek and absorb the culture of Catalonia.


Day 2: Camprodon – Beget. Leaving the Camprodon valley the trek starts with a fairly gentle day walking north towards the Garrotxa valley. As the track undulates through oak forests it passes beautiful Romanesque churches ending with superb views as it descends to the ancient and beautiful hamlet of Beget. Accommodation and dinner in Beget.

Ascent 150m Descent 500m, 9 ½ miles, 5hrs
Day 3.- Beget – Prats de Mollo (France). The longest and toughest day of the trek. You start by walking through the Rocabruna river gorge crossing many streams and bridges as you ascend to Rocabruna castle. In the small village of Rocabruna with a short detour you find a Romanesque church from the 12th Century. The trail now ascends up to the border with France from where you descend to the walled French village of Prats de Mollo. Explore the village and fort before dinner and accommodation at your hotel in Prats de Mollo. This is also an ideal place to spend an extra night.

Ascent 1050m Descent 850m, 13 ¾ miles 7hrs

Day 4.- Prats de Mollo (France) – Mollo (Spain). Leaving the lovely village of Prats de Mollo ascend through beech and pine forests up to the pass of Coll D'Ares. From here a long and delightful descent with far reaching views leads you to the small village of Mollo perched on a ridge above the river. Superb flowers line the way during late Spring and early Summer. Log fires and a superb dinner await you at your hotel in Mollo.

Ascent 900m, Descent 550m, 9 ¾ miles, 5 ¼ hrs

Day 5.- Mollo – Setcases. The route is now reaching the higher mountains and on this day most of the way is across elevated open meadows with the mountain peaks at closer proximity. It finishes with the walk down to the stone houses and rushing river of Setcases. Dinner and accommodation in Setcases.

Ascent 750m, Descent 650m, 8 ½ miles, 4 hrs
Day 6.- Setcases – Nuria- Ribes de Fresser. You will be driven to the start point of today's walk high above Setcases. The route rises to 2700m with wonderful views over the northern valleys with its lakes and lagoons as you traverse the crest of the Pyrenees. Your destination is Núria, a sanctuary located in a round glaciated valley surrounded by mountains rising to 2800m. Nuria is only reachable by walking or a rack railway. From Nuria you descend to Ribes de Fresser by the rack railway. Accommodation and dinner in Ribes.

Ascent 950m, Descent 1050m, 8 ½ miles, 5hrs

Day 7.- Ribes De Freser. Free day to to take the rack railway back up to Nuria and do some circular routes or to walk down to Querlabs through a spectacular gorge. An alternative low level walk is another option. Accommodation and dinner in Ribes de Freser.

Day 8.- Return home
Breakfast and check out from the hotel. You are taken to the station for your train or transferred to Barcelona or Girona airports (at a supplement).

Baggage Transfer
Your baggage is transported for you from hotel to hotel so you can then travel with day rucksacks. Some days you are taken to the start of a walk and/or collected at the end. These transfers are included in the price.

Walk Grade
Self-guided – Challenging, due to the cumulative ascent for the trek. Total for standard week ignoring variations:- Ascent 4520m, Descent 3600m, 55 miles.
This map is for illustration purposes only and we cannot be held responsible for its accuracy.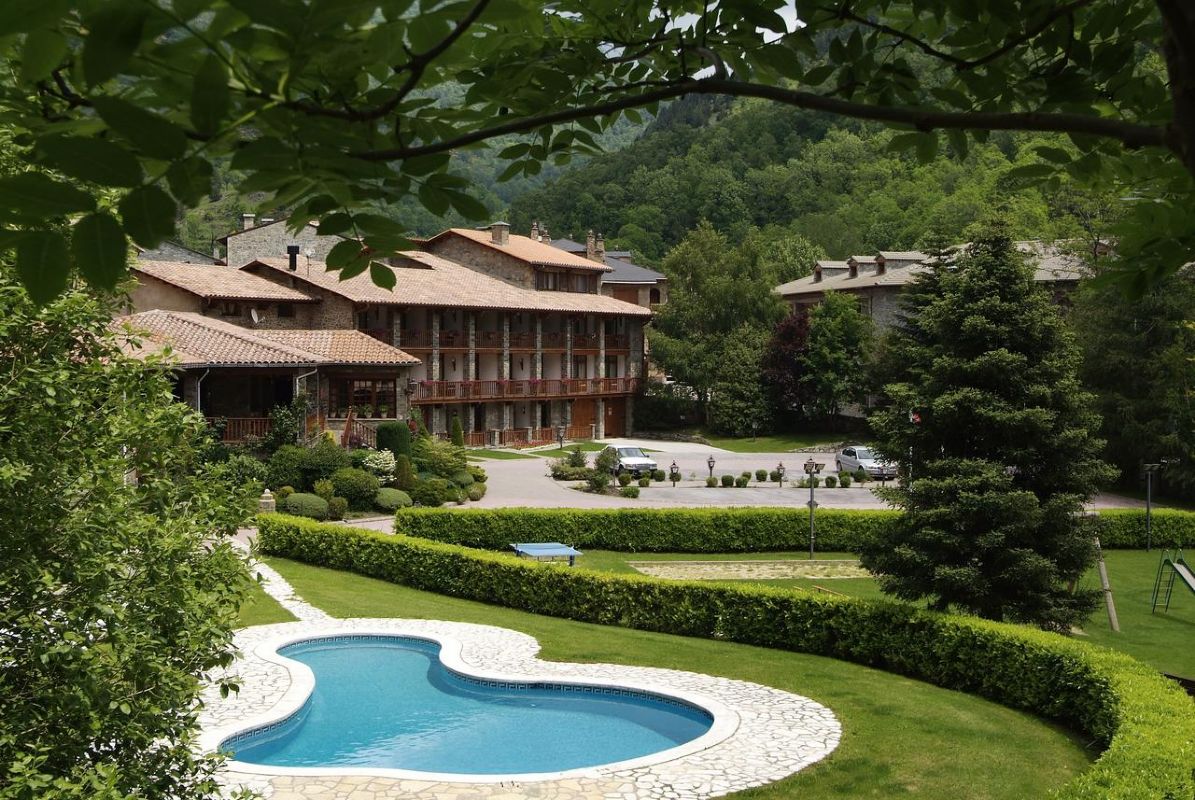 The hotels we have chosen are all family run hotels. They all have individual character, and most are in the centre of the villages they are located in. All rooms have their own bath or shower and English is spoken but often limited.

VIEW MORE INFORMATION
Availability Information
Available from early May to October subject to early/late winter snow which may affect walking from Setcases to Nuria. Walking during the busier months of July and August will give higher temperatures during the first days of the trek, cooling as the week progresses to higher altitudes. August brings a risk of afternoon thunderstorms which should not be underestimated.

Please note our best to go information is generally referring to the walking which may fall in the early or late season in some places. This may mean that not all tourist facilities will be open at the time you visit.
When to book your walking holiday in Spain - Mainland - Catalonia - Eastern Pyrenees
| | | | | | | | | | | | |
| --- | --- | --- | --- | --- | --- | --- | --- | --- | --- | --- | --- |
| Jan | Feb | Mar | Apr | May | Jun | Jul | Aug | Sep | Oct | Nov | Dec |
| N/A | N/A | N/A | N/A | OK | Best | N/A | Good | Best | OK | N/A | N/A |
---
Request A brochure Send Us An Enquiry