---
Holiday Highlights
The most unspoilt of Mediterranean islands with dramatic cliffs and golden sands
Enjoy the famous GR20 route at the heart of the volcanic massif of Paglia Orba,
Taste the delicious mixture of French and Italian dishes reflecting the islands interesting history
Request A Quotation
Send Us An Enquiry
Overview
Walking
Pricing
Map
Accommodation
Info
To this day, Corsica remains the most unspoilt of the Mediterranean islands. In fact, its hills are covered in Self guided walk Monte Mare Nord, Francecool, green virgin forests, and golden sands adorn its coastline, interspersed with dramatic cliffs. In the centre of the island, some peaks rise to 2,706 metres (8,878ft) and many reach to over 2,000 metres (6,600ft). This mountainous region covers two-thirds of the island and is dotted with remote villages perched on crags above river gorges. French is the official language but bi-lingual signs indicate the wide use of its own language, which has similarities to Italian. Cuisine is also a delicious mélange of French and Italian dishes. In the mountains, wild meats such as boar, rabbit and trout offer tempting variety.
Begin the trek in the mountain town of Corte – a town exuding a sense of history with its stuccoed buildings that line the main street. Above the old town, a castle perches on a peak against a stunning backdrop of snow-capped mountains. From Corte, climb steadily through the Tavignano Gorge up to Calacuccia, where jagged peaks soar above valleys with rushing rivers. Alpine meadows, with an abundance of wild flowers in early summer, are complimented by deep blue lakes. Once over the high mountains, villages teeter precariously above valleys and deep ravines topped with spectacular rock formations lead to the Mediterranean Sea. Here, shimmering waves lap against imposing pink cliffs that surround the Bay of Porto. The trek includes some long ascents and descents but no vertiginous sections. Walking in Corsica generally requires a good level of fitness and the paths, although well-maintained and well-marked, are often rocky underfoot.

Day 1: Fly to Ajaccio or Bastia and transfer to Corte. You can take some time to explore this beautiful and historical Corsican town or enjoy a local walk in the Tavignanu Gorge or Restonica Valley.
Day 2: Transfer up to Scala di Santa Regina, then join the trail in boulder-strewn landscapes that lead to the entrance of the high Niolu Valley. Passing through lush alpine pastures and chestnut groves, the day ends in the village of Calacuccia.

Ascent: 640m, Descent: 360m, Distance 5 miles, Time: 4 ¼ hrs.
Day 3: Circuit the peaceful lake in Calacuccia, then the trail ascends to the stunning Col de Verghju at 1477m. You will see some of the highest peaks of the island on this glorious day.Overnight in Castel di Vergio.

Ascent: 860m, Descent: 330m, Distance 9 miles, Time: 5 hrs 15 mins.
Day 4: Immersed again in high mountains, enjoy the famous GR 20 route at the heart of the volcanic massif of Paglia Orba. There is an opportunity to bathe in the Radule Cascades before descending to your hotel in Castel di Vergio.

Ascent: 780m, Descent: 780m, Distance 11 miles, Time: 7 hrs 15 mins.
Day 5: Descend the western slopes of the island, passing over the Col de Verghju, then meander through the Aïtone Valley, famous for its Larici pine forests. Through an avenue of chestnut trees, you arrive in Evisa for the night.

Ascent: 190m, Descent: 740m, Distance 6 ¼ miles, Time: 3hrs 30 mins.
Day 6: An old cart trail is your magnificent route for today passing through the Spelunca Gorge with high, misshapen rocks towering overhead. Continue on to the tiny village of Ota perched above the ravine and then down into the pleasant seaside village of Porto. Overnight in Porto.

Ascent: 180m, Descent: 680m, Distance 5 ½ miles, Time: 3hrs.
Day 7: Bus transfer to Ajaccio where you have a free day to relax and enjoy this coastal city. Overnight Ajaccio.
Day 8: Bus transfer to Ajaccio airport for your flight home.


Baggage Transfer
Your baggage is transported for you from hotel to hotel so you can travel with your day rucksacks only. Some days you are taken to the start of a walk and/or collected at the end. These transfers are included in the price.

Walk Grading
Self-guided – Moderate, with one long descent. Total for standard week ignoring variations:- Ascent 3460m, Descent 4050m, 45 miles.
This map is for illustration purposes only and we cannot be held responsible for its accuracy.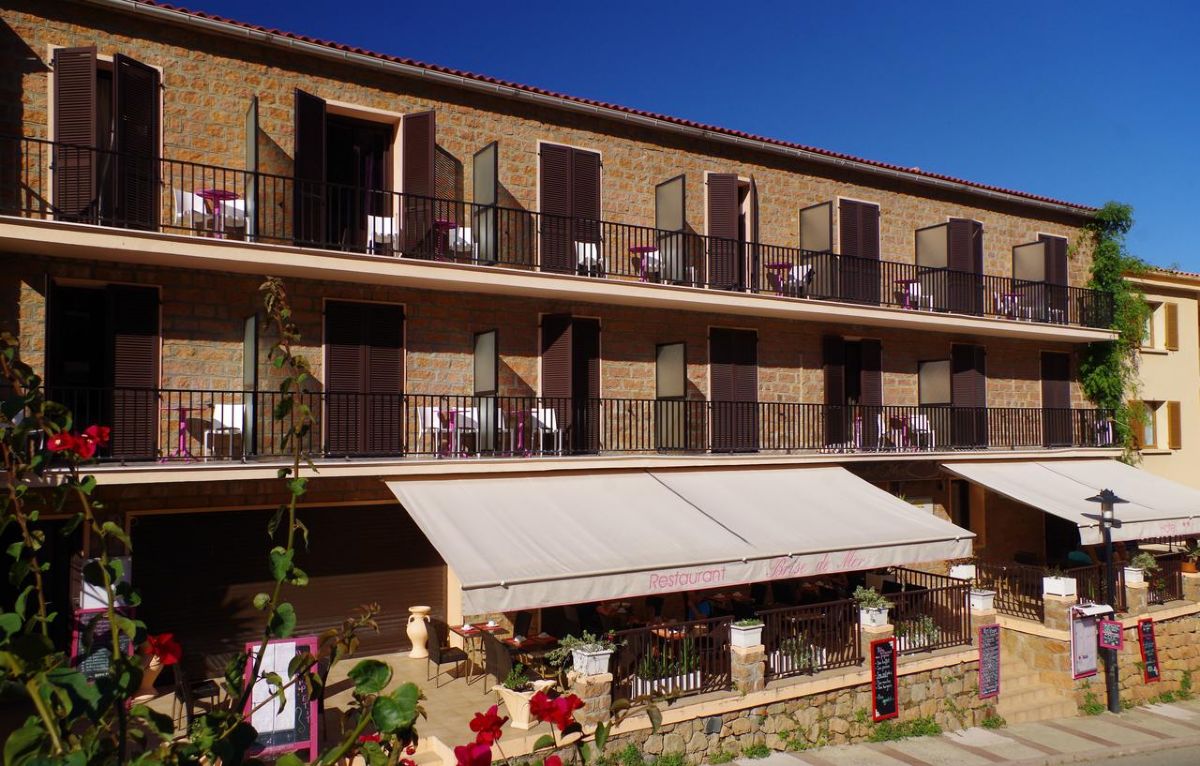 Accommodation in the villages along this trek is limited in places and varies from small village pensions to 3-star hotels, but all are comfortable and well-positioned for the route. Each accommodation will provide rooms with a private bathoom. Breakfast and dinner is included each night except on your last two nights whilst in Porto and Ajaccio where it is breakfast only as there are plenty of restaurants to choose from.
VIEW MORE INFORMATION
Availability Information
The best time to walk the Monte Mare Nord is from May to September. In July and August accommodation is at a premium and early booking is essential. Temperatures at this time are also high, which you would need to feel comfortable with.
Please note our best to go information is generally referring to the walking which may fall in the early or late season in some places. This may mean that not all tourist facilities will be open at the time you visit.
When to book your walking holiday in France - Corsica - France - Monte Mare Nord
| | | | | | | | | | | | |
| --- | --- | --- | --- | --- | --- | --- | --- | --- | --- | --- | --- |
| Jan | Feb | Mar | Apr | May | Jun | Jul | Aug | Sep | Oct | Nov | Dec |
| N/A | N/A | N/A | OK | Best | Best | OK | OK | Best | OK | N/A | N/A |
---
Request A Quotation Send Us An Enquiry