---
Holiday Highlights
Discover a land rich in history and culture
Stay in ancient towns and villages with a rural charm
Enjoy culinary excellence with traditional Salento cuisine
Request A brochure
Send Us An Enquiry
Overview
Walking
Pricing
Map
Accommodation
Info
Walking Holiday in Italy - Puglia
Located on the southern tip of Italy's Puglia region, the Salento Peninsula lies in the heel of Italy's boot. Fringed by two seas, our trek follows one of Italy's most dramatic coastlines along the crystal-clear waters of the Adriatic Sea. Its varied coastline features an array of spectacular landscapes from golden bays to karstic grottoes and salt-water lagoons. While its interior unveils a timeless rural landscape with century old masserie (manor farms) situated amongst olive groves, meadows and drystone walls.
Salento is a land rich in history and culture with influences from differing eras, including the Greeks and Romans amongst others. Following the last stretch of the ancient pilgrim route of the Via Francigena, along this trek you will discover many important archaeological sites from the ruins of the Basilian abbey of Casole to the remains of a temple dedicated to the goddess Athena. The unspoilt historic centres of its villages and towns also have a story to tell and of course, the area's best-known city, Lecce, known as 'the Florence of the South'.
The area is well known for its culinary excellence which has its roots in the Cucina Povera (Poor Cooking) tradition. Salento cuisine is therefore simple yet delicious, made using high quality, fresh, local produce. Sample some of its delicacies which include the ear shaped pastas Orecchiette, and rich fruity red wines such as Primitivo.
Offering genuine hospitality combined with pristine landscapes and historical intrigue, the walking here is a varied delight as you pass from one village to the next.
Day 1: Arrival

Arrive in Salento and transfer to your first hotel. Overnight Muro Leccese.
Day 2: Muro Leccese to Otranto
Today's walk takes you along the so called 'Gardens of Megalithics'. Walking among olive fields on a red soil trail you will reach the magical Massi della Vecchia these rocky outcrops formed over millennia are associated with many myths and legends. Upon reaching the outskirts of the town of Giurdignano you will arrive at a number of megalithic monuments including the Dolmen stabile and the Menhir of San Paolo, dating back to the prehistoric age. Leaving the small town of Giurdignano you will reach Le Costantine Foundation, a farm that promotes social activities ranging from biodynamic agriculture to handicraft production of rare fabrics. From here it's a few kilometres to the sea and the fortified city of Otranto, southernmost city in the east of Italy. Overnight Otranto.
Distance: 11 miles Ascent: 40m Descent: 100m
Day 3: Otranto to Uggiano La Chiesa.
Leaving Otranto, you will follow the coastal path descending to Le Orte, before continuing inland to admire the lunar landscapes of the Blue Lake. Having walked a few kilometres south of Otranto you will come across the ruins of the Abbey of Casole, one of the most important historical, artistic and cultural sites of Salento. Following an unpaved road, you will reach the Palascìa lighthouse, the easternmost tip of Italy – from here, the mountains of Albania can be seen. Overnight Uggiano La Chiesa.
Distance: 9 miles Ascent: 60m Descent: 30m
Day 4: Uggiano La Chiesa to Santa Cesarea Terme
Today's route takes you to the Saracen Tower of Sant'Emiliano, built in the 16th century, it is perhaps the oldest in a series of towers built to defend the villages along the Salento coast. Leaving it behind, you will continue a dirt road to the beautiful bay of Porto Badisco. Joining the Via Sallentina, continue uphill before taking a path that follows the coastline, here the blue of the sea and the blue of the sky merge. Finally, you will reach Santa Cesarea. Overnight Santa Cesarea.
Distance: 7 ½ miles Ascent: 100m Descent: 80m
Day 5: Santa Cesarea Terme to Castro
Continuing your journey south, today is an easier walk. The landscape here is changing constantly throughout the year, from the vernal green to the yellow of summer heat, always leaving space for welcome glimpses of the sea. Once in the old town of Castro Alta there is much to see including the remains of a temple dedicated to the goddess Athena. Descend to the coast, to find refreshment in one of the coves of along the coast. Overnight Castro.
Distance: 5 miles Ascent/Descent: 90m
Day 6: Castro to Tricase
Today is a varied route, starting along the coast you decend to the beautiul inlet of Acqaviva This hidden gem is a perfect for a refreshing dip in the sea. Continuing inland you will come across another of the Sarracens Towers offering wonderful views of the sea, passing through the village of Marittima you will ascend until reaching the village of Andrano. The castle, known as Spinola-Caracciolo is well worth a visit. You will reach Tricase on an unpaved road walking amongst olive groves. Overnight Tricase.
Distance:9 ½ miles Ascent: 110m Descent:30m
Day 7: Tricase to Gagliano
First you walk to Marina di Novaglie, as you leave the village you will take the well-marked Cipolliane path. This spectacular trail winds along a breathtaking landscape, overlooking the sea and with stunning views over the coastline, and rocky cliffs dotted with euphorbia and prickly pear. Ascend to the Ciolo canyon and onwards through olive groves and Mediterranean Maquis to arrive in your final walking destination of Gagliano del Capo. From here you will take the train to Lecce, known as the Florence of the south, where you will spend your last night. Overnight Lecce.
Distance: 9 miles Ascent/Descent: 150m

Please note on walk day 6 there is an essential train service from Gagliano Leuca to Lecce that does not run on Sundays. This will affect walkers beginning our standard trek on a Monday, in which case a private transfer by car is required at a supplement (Please see pricing for further details).
Day 8: Depart Lecce

Walk Grading
Our trek has been graded as easy. Most of the walks are on good paths or dirt roads and some sections are on rocky uneven surfaces. Total - Ascent: 550m Descent: 480m Distance: 51 miles
Baggage Transfer
Your baggage is transported for you from hotel to hotel so you can walk with day rucksacks.
Puglia Trek
Hotel to Hotel Trek
Included

Not Included

ü

7 night's accommodation

û

Lunches & drinks with meals

ü

7 breakfasts

û

2 dinners

ü

5 dinners

û

Travel Insurance (required)

ü

Airport transfers between Brindisi airport and first/last hotel

ü

Baggage transfers between hotels (1 bag per person @20kg)

ü

Our unique walking booklet written by one of our team and local walking map

ü

Cost of couriered travel documents to USA or Canada

ü

Cost of international bank fees
All prices valid for 2022 - Prices are per person in USD / US $
Dates

Without Flights

Extra Night

Single Supplement*

Standard Grade

15 April – 23 July

01 September – 20 October

1290*

POA

37

Higher Grade

15 April – 23 July

01 September – 20 October

1480*

POA

54
* If at least two travelling. Please call to discuss availability and transfer supplements for one person travelling alone.
*Please note on walk day 6 there is an essential train service included that takes you from Gagliano Leuca to Lecce. This service does not run on a Sunday. This will affect walkers beginning our standard trek on a Monday, in which case a private transfer by car is required at a supplement of $40 per person.
POA – Prices upon application
UI08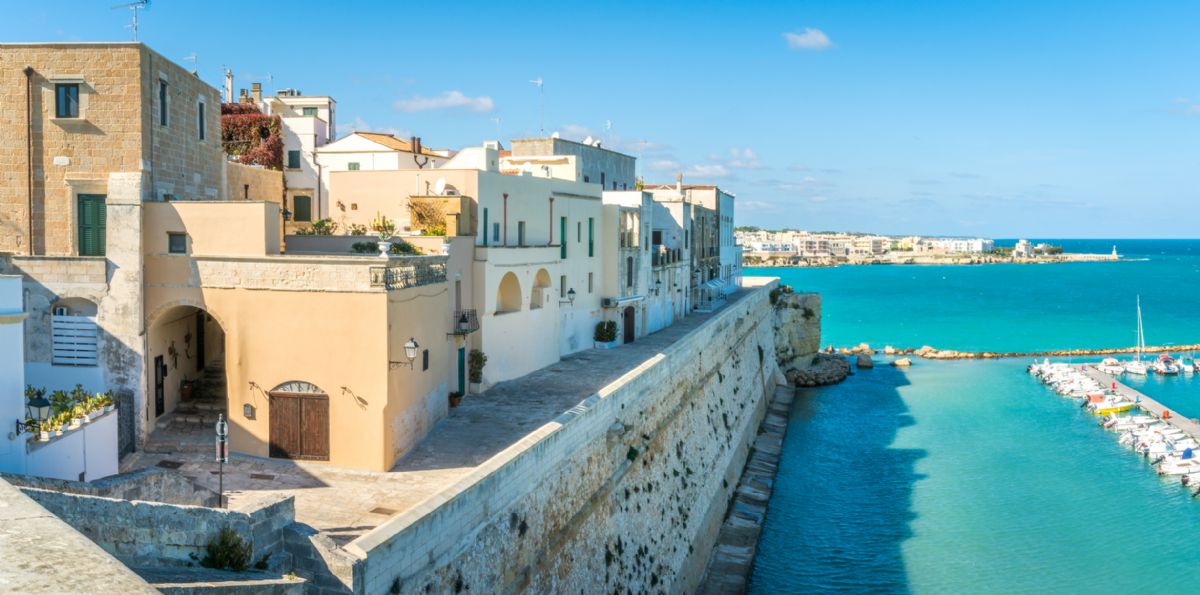 We have personally stayed in or visited all of our accommodations. They have all been selected for their great locations, friendly atmosphere and traditional hospitality, as well as the warm welcome they offer to walkers. Below is a summary of our usual accommodations*.
On this trek, the accommodations are mostly small and family-run, all rooms have a private bathroom. We offer higher grade accommodations on 6 nights.
VIEW MORE INFORMATION
Availability Information
This trek is available from mid-May to late July and from September to the end of October. It is too hot to walk during August.
Please note our best to go information is generally referring to the walking which may fall in the early or late season in some places. This may mean that not all tourist facilities will be open at the time you visit.
When to book your walking holiday in Italy - Italy - Puglia - Secrets of the Salento Coast
| | | | | | | | | | | | |
| --- | --- | --- | --- | --- | --- | --- | --- | --- | --- | --- | --- |
| Jan | Feb | Mar | Apr | May | Jun | Jul | Aug | Sep | Oct | Nov | Dec |
| N/A | N/A | N/A | N/A | Best | Best | Good | N/A | Best | Good | N/A | N/A |
---
Request A brochure Send Us An Enquiry