---
Holiday Highlights
One of the best walking areas in Europe that attracts walkers from all over the world
Begin in Carpathian Mountains with your goal of the High Tatra spectacularly rising in the distance
Walk through the Pieniny National Park before crossing the border into Slovakia
Request A brochure
Send Us An Enquiry
Overview
Walking
Pricing
Map
Accommodation
Info
Walking Holiday in Poland Tatras
You start in an area of Poland that is a very popular walking territory for the Polish people but surprisingly not frequented by other European walkers. You start in the low Carpathian Mountains but always with the sight of the High Tatras, your ultimate goal, spectacularly rising in the distance. Life in this area of rural Poland appears to have changed little over the years; both men and women continue to work the land with horses and wooden implements, you will see and experience this first hand. Your destination of the High Tatra Mountains is one of the best walking areas in Europe and attracts walkers from throughout the world.
The walking will be in two National Parks in the Carpathian Mountains, Pieniny and the High Tatras. Initially the mountains are fairly gentle, with peaks reaching just over 1000 metres. The paths are generally well marked and maintained. You walk through beech and oak forests on the lower slopes giving way to meadows. Later in the week you have the opportunity to climb Trzy Korony (Three Crowns) (982m) in the Pieniny National Park and enjoy its outstanding views over the Dunajec valley. You now interchange with Slovakia over the next couple of days, over mountains, along valleys and through sleepy Slovakian villages. You finish walking in the High Tatras, a true climax to the week.

Day 1: (If an early arrival) A delightful gentle introduction to the rural Polish landscape with a walk following the Poprad River, returning through a hillside hamlet back to base with the chance to see many birds along the riverbank. Overnight Rytro.

Ascent 57m descent 62m walking time 2.5 hours distance 6 miles.
Day 2: Today is a trek through the forest and meadows up to a height of 1000 metres and then a gentle amble around the forests and glades down to the River Poprad before returning to the hotel along the riverbank. On a clear day the views across the Poprad Valley to other ranges of the Carpathian Mountains are stunning. Overnight Rytro.

Ascent 862 metres descent 474 metres time 6 hours distance 13 miles.

Day 3: Walk west over the peaks of Radziejowa. This is primarily a forest trek with a steady uphill climb to the peak of Wielki Rogacz (1182 metres). Then continue along a ridge and flower laden meadows with panoramic views either side to the valleys below before starting the gentle descent on wide dirt tracks to the small village of Jaworki. Here you have the opportunity to visit the picturesque Homole Gorge before catching a local bus and 10-minute ride to the alpine resort of Szczawnica where you will spend the night.

Ascent 942 metres descent 668 metres time 6 hours distance 12 ½ miles.

Day 4: Today's walk takes you through the Pieniny National Park following the Dunajec River. You will see plenty of rafts drifting downriver along the Dunajec Gorge; this famous narrow limestone valley is listed by UNESCO as a World Heritage Site. Your walk will end near the Red Monastery on the Slovakian side of the border. You cross the river back into Poland. If higher grade you walk to your hotel inSromowce Nizne, but if standard grade you are transferred to it in Niedzica.

Ascent 100 metres descent 175 metres time 4 hours distance 7 miles

Day 5: This walk takes you into the Pieninsky National Park in Slovakia. A climb from Cerveny Klastor takes you up through woods to the ridge where you walk in an eastly direction before descending to Velky Lipnik. Depending on time of year you can see different mountain plants and wild berries as well as looking and listening for a variety of birds and deer if you are lucky. Weather permitting the views in all directions are stunning. From Velky Lipnik you will be met and transferred to Zakopane.

Ascent 435m descent 225m time 4 hours distance 5 ¼ miles

Day 6: Beginning with a taxi to the start at Wierch Poroniec , this walk will take you into the Tatras National Park. It is a day of great variety from forest tracks, open pastureland, craggy peaks and a ski village. Although not a particularly long walk there is great height gain and this is rewarded with the magnificent views. This was does involve crossing several streams and it may be difficult to keep your feet dry. This night is spent without your luggage in a serene mountain hut in Kalatowki. Or you can substitute this night for an extra night in Zakopane and take a day walk in the Tatra mountains.

Ascent 1655m, descent 920m, 10 miles, 6-7 hours.

Day 7: Either walk straight back to Zakopane for a transfer in the morning back to Krakow for the last day and night in this historic city, or take the opportunity for a last days walking and then transfer in the afternoon back to Krakow.

Day 8: Transfer to the airport for your flight home or stay a few days in Krakow and take the opportunity to explore Krakow more fully or visit nearby Auschwitz or the famous Wieliczka Salt Mines.

Baggage Transfer
Every day your baggage is transported for you onto your next hotel enabling you to walk with just a day rucksack, with the exception of night 6 when you are in a mountain inn and you need to take a night bag with you. You can substitute this for an extra night in Zakopane and take a day walk in the Tatra Mountains.

Walk Grading
Self-guided – Moderate, with one long optional ascent. Total for standard week ignoring variations:- Ascent 4412m, Descent 2876m, 58 miles.
High Tatras - Hotel to Hotel Trek
Included

Not Included

ü

7 night's accommodation

û

Lunches & drinks with meals

ü

7 breakfasts

û

2 dinners (in Zakopane and Krakow)

ü

5 dinners (this reduces to 4 if you stay in Zakopane on night 6 instead of mountain hut)

û

Please note if you stay in the mountains on night 6 we will not be able to have your baggage that night, so you will need to take night things with you

ü

Transfers between Krakow airport and first/last hotels

û

Travel Insurance (required)

ü

Transfers from Zakopane to Krakow airport (1 bag per person @20kg)

ü

Any additional people transfers as indicated in the itinerary

ü

Baggage transfers between hotels (1 bag per person @20kg)

ü

Route notes & walking map

ü

Cost of couriering documents overseas

ü

Cost of international bank fees

Optional Extras

Ø

The higher graded price includes a 4*on the first two nights and a 5* hotel on the nights in Zakopane and Krakow
All prices valid for 2022
Prices are per person in USD / US $ and are based on a shared twin/double standard room. Prices do not include flights.
| | | | |
| --- | --- | --- | --- |
| Dates | Without Flights | Extra Night | Single Supplement |
| All year | 1178 | Krakow see below | 28 |
**If at least two travelling. Please call to discuss availability and transfer supplements for one person travelling alone.
Room supplements: None
Upgrades:
Upgrade to a 4* hotel in Krakow for an additional $43 per person from the 3* hotel (based on two people in a shared twin/double room) or an additional $77 (single)
Extra nights:
3* hotel in Krakow for $64 per person with B&B (based on two people in a shared twin/double room) or $106 (single)
UI12
This map is for illustration purposes only and we cannot be held responsible for its accuracy.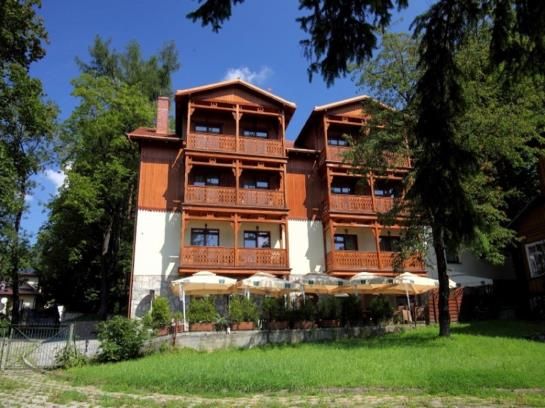 We have personally stayed in or visited all of our accommodations. They have all been selected for their great locations, friendly atmosphere and traditional hospitality, as well as the warm welcome they offer to walkers. Below is a summary of our usual accommodations*.
On this trek, the accommodations are mostly small and family-run, all rooms have a private bathroom
VIEW MORE INFORMATION
Availability Information
The best time is Spring and early Summer when the flowers are at their best and it is cooler. September and October is also an excellent time for the autumn colours, and when the weather is at its most settled. In July and August it can be hot with late afternoon storms and the area is at its busiest.
Please note our best to go information is generally referring to the walking which may fall in the early or late season in some places. This may mean that not all tourist facilities will be open at the time you visit.
When to book your walking holiday in Poland - Poland - High Tatras and Approaches
| | | | | | | | | | | | |
| --- | --- | --- | --- | --- | --- | --- | --- | --- | --- | --- | --- |
| Jan | Feb | Mar | Apr | May | Jun | Jul | Aug | Sep | Oct | Nov | Dec |
| N/A | N/A | N/A | N/A | OK | Best | Best | Best | Best | Good | N/A | N/A |
---
Request A brochure Send Us An Enquiry